How to Manage Your Bankroll while Playing Online Bingo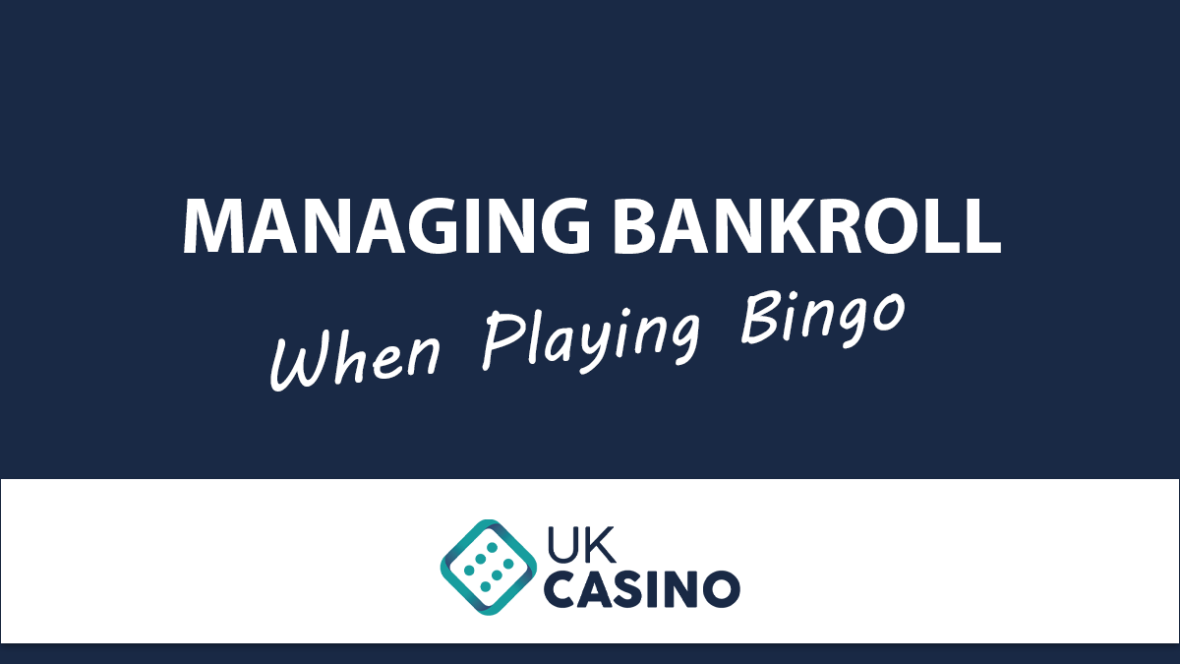 Online bingo is fast becoming a popular betting medium for those who enjoy both socialising and the thrill of potentially winning some money. With a simple click of a button, you, too, can join the world of online bingo. But, as with most forms of gambling, there are some risks, and managing your bankroll is vitally important to ensure safe betting practices while gambling online.
Join us as we share our best online bingo tips with you. From helping you choose the best bingo sites to ways to safely increase your wager while managing your bankroll, our tips might just help you ace the game.
So get comfy and read along to learn how to manage your bankroll while playing online bingo.
What is a Bankroll, and why is it Important?
If you're new to the world of online bingo, terms like bankroll might just confuse you. So let's start at the beginning as we explain exactly what a bankroll is and why it is important to manage your bankroll to avoid losing your money.
A bankroll is simply the amount of money you have set aside for your game – used to place bets, buy tickets or secure your spot in a round of bingo. Sounds easy enough, right?
Choosing the amount you want to spend is crucial and might require some research into the various bingo sites available and how much they charge per game or per bet. This allows you to make an informed choice about which site to use and also how much you can expect to spend when deciding on your bankroll.
Setting Your Budget: The Ideal Bankroll
A bankroll budget has two main functions:
To help you keep track of your winnings and expenditures.
To help prevent overspending.
But what is the ideal bankroll amount? And how do you ensure that you are not spending too much money?
The 50/30/20 Rule of Budgeting
First coined by US Senator Elizabeth Warren, the 50/30/20 rule of budgeting can be used for more than just your household budget. It can also help determine your bingo bankroll to prevent overspending.
Here's how the breakdown should work:
50% of your income is set aside for essential needs such as rent, bills, groceries, etc.
30% of your income is set aside for your wants, like bingo bankrolls and other nice-to-haves.
20% of your income is set aside for savings. This amount should not be spent.
You can use this strategy when setting up your bingo bankroll budget, keeping in mind that you should never spend the full 30% on online gambling.
Tracking Your Bingo Expenses: Keeping Tabs on Your Spending
Like any budget, your online bingo bankroll budget is important and helps you keep track of your winnings as well as your savings while ensuring that you do not overspend or lose large amounts of money.
A few of the more popular ways of keeping track of your expenses is by using any of the following means:
A budgeting application that can be downloaded onto your mobile phone or PC
A spreadsheet like those available from Microsoft Office or Google Docs
The good old option of a pen and notepad
Keeping track of your expenses is a must and should be done daily to ensure that you do not go over your budget and find yourself cutting corners elsewhere in your household budget to make up for the shortfall.
Managing Your Wager Sizes: How Adjusting Your Bets Can Determine Your Long-Term Success
There are no rules regarding how big or small your wagers are. Sure, there are "minimum" bet amounts that must be adhered to, but there is absolutely no reason for you to place a high wager on a risky bet.
A great way to learn how to manage wagers is to start off small, betting the minimum amount only, and only increase our wager amount when you know the rules inside and out and have played a good few matches with various opponents.
There are many websites available with tons of information on how to set and manage your wagers, so be sure to do your research and learn all there is to know about wagers before you start your online bingo experience.
How to Choose an Online Bingo Site?
Choosing an online bingo site can be tricky. Let us help make the process an easy one as we highlight a few of the factors you should consider before you choose just any site and start spending your hard-earned money.
You may be wondering why or how choosing an excellent bingo site can help your bankroll, and there are many reasons. Factors such as choosing a website with bigger prizes are likely to make your bankroll last longer, should you win. You will also want the platform or provider to be reputable to ensure that your money is safe. If you get scammed out of money, this obviously affects your bankroll.
Here's what you should consider:
1. Licensing
Trustworthy gambling sites are those that have received their license to operate from the United Kingdom Gambling Commission. If you are unsure if the site you have chosen is licensed, you can look for the UKGC logo on the bingo site or visit the UKGC website for the full list of licensed online gambling sites.
2. Reviews
Do your due diligence and read a few reviews of the various online bingo sites before settling on one. There is no better feedback than that from those who have used the sites, so be sure to read both the positive and negative reviews to get a full picture of the online bingo site you ultimately choose.
3. Customer Support
We all need a little help at some point or another, and choosing a site that has customer support available may just help alleviate frustration and restore your faith in online bingo when you receive the help you so desperately need. Check to see if your chosen site offers customer support and also in what forms support is available. Really good bingo sites will have a choice of phone support, email, live chat, or FAQs, while the best will have most or all of these available.
4. User Interface
Depending on what platform you use – mobile application or PC – the user interface should be easy to navigate and available for multi-platform use. A how-to section, FAQs, customer support, and easy registration are all essential and make your online bingo experience a great one.
5. Payment Methods
Take a good look at the payment methods that the online bingo site you choose allows. Do they allow only debit cards? Or do they have the option of paying for your wagers via e-wallet? The more payment options, the better, but be sure that the site is licensed before you spend any of your money.
6. Bonuses and Other Special Offers
Everyone loves a promotion or discount. Choosing a bingo site that offers regular promotions or bonuses can help enhance your experience, allowing you free spins and longer gameplay without having to spend a cent. Ensure that the site is licensed before registering your account, and make sure to read the T's & C's when you sign up.
7. Different Game Modes
If you're a beginner bingo player, you might prefer a few easy games to get you going. This is where different game modes come in, as they allow you to choose from single or multiplayer game modes, limiting the number of opponents and making your chance of winning that much easier. A great online bingo site has a few game modes to choose from, so look out for these and try your luck.
Betting Limits: How to Stay in Control of Your Bankroll
Are you the kind of person who goes all-in while betting? This is not only a risky move but can also result in you losing your entire bankroll in one bet. Setting yourself a betting limit can help curb your spending and ensure that you don't lose your bankroll entirely.
Set yourself a limit. This can be based on your previous plays, how much you actually have to spend, and the costs of the bets on the online bingo site you are playing on. Choosing a site with a deposit limit is one way to ensure that you do not go over budget, as they only allow you to play for a certain amount.
Your limit should be at least 2% to 5% of your bankroll and can be increased when you feel comfortable that you are in control of your spending and are sure of a win. Beginners should aim to bet around 2% of their bankroll per game, as this ensures that they are in full control of their spending while learning the game.
Bankroll Preservation: How to Safeguard Your Funds
Are you looking for tried and tested techniques that you can use when managing your bankroll while playing online bingo? If you answered yes, these betting strategies are for you and can help change your bingo experience.
Here are just a handful of the betting strategies online bingo players use:
The Flat Betting Model
This betting strategy or model is pretty easy to understand and involves betting just one unit for each wager. The term unit is used to describe a single unit of your bankroll and can be as little as one pound, depending on how much money you have set aside for your bankroll.
The Percentage Model
Rather than betting a single unit, the percentage model has you betting a percentage of your bankroll for each wager. Many players start off their wagers with approximately 2% to 5% of their bankroll for each bet.
The Confidence Model
The Confidence model builds on the percentage model as you increase your percentage as your confidence grows. This is a tricky model to use, so we recommend that only the more advanced players use this strategy as they are fully aware of how the game works and have had ample experience in playing online bingo.
The Kelly Criterion Model
The last model we will be discussing is the Kelly Criterion model. Making use of equations, this is a model for those pro online bingo players or those who take the game seriously and want to have the upper hand when it comes to making wagers and placing their bets.
This model has players determining the winning percentage for each wager, which is then incorporated into a formula to determine what the wager should be. Based on odds, the formula for determining the perfect wager is as follows:
(Decimal odds of wager * Win probability – Loss Probability)/Decimal odds of wager = Suggested Wager Percentage
Seems a bit complicated, huh? Don't fret too much about the model you choose. Select one that works for your and your betting style and stick to it to ensure the safety of your bankroll.
Emotional Decision-Making and Your Bankroll
Getting caught up in an online bingo game is easy, and so is making unwise betting decisions while you are emotional. You've won a few rounds of your game and are feeling pretty confident, so you bet your entire bankroll on your next game, only to lose. This has happened to more than a few people and is one of the main reasons that many people are addicted to online gambling.
We get it; you love the rush that comes from a win. But so often, these games have you hooked and become a drain on your resources and your emotions as you chase that "high" you get when you win.
It is vitally important to set yourself a limit, both in the number of games you play and in your bankroll, and stick to it to prevent unnecessary loss of money and becoming addicted to online gambling.
Read on to learn a few healthy betting tips that can help prevent gambling addiction and safeguard your bankroll while playing online bingo.
The Benefits of Bonuses
Choosing an online bingo site that offers player bonuses and promotions is a great way to increase your bankroll with a minimum spend.
While some offer extra credits or free plays, others might include free spins or extra cash bonuses to lure players in.
Search for a site that is licensed and certified before signing up, and read a few reviews on the bonuses offered by these sites to ensure that your money is safe and that you are not wasting your funds by playing on a scam or phishing site that draws you in and essentially results in a loss of money.
Due diligence is key when choosing a site for its bonuses, so choose wisely and refer to our guide on how to choose an online bingo site to make your next online bingo experience a breeze.
Knowing When to Stop: A Guide to Healthy Betting
Here are a few important tips to keep in mind when you join the world of online bingo:
Tip 1: Set a budget and stick to it.
Tip 2: Choose sites that have regular bonuses or promotion periods. These can help you increase your bankroll without having to spend more money.
Tip 3: Play when there are fewer players online. Fewer players mean a higher jackpot for you with lower wagers.
Tip 4: Prepare yourself for the game by learning the rules and adopting a few strategies that will increase your chance of winning.
Tip 5: Don't play when you are emotional. If you feel yourself getting heated or frustrated that you are losing, walk away and take a breather before placing another bet. Safe gambling is only possible with a clear head, so know when to stop and calm yourself down before you make any rash decisions that could result in you losing your bankroll or going over your budget.
Tip 6: Learn the various betting strategies. These strategies are designed to help you secure a win while safeguarding your bankroll, so be sure to refer to our section on betting strategies for information on each.
These are just some of the many tips you can use to help you avoid gambling addiction or losing your bankroll, so be sure to learn a few strategies that will help enhance your gameplay and your online betting experience.
Conclusion
Online bingo is a fantastic pastime that can help you pocket some extra money with minimal effort and spending. Managing your bankroll when playing online bingo is necessary to prevent overspending and help you make safe betting decisions that could see you walking away with a fair sum of winnings.
In this article, we have provided you with a few great betting strategies that can help change your online bingo experience and also broached the topic of safe betting practices that could save you from the grips of gambling addiction. Be sure to take note of these before you sign up for your first game of online bingo, and remember to refer to our guide on how to choose the best online bingo sites to ensure safe gameplay.
Remember, with online bingo, you are in control of your bankroll, so try our tips and strategies, and you, too, could be smiling all the way to the bank to deposit your winnings.