Is Online Blackjack rigged?
24 January 2023
190 Views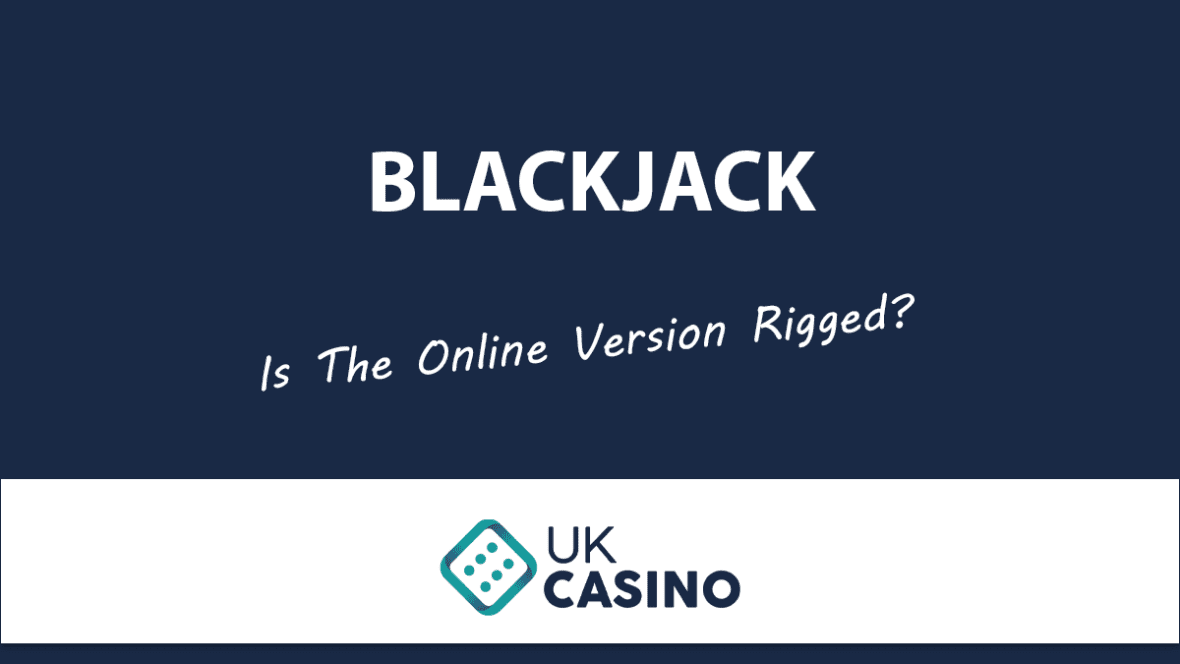 Many players prefer to play online blackjack instead of going to casinos because it's more convenient, comfortable, and faster to cash out. They play with live dealers who are real people to create a realistic gaming experience like a casino. You can see them and also interact with them. Though online casinos may deny one social interaction or connections, it is a smart move for gamblers who like their privacy.
Nevertheless, many players think that online blackjack games are somehow rigged. After all, with an online game, there is no way to be sure if the cards are randomly shuffled or if the casino is somehow manipulating the outcome of hands. This suspicion has been around for a long time, and it's been compounded by recent controversies surrounding online gambling.
One of the most common reasons why some players think online blackjack is rigged is because of the hands they are dealt. It's easy to get frustrated when you keep getting poor hands, especially if you know how to count cards. Many players feel as though they're at a disadvantage because they believe that the deck is not shuffled often enough.
Another common complaint is that online blackjack software may have been programmed to favour specific results, making it easier for the house to win.
Undoubtedly, some unscrupulous online casinos may be cheating or manipulating the game to give themselves an advantage over the players. This fraudulent act is easily noticeable in online casinos without licenses, certified software, and undisclosed RTP.
So, if you are experiencing more losses and discover the site is not licensed, know that your online blackjack game may be rigged. Candidly, it is impossible for online blackjack games to be rigged on reputable online casinos. So, how do you recognise the safest online blackjack games?
Identifying Trustworthy Online Casinos
The following will help you decipher reliable online casinos and understand why their Blackjacks cannot be rigged, nor can you cheat them.
Regulated by a Gambling Authority
It's important to note that reliable online casinos are the casinos regulated by the appropriate gambling authority. Also, the casino must comply with the strict regulations from its host country and international licensing bodies to protect its reputation.
So, trust online casinos with valid licenses from a recognised licensing authority, such as the Gambling Commission in the UK and American Gaming Association in the US. The commission checks online casinos for fairness, security, and trustworthiness.
The licensing authority also sets the standards for how online casinos should operate and how games should be conducted. All reputable online casinos comply with these standards to ensure that their players have a safe and secure gaming experience.
Some of the standards are monitoring casinos' RTP, auditing casinos' systems, verifying blackjack tables and games, and ensuring the Random Number Generator (RNG) software is regularly tested to ensure players are fairly treated and paid accurately.
Use Tested Random Number Generator Software
Reputable casino sites use Random Number Generators (RNG) to determine the outcome of each game to ensure fairness and transparency. RNGs are mathematical devices and computer programs that generate a sequence of numbers that are unpredictable and cannot be influenced by outside factors.
This means the casino site can not cheat you, and you can't cheat as well because all the cards are randomly drawn and can't be manipulated.
RNGs also offer players an added layer of protection as they guarantee that each game is fair and secure. In addition, trustworthy casinos ensure their RNGs are regularly tested and certified by independent third-party agencies for fairness and reliability.
Visible RTP Percentage to Players
It's also important to know that most online casinos displaying RTP cannot rig their blackjack games. The RTP percentage measures how much of each bet placed is returned to players over time. It is often expressed as a number between 0% and 100%.
Generally, games with a high RTP percentage will be more favourable for players as they are more likely to win back some of their original stakes.
The RTP percentage of a Blackjack may also vary between different developers. For example, one casino may offer a Blackjack game with 99.5% RTP from a developer, while another may only offer a Blackjack game with 97% RTP from a different developer. However, a developer's RTP of a Blackjack game will remain in the same range regardless of the casino you choose to play in.
Regarding online blackjack, the house edge can range from 0.28% to 2.6%, depending on the game's variation. This edge is a conventional percentage taken by the casinos.
The standard RTP for an online blackjack game is 99.5-99.7%. This means players can expect 99.5-99.7% of their bets back in winnings over time. Though the RTP of the blackjack game is higher, it always favours the house, considering the house edge.
To check the RTP of a game, you can check the help screen of the online casino, look for the information in the game's rules section or contact the casino's customer service. In addition, you can google the RTP of the game you wish to play, and you will get the results.
To ensure the game pays out reasonably, you can also run a simple test yourself. Play the game for an extended period and note your wins and losses. At the end of the session, calculate your total winnings or losses and compare them to the game's expected RTP.
It's also important to remember that there is no guarantee that you'll win each time you play. Even if the RTP is high, you could still lose money due to not playing with a sound strategy and the fact that the game always favours the casino because of its house edge.
Low House Edge Percentage
The house edge of trusted online casinos in blackjack is reasonably low, making it very unlikely that the game is rigged.
The house edge should always be considered when playing blackjack at a reputable online casino. The house edge is the percentage of each bet the casino expects to win over the long run. Typically, a good blackjack house edge ranges from 0.5% to 1%, depending on the version. This means that you can expect the casino to win around 1% of all your bets over the long run.
It's important to note that this house edge is based on perfect play from both sides. Even if you don't make mistakes, the online casino will likely have an advantage due to its superior computing power. However, this doesn't mean you cannot beat online blackjack using the right strategies.
One of the best strategies to beat blackjack is using the Martingale system. However, to hit big, you must be a good mathematician.
Conclusion
After carefully analysing how most reputable online casinos run blackjack games, we can confidently say that online blackjack is not rigged. While some people might have had bad experiences playing online blackjack, the game is based on randomness and probability, meaning it is impossible to consistently win against the house in the long run.
Additionally, third-party auditors and regulatory bodies often monitor reputable online casinos, ensuring that all of their games comply with gambling regulations. It is important to remember that when playing any casino game, the house always has an edge, so it's impossible to guarantee a win every time. You should always set a budget when gambling and stick to it, no matter your game.