The History of Online Poker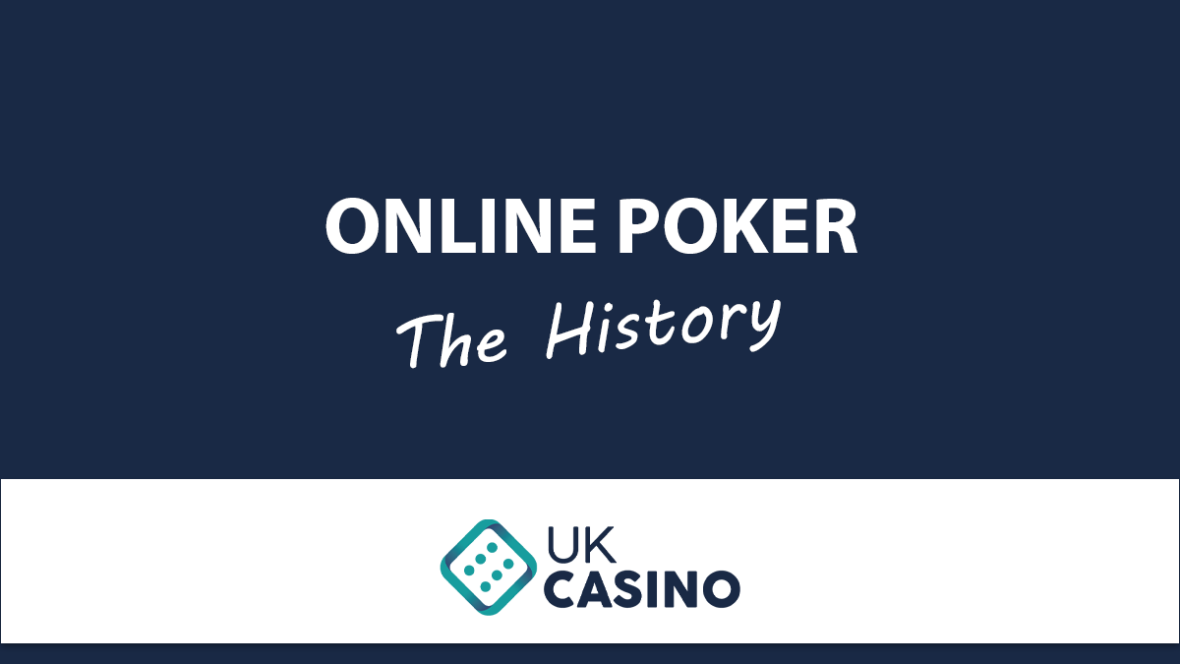 Online poker has been booming for over 15 years now. However, have you ever wondered about the history of online poker and how it has grown into the gigantic phenomenon it is today? In this history of online poker guide, we will cover the beginnings of online poker, the most important events in online poker history, the infamous Black Friday of online poker, and recent trends such as cryptocurrency casinos and poker rooms.
The Beginnings of Online Poker
The first real online poker game was played in 1994 on a chat server (irc.poker.net), where you could play Omaha and Hold'em, among others. Poker players played with text commands in a chat window until a graphical interface, 'Gpoker' for the chat game, was created that ensured that players no longer had to memorise dozens of commands in order to play poker.
Tournament players could participate in the WRGPT (World Rec Gambling Tournament) during that period, which was played entirely via email, and no cash prizes were yet to be announced.
The first online casino where you could play for real money was 'Internet Casinos, Inc', which launched on August 18, 1995. You could play all kinds of gambling games but not poker yet. Planet Poker was the first site in 1998 where players could play poker online for money. Since then, the number of online poker sites has been increasing every year.
Planet Poker set the industry standard in terms of poker rake. The operator set it at 5% with a cap of $3 per hand, and these rakes are still being used by poker sites today. In terms of software and UI, Planet Poker's layout is still partially being used as it includes a handy cash game, tournament, and game type filter, including a cashier feature and promotions tab.
In this same year, the movie 'Rounders', a movie about the underground world of high-stakes poker starring Matt Damon as a veteran poker player, came out. The profession of card player became a dream job, and the poker virus hit America in particular. The Americans turned to the Internet and started playing poker online.
One of those Americans was Chris Moneymaker. His prophetic surname turned out to be gold when he managed to qualify for the world championship in Las Vegas in 2003 by playing online poker for $39, the $10,000 Main Event of the World Series Of Poker. Moneymaker won the world championship and $2,5 million. When television-watching America saw this, there was no stopping the poker craze.
Moneymaker's chances of winning the tournament were slim as he was surrounded by 839 veteran poker players. Still, he managed to go far. So far that in the end, he only had one opponent left; veteran professional gambler Sam Farha.
The crucial pot that determined the Heads-Up battle and the world title was a successful bluff by Moneymaker. A few hands later, it was over, and the anonymous accountant from Tennessee was instantly a world champion, world-famous, and millionaire thanks to the top prize of 2,5 million dollars.
At the time, the prize was the largest cash prize ever awarded in a poker tournament. All of America was envious: Moneymaker's incredible run exemplified the American Dream – from nothing to a millionaire with minimal effort. Moneymaker also proved that anyone could become a world champion in poker.
It was, therefore, no surprise that one year later almost three times as many people participated in the world championship. In 2006, the top prize had already risen to 12 million dollars, and millions of people played poker online. It took a little longer for the poker virus to cross the ocean, but in 2005/2006, players from the United Kingdom also started playing poker en masse.
Most Important Events in Online Poker History
Now that you know how online poker became so popular, it is time to cover some of the most critical events in online poker history that shaped the game into what it is today.
1st of January 1998 – The First Online Real Money Poker Hand
As we mentioned before, Planet Poker was the first actual online poker room. On the first of January 1998, the first real money hand was played online. The software for the poker room was thoroughly tested in 1997, and famous poker player Mike Caro became the brand ambassador for the site.
Within a few months, the number of players began to rise, mainly because Planet Poker was the only site offering real money poker globally. Most of the features of the client are still being used by online poker rooms nowadays, and Planet Poker actually still exists, albeit offering play money poker only.
1999 – The Launch of Paradise Poker
In 1999, a new poker site called Paradise Poker launched. Its software was way more modern compared to Planet Poker, and it offered Omaha, Stud, and Caribbean poker apart from just Texas Hold'em. This was the first time poker players could play other poker games for real money on the internet.
2001 – PartyPoker and PokerStars Launched
2001 was most likely the most important year in internet or online poker history. In 2001, the well-known brands PartyPoker and PokerStars launched, which brought thousands of players across the globe to online poker. Although PartyPoker dominated the online poker scene from 2002 to 2006, PokerStars continued to dominate until this day.
Back in the early 2000s, the online poker market was good for $1 million per day, and aggressive advertising campaigns helped the poker sites attract and maintain their players.
2006 – The Unlawful Internet Gaming Enforcement Act (UIGEA)
In October 2006, the online poker industry took a huge blow when the Unlawful Internet Gambling Enforcement Act (UIGEA) was introduced. This new law made it illegal for payment processors to process transactions linked to online gambling, including poker transactions. Although ultimately, players weren't the target of this new act, it indeed initiated the war on online poker.
Almost all poker rooms left the American market whilst PartyPoker and PokerStars remained. This led them to become the behemoths that they still are today, as they had virtually no competition.
2007 – Absolute Poker and Ultimate Bet Scandals
In 2007, the first online poker scandals arose. At the online poker room Absolute Poker, an employee had managed to install a backdoor in the software so that he was able to see the hole cards of all players while playing at the high stakes tables.
This backdoor was then used to unironically rake in over $10 million, seriously damaging the reputation of the online poker room. Players had lost copious amounts of money because of the scandal and began to lose interest in online poker.
Another scandal took place at Ultimate Bet, where backdoor software was used again to be able to access player hole card information while playing. In the end, multiple Ultimate Bet employees gave in and told the story to numerous news outlets.
2011 – Black Friday of Online Poker
On the 15th of April 2011, the entire online poker industry was dealt a very hard blow when PokerStars, Full Tilt Poker, and Absolute Poker were shut down and seized by the Department of Justice and the FBI.
Full Tilt Poker instantly went bankrupt because of this, as the DoJ found out that the company had mishandled player funds. According to the DoJ, Full Tilt Poker acted like a Ponzi scheme, and owners of the website had scammed their players for over $300 million.
PokerStars eventually paid over a billion dollars in fines to the DoJ to stay in business and acquired Full Tilt Poker, promising to pay out all its players. In 2014, Amaya Capital acquired Rational Group, the owner of PokerStars and Full Tilt Poker, for $4,9 billion.
Again, players were duped, as the VIP system and rake models were changed last minute, whilst they had accumulated points and climbed the ladders or tiers of the VIP program for an entire year.
Although PokerStars took a nosedive reputation-wise, the poker room obviously still exists today and is, in fact, still the biggest online poker room globally.
Recent Trends – Rise of Crypto Casinos & Poker Rooms
Fast forward to today, crypto casinos and poker rooms are becoming increasingly popular among UK gamblers. The English government does not have complete control over these digital assets, and transactions are often completed without intermediaries, making it an alternative for gamblers who wish to remain anonymous. However, more and more people are finding their way to crypto casinos due to the popularity of cryptocurrency, and this is not likely to change in the near future.
What is a Crypto Casino?
A crypto casino is an online casino where you can pay with cryptocurrency tokens (crypto coins) instead of traditional ''fiat'' currencies such as pounds, euros or dollars. Since most crypto casinos accept Bitcoin, they are often referred to as "Bitcoin Casinos".
These sites offer a wide variety of different games, such as slots, blackjack, roulette, baccarat and, in some cases, poker. What makes them unique is that they process all payments using blockchain technology, which offers players anonymity when playing their favourite games online.
The Popularity of Crypto Casinos
Cryptocurrency is revolutionising the online gaming industry by providing a better and more secure form of payment. By using cryptocurrency, players can take advantage of higher bonuses, instant transactions, improved credibility, security, decentralisation, and anonymity.
Crypto casinos are also gaining popularity as they offer an anonymous way to gamble without worrying about other players seeing their financial information or identity. In addition, blockchain technology has enabled decentralised gaming applications to emerge that have further changed the way people play online casino games like poker. With all these advantages in mind, it is no wonder that more and more people are turning to crypto gambling sites.
FAQs About the History of Online Poker
As we receive a lot of questions about the history of online poker and want to keep this guide as inclusive as possible, we decided to answer the most frequently asked questions below.
What Was The First Online Poker Site?

Planet Poker was the first online poker room to offer real money poker, which launched in 1998.

Can Poker Be Solved By AI?

Yes, artificial intelligence systems like DeepStack, Libratus, and Pluribus have been successfully beating other poker players in games of Texas Hold'em.

Is Online Poker Still Growing?

Yes, back in the early 2000s, around 6 million people were playing poker, whilst the latest estimates are that over 100 million people and counting are playing online poker globally.

Who Invented Online Poker?

Randy Blumer is the guy who programmed Planet Poker, the world's first online poker room where people could play for real money.

Who Is The Most Successful Online Poker Player?

Joao ''Naza114'' Vieira tops the charts as the most profitable online poker player with over $25 million in winnings, whilst the famous Daniel Negreanu comes close with just over $21 million in lifetime winnings.