How Can I Withdraw Winnings From An Online Casino?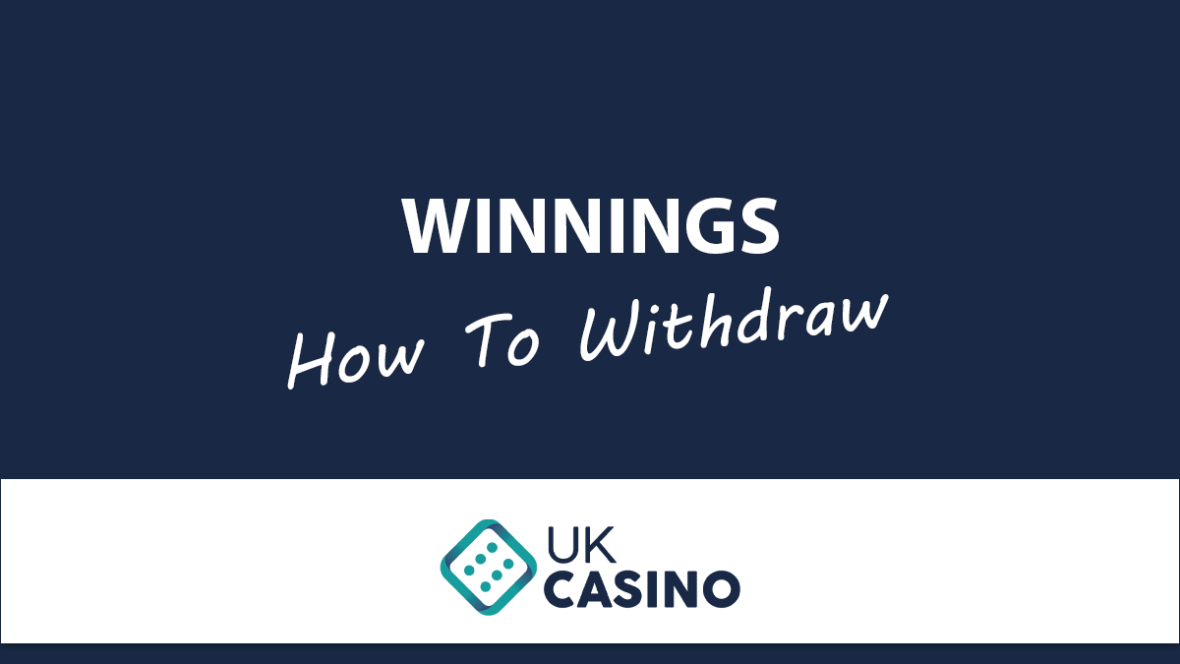 Getting your first big win at an online casino is an excitement you will never forget. However, it can quickly turn sour if you realise the casino won't let you withdraw your winnings. There is no reason to play at a casino that won't let you withdraw winnings, as there are now hundreds of online casinos to choose from.
If you have issues withdrawing from an online casino, you are legally protected in the UK. You can visit the United Kingdom Gambling Commission's website to find out more about what you can do to challenge a casino that is not letting you make a withdrawal.
This article helps you to understand how to have a smooth withdrawal experience by understanding your chosen casino's terms and conditions and following our step-by-step guide to withdrawing money from your online casino.
Step-By-Step Guide To Making Online Casino Withdrawals
Following this step-by-step guide will help ensure you don't encounter any hiccups during the withdrawal process. We detail each stage of making a withdrawal extensively below:
Choose A Payment Method in the Cashier Section
The first step is to navigate to the cashier section. This should be the same part of the website on which you made your initial deposit. From here, you can also find the withdrawal section of the website, where you will have the chance to choose your favourite payment method.
Remember that there are often more payment methods than withdrawal methods. For this reason, you should check that you have access to a supported platform for withdrawal. It would be very inconvenient if you found that your preferred withdrawal method isn't supported.
It is also here where you can find out about key restrictions. This includes limits and fees for withdrawals, as well as expected processing times.
Verify Identity
The United Kingdom Gambling Commission (UKGC) requires casinos to verify a player's location and age to ensure that they are legally able to gamble in the country. Many casinos do this at the point of withdrawal, and you won't be able to take money out until you have completed the verification.
To complete your online casino verification, you will need to supply a range of personal documentation. This includes an image of yourself, government ID documents such as a passport and driving licence, and proof of address. To supply proof of address, you can supply bank statements, utility bills, or any other formal document with your name and address on it.
Select The Amount That You Want To Withdraw And Confirm The Withdrawal Request
Once you have selected the payment method you want to receive money through and have had your identity verified, you will be able to make your withdrawal request. You need to select the amount of money you want to withdraw.
If you are making your first withdrawal, make sure that you leave some money in your bankroll for when you next want to gamble. Alternatively, if you have decided to leave the platform, you must withdraw all your money. This is because some casinos will start charging a fee if you have an unused bankroll sitting in your account for an extended period of time.
Once you have selected an amount, you can select confirm withdrawal. This will formally start the withdrawal process, and the money you are taking out will come from your bankroll.
Receive Your Funds
With your withdrawal request submitted, you will need to wait for the processing time to pass to receive your funds. Keep an eye on your payment method account so that you can see when the money comes in. If the processing time passes and you still haven't received the money, then you will need to contact customer service. All great casino providers will have customer service available on the phone or through live chat.
Withdrawals At Mobile vs Desktop Casinos
There has been a revolution in mobile casino gaming in recent years. Now, almost every popular UK casino has a dedicated mobile casino app. These apps feature every game in a mobile-optimised form as well as access to all the attributes of an online betting platform, including deposits, withdrawals, promotions, and more.
In most cases, the process of withdrawing winnings on a smartphone will be identical to the above steps, although you may be asked by your payment method for a further level of verification. You should also be able to withdraw using just as many payment methods as you can on a smartphone.
If you are unsure about the security of making a withdrawal from your smartphone, it may be worth doing your own research. Look deeper into the app and peruse the app's reviews within Google Play or the Apple App Store.
Understanding Withdrawal Terms And Conditions
Even if you follow our step-by-step guide perfectly, you may still encounter problems if you fail to understand and follow the terms and conditions. Breaking the terms and conditions is a common way for a casino to refuse to pay out the money they owe you. Common terms and conditions you need to understand before making withdrawals include those listed below.
However, you should look closely at the specific terms and conditions for the casino that you are playing at because they might have more unusual terms and conditions which are not listed in this article.
Minimum And Maximum Withdrawal Limits
Nearly all UK online casinos have minimum and maximum withdrawal limits that align with the deposit limits in place. This specifies the highest and lowest amounts players will be allowed to withdraw from their accounts. Minimum limits are designed to stop players from withdrawing tiny amounts that are more hassle than they are worth for the casino.
Meanwhile, many casinos have maximum withdrawal limits to simultaneously protect players from hacking and allow casinos to stay in compliance with AML and counter-terrorist financing regulations.
Withdrawal limits can change the way that you play and withdraw at an online casino. A low maximum withdrawal limit will require you to make withdrawals over an extended period of time if you win big. Meanwhile, a high minimum withdrawal limit may push you to play at higher stakes than you are comfortable with, and you might need to look elsewhere for a casino platform.
Wagering Requirements
Casino bonuses are a fantastic opportunity to boost your bankroll or earn free spins. These are great for new players as they help you explore more of the casino site without having to invest heavily into the platform.
However, bonuses can be a double-edged sword because they come with wagering requirements that will prevent you from winning too big from your bonus. A wagering requirement requires you to gamble the bonus a certain amount of times before you make your withdrawal. You can usually expect this to be 15-30x. Failing to meet this wagering requirement within the allowed time will mean the casino will not allow you to withdraw your winnings.
Meanwhile, sometimes your deposit will have a wagering requirement of 1x before you can withdraw winnings. This has been designed as an anti-money laundering strategy that is deployed by casinos to make sure that only legitimate players are using the platform.
Withdrawal Fees
Some casinos also charge a small withdrawal fee when you try to take money out of your account. This withdrawal fee will vary depending on the payment method you want to use and is designed to offset any costs the casino might run into when making the payment to you.
You can avoid having to pay a withdrawal fee by using a simple and common payment method such as a debit card or PayPal. Research which payment methods charge withdrawal fees before you join the online casino to make sure you have access to one that won't charge you for using it.
Processing Times
Not all payment methods and casinos can support instant withdrawals. In their terms and conditions, the casino will specify the amount of time you can expect withdrawals to be processed based on the payment method. Make sure that you check the processing time before you make a withdrawal so that you aren't waiting for the payment to come in. Typical processing times are on average three working days.
Supported Withdrawal Payment Methods
Every casino supports different payment methods, and these often differ between payment and withdrawal. A player can be left in a sticky situation if they go to make a withdrawal and realise that they don't have access to any of the supported payment methods to withdraw their hard-won cash.
To avoid this issue, make sure that you double-check the supported withdrawal methods.
What Are The Laws Surrounding Withdrawal Restrictions For UK Casinos?
The UKGC has outlined a range of guidance to ensure that players are properly informed about the restrictions on withdrawals that casinos have in place. The most important rule is that players have access to the terms and conditions on the right to withdraw, and the process for withdrawal is clearly displayed during the signup process. There are a range of different rules that are designed to protect you when making withdrawals, and you should make sure that your chosen platform is following them.
Rules Casinos Must Follow
The monetary rules that casinos have to follow are listed below:
Wagering requirements can prevent players from withdrawing from a bonus but cannot prevent them from withdrawing their own deposit.
Deposit and bonus balances must be kept and displayed separately.
The operator should complete the verification procedures before the point of withdrawal.
What Loopholes Exist in the Rules for Casinos?
Despite the existence of these rules, there are a number of loopholes that casinos can use to restrict your right to withdraw. These are listed below:
Wagering restrictions can only impact the deposit balance if game mechanics make it impossible to keep them separate.
Casino operators can charge a fee for withdrawals that is reflective of the costs incurred by the casino to process the withdrawal.
Deposit and bonus balances do not need to be displayed separately in-game if they are separated on the account home page.
Overcoming Common Challenges With Withdrawals
Whatever casino you decide to play in, you might encounter some common challenges that prevent you from withdrawing winnings. Learn how to combat them and what do you need to do to get your fair winnings into your bank account:
The Casino is Not Letting You Withdraw Winnings
According to rules set by the UKGC, you must be able to withdraw winnings from any UK online casino. The only fair case when an online casino might refuse to withdraw winnings is if there are discrepancies in your account, such as they suspect you are involved in money laundering.
If you think a casino is not letting you withdraw winnings unfairly, they might be breaking the UKGC rules. To get your money, you will need to issue a complaint and enlist legal help that will bring your case to the UKGC, who can order the online casino to pay up. They will also likely apply a fine to the online casino.
Furthermore, you might feel you are being prevented from withdrawing winnings because the terms and conditions are unclear. In these cases, winning a court case is more challenging because you were informed before you started playing. However, you might still want to make a formal complaint to the gambling provider in the hope that they will consider revising their terms and conditions.
Your Account Has Been Closed
If your account gets closed, you will no longer be able to do any actions on the website, including withdrawing your winnings. A casino is allowed to close your account at any time for one of the following reasons:
You are at risk of harm.
You have broken the terms and conditions.
You are using the casino to break the law.
To find out why your account has been closed, you should contact the gambling site and review their terms and conditions. If you disagree with the gambling site's reason that your account has been terminated, or they will not give you an answer, you might need to bring the matter to court.
You Have Signed Up For Self-Exclusion
All UK online casinos are required to operate self-exclusion schemes through bodies such as GamStop. Once your self-exclusion is activated, you will not lose these funds, and you will not be compelled to return to the gambling website to get them back. The gambling provider must return all funds to you as soon as possible.
If you do not receive your bankroll back into your account after self-exclusion, you will need to contact the gambling operator and remind them of this responsibility. Again, a regulating body will be involved in challenging circumstances.
Your Bet Was Settled At The Wrong Odds
The excitement of winning big in sports or racing betting can be snuffed out if you don't win as much as expected because the bet was settled at the wrong odds. This can substantially reduce the amount that you are able to withdraw, even if the withdrawal process itself goes smoothly.
You are owed whatever the odds were displayed as when you made a bet. The only instance where this is not the case is if you bet on the starting price in racing, whereby the odds are set independently after the race starts.
If you think you have been paid the wrong amount, you will need to make a formal complaint to the casino and insist that they amend your bankroll accordingly.
Popular Payment Methods For Withdrawals
Online casinos attract players by offering them a good range of different withdrawal and payment methods. The exact methods available vary between each gambling website. However, the standard withdrawal methods that you can expect to find at an online casino include the following:
Debit Card
Debit cards are one of the most popular payment and withdrawal methods in UK online casinos for good reason. This is because withdrawing on a debit card should take three days or less and should not come with a transaction fee.
Also, remember that credit cards are not allowed in UK casinos as part of an effort to tackle problem gamblers getting into debt. If your casino offers you the chance to withdraw or deposit using a credit card, you should report it to the UKGC immediately.
Neteller
Neteller is a popular eWallet that you can fund using a range of different types of debit cards. You can expect withdrawals onto a Neteller to be slightly faster at 1-2 days.
However, there are a few aspects that you should be aware of when you are withdrawing from your Neteller. Firstly, even though the casino is unlikely to charge you for withdrawing to a Neteller account, you may encounter issues when withdrawing further from your Neteller to your bank account. Neteller currently charges a withdrawal fee of 0-3.99% and a currency conversion fee of 3.99%.
Furthermore, this eWallet is also committed to preventing credit card players from making deposits in an online casino. It will block individuals who use a credit card to put money onto a Neteller account from depositing into an online casino.
Skrill
Skrill is another eWallet with similar issues and benefits to using Neteller, including fees for withdrawing a Skrill balance into your bank account and converting currencies.
However, many players choose Skrill because it gives them anonymity and convenience. When withdrawing into a Skrill account, all you need to do is provide your Skrill password and email when withdrawing. Your personal information will be kept uniquely private during this transaction.
PayPal
PayPal is the world's most popular eWallet. It has some of the best security measures with round-the-clock monitoring and intuitive apps for Android and iOS devices.
PayPal is a great tool for withdrawing from a casino because of the speed that you can expect the transaction to occur within. It will usually be a matter of a few hours, and you can use the PayPal app to see the withdrawal coming into your account as soon as it arrives.
Apple Pay
Apple Pay is an eWallet built into iOS devices, using touch and face ID to improve security. It is easy to add a debit or prepaid card to your Apple Pay, and you can use it to deposit and withdraw from casinos immediately. You can expect a withdrawal with Apple Pay to be processed within three days.
However, Apple Pay is only available if you use an iOS device like an iPhone or iPad. If you are a desktop or Android player, you must choose from one of the alternative payment methods.
Bank Transfer
Some players might want to use the high security and encryption of a bank transfer to keep their money extra safe when depositing or withdrawing from a casino.
However, these rigid security measures can come at a price. The withdrawal limits and transaction fees will vary depending on your bank, so you might need to get in touch with your chosen casino operator's customer services to find out more.
Furthermore, you can expect processing times to be longer when using bank transfers. It will typically be up to seven days.
Having Fun With Fast Withdrawal Casinos
Gambling must be fun, but it also needs to be fair. If you aren't able to withdraw the money that you have fairly won, then there is a clear power imbalance between yourself and the casino.
You can ensure the problem won't occur by properly researching a casino before you play it. You need to read reviews to see if other players have had issues with withdrawing money and find out what aspects of the terms and conditions might make it difficult to make withdrawals.
If you can properly follow the advice covered in this article, then you should be able to make withdrawals quickly and easily, maximising the fun that you can have with your online gambling experience.