The Beginner's Guide To PayPal For Online Gambling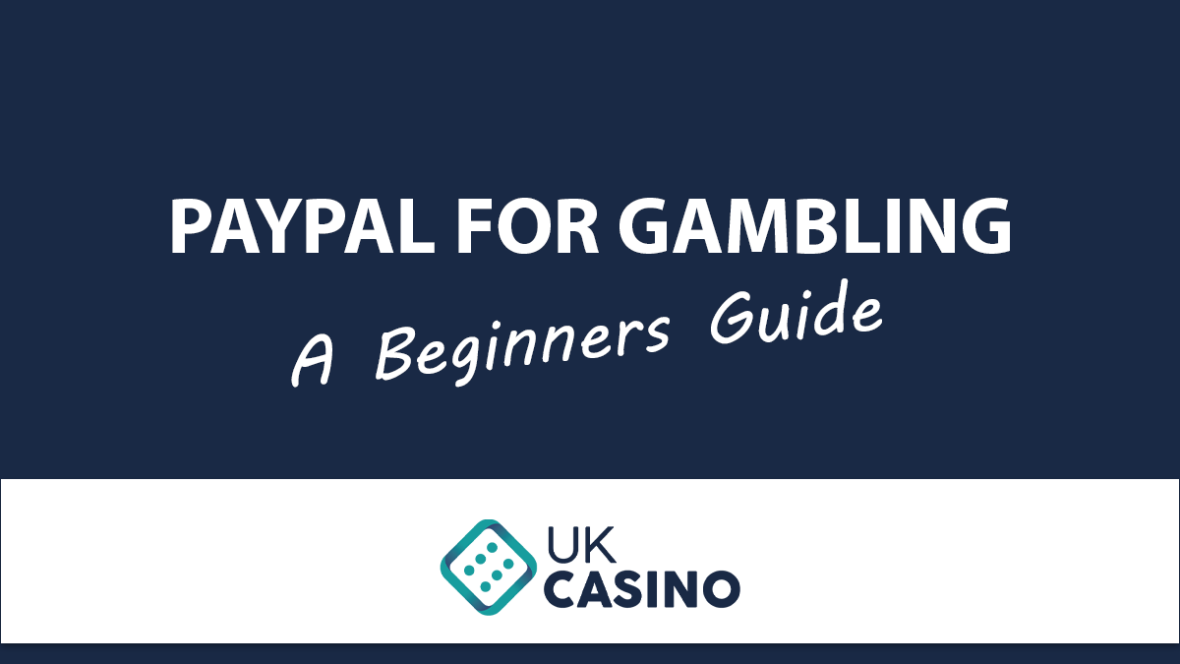 Online gambling is fast becoming a more popular alternative to visiting the local casino. In fact, statistics show that 26% of the UK's population is already participating in online gambling in 2023, compared to the 19% recorded in 2018.
It is clear that online gambling is here to stay, and with cyber phishing on the rise, safer payment methods like PayPal come into play. With identity theft and cybersecurity issues on the rise and scam methods so prevalent, the need for safe, foolproof payment and withdrawal services is more important than ever before. But how does PayPal work, and what are the benefits of using this electronic wallet service when gambling online?
Read on to learn all there is to know about PayPal and online casinos as we take you through our beginner's guide to PayPal for online gambling.
What Is PayPal?
PayPal is an electronic payment method founded in 1998 and initially called Confinity. It is now one of the world's largest online payment processing methods: PayPal has a staggering 429 million users worldwide, with 20 million of those residing in the UK.
From grocery shopping to sending funds from one country to another, PayPal is one of the safest payment methods out there. This alone should make it the number one choice for online gamblers and those who like placing their bets in online casinos. Having to enter your banking details time and again is not only tedious but also dangerous, as it leaves you open to phishing scams and the possibility of your accounts being hacked. With PayPal, you link the wallet service to the online casino of your choice without ever sharing your banking details with anyone.
What Are The Pros And Cons Of Using PayPal?
Here are a few pros and cons of using PayPal that you should know before you register your account and use your PayPal account for online gambling:
The Pros:
Sign-up is free
PayPal fees are considerably less than other online payment sites and platforms
PayPal can be used for multiple currencies
Available on multiple platforms, including a mobile application
Easy-to-use interface
Reliable and safe
The Cons:
Transaction fees for users outside the US
Accounts are frozen if not verified
From the above, it is clear that there are many more pros than cons. But, as with most things in life, both the pros and cons should be fully assessed before making a final decision on which payment platform to use for your online gambling.
If you need more convincing as to why you should choose PayPal as your payment method for online casinos, read a few reviews and see what the 429 million users worldwide have to say about the service. Be sure to read both the positive and negative reviews to get a better idea of what people think about PayPal and its services.
But How Does PayPal Work?
PayPal is free to sign up for and requires little more than your email address and contact information. While it does charge a service fee to transfer money, this amount is usually minuscule, giving you peace of mind that you are not handing out more money than you initially intended to.
For example, if you are withdrawing or transferring GBP100, PayPal will charge you 2.9% or GBP2.90 for that transaction. Transfers and withdrawals are subject to a service fee of 2.9%, no matter how large the amount is.
Linking your PayPal to an online casino is just as easy and can be done when you register your account at the online casino of your choice.
PayPal: The Ins And Outs
Now that we have looked at how PayPal works and what the pros and cons of the service are, let's focus our attention on the details!
Deposits
Depositing money into your PayPal wallet is quick and easy. Simply select the "Wallet" icon on the website or mobile application, click "Transfer Money," and select how much money you would like to add to your PayPal wallet. This is a great way to set your bet budget and limit your spending.
Do note that you will need to link your bank account to your PayPal wallet for this transaction. Linking your bank account is an easy process. Here's how:
Step 1: Open PayPal on your laptop or smartphone.
Step 2: Select "Wallet."
Step 3: Choose "Banks" or "Debit Cards" and enter the necessary information.
You might be required to log onto your banking service to approve the link.
Withdrawals
For casino cashouts, you will need to have your bank account linked to your PayPal. Click on your balance, select "transfer money," and select the bank account to which you want to send your money. It's as easy as that. However, this depends on where you are located, as some countries do not allow instant transfers and charge hefty fees for this service.
In the UK, an instant transfer is charged at 5% of the amount you are transferring, while countries like America charge up to $44 for instant transfers. These charges are based on minimum and maximum transfer limits.
Service And Transaction Fees
As we have mentioned, PayPal does charge its UK users a transaction or service fee for payments and withdrawals. You will be glad to know this is only 2.9% of the overall amount.
Services and transaction fees are different for each electronic wallet service, and while some charge 0% to transfer or withdraw your funds, others have their own rates per transaction.
Here is an example of what the most popular e-wallet services charge for their transactions:
Klarna: 0% transaction fees
Ethereum: 1% of the total transaction amount
GooglePay: 1.5% of the transaction amount
Venmo: 1.75% of the transaction amount
ApplePay: 1.5% of the transaction amount
Skrill: 4.99% of the transaction amount
However, do note that these transaction amounts are subject to minimum transfer amounts.
PayPal And Online Casinos
Before you jump online and start using PayPal for your online casino or sports betting, you should know that not all gambling websites offer PayPal as a payment method, so be sure to read the T&Cs before you sign up.
For those that do, linking your PayPal account to an online casino is as easy as entering your PayPal details upon registration.
When choosing your payment method to deposit money into your bankroll, select PayPal and follow the instructions provided to you. Using an electronic wallet also has the benefit of allowing you to stick to a budget, thus limiting the amount you spend.
Alternatives To PayPal
PayPal is not the only electronic wallet or payment system available, but it is by far the most reliable. And while not all online casinos offer PayPal as a payment method, many of the top ones do.
Other alternatives to PayPal include ApplePay, Ethereum, GooglePay, Skrill, Venmo, and Klarna. Debit card services are also available.
Remember to read the user reviews, check out all the T's and C's and make a note of any hidden fees that these services charge the user when using them for gambling and sports betting.
Verification Of Your PayPal Account
There will come a time when you will be asked to verify your account to continue using PayPal services. To verify your account, you will need to submit your most commonly used photo identification, like a passport or driver's licence, as well as proof of address in the form of a utility bill or other accepted document. Please ensure that you send the documents required, or you may face a delay in the reactivation of your PayPal account.
Once you have provided these all-important documents, your account is once again ready to use in as little as three business days. PayPal will notify you of the progress of your account verification.
PayPal Transactions: How Long Do They Take?
You've won a bet and want to withdraw your winnings from an online casino. What happens next? And how long will it take for your money to reflect in your PayPal account and bank account?
Transferring or withdrawing your winnings from the online casino to your PayPal account is usually at the discretion of the casino itself. But, most usually release the funds within two days or 48 hours.
Once the money is in your PayPal account, you can choose to leave it there to use to fund your online casino money account or bankroll, or you can transfer it to your UK bank account. This process takes one working day, and the funds should reflect directly in your bank account within 24 to 48 hours, depending on when you complete the transaction.
Do note that this is dependent on the time of day, as your payment might be affected if the transaction was completed over the weekend or on a bank holiday.
Online Casinos And PayPal: Our Top Tips
To make your experience with PayPal easier, we recommend downloading the electronic wallet's mobile application. This can make a world of difference when accessing, transferring, and withdrawing your funds from your PayPal account. A mobile application is not only more convenient but has a more user-friendly interface that allows quick and easy transfers and withdrawals at the click of a button. Mobile apps offer that extra layer of security and two-step authentication that keeps your data safe and secure.
PayPal transactions are 100% safe and are completed using encryption. Any and all transactions require you to enter a password before you can continue with the transaction.
Here are a few more tips on how to use PayPal to simplify your online betting experience:
Choose online casinos that allow PayPal as a payment method.
Link your PayPal account directly to your bank account.
Set yourself a bankroll budget and keep track of your money with the PayPal wallet feature.
Try setting yourself a withdrawal limit to reduce the transaction fees you are required to pay when using PayPal.
Do not share your PayPal password with anyone. Privacy is key when making online payments, so be sure to keep your guard up when sending or receiving money online.
PayPal And Your Privacy: What To Expect
PayPal is not only safe to use but also has some of the best privacy settings you would expect from an electronic payment platform.
Here are a few examples of their security and privacy settings that help keep your account private and secure:
PayPal uses 128-bit encryption to ensure the safety of your transactions.
Each transaction is monitored for fraud and helps prevent phishing scams.
A two-factor authorisation on all transactions and features.
Browser integrity checks and monitoring to ensure the legitimacy of all transactions.
As one of the world's largest payment services, PayPal is committed to keeping your personal details private and does not sell your contact details to any 3rd party companies.
Data storage is often a contentious issue, but you can use PayPal with complete peace of mind that your data is safely stored via SSL encryption (secure sockets layer) and will never be shared with anyone else outside the platform. SSL encryption ensures that the information you share is not readable by anyone but the intended recipient – in this case, PayPal and its servers.
Here is the data that PayPal stores:
Details like your name, contact number, address, and email address are only ever used to confirm that it is you using the PayPal service and are stored to help prevent fraud on your account.
Your Banking or Financial Details
Users are required to provide their banking or financial details upon registration of a PayPal account. This is to ensure that your money is safely transferred from the service to your bank account. Make sure the details you have provided are accurate, as this helps ensure safe transactions and withdrawals when using the PayPal service.
Your full transaction or payment history is available at the click of a button, helping you keep track of how much you have deposited into your account, as well as the withdrawals and payments you have made. Again, this information is not shared with anyone outside the PayPal service.
To see PayPal's full privacy policy for UK users, you can visit their website.
Online Gambling in the UK: Why PayPal is Tops
Online gambling has become increasingly popular in the world and, more specifically, in the UK. And using an internationally recognised payment service like PayPal allows gamblers to access international gambling sites, too.
For UK users, there are no limits as to the online casinos or gambling sites you can sign-up to when you have a PayPal account, giving you the opportunity to try out different gambling platforms. You can set yourself a spending limit and keep track of what you are spending by using the payment or transaction history available on your PayPal account.
PayPal does charge different fees for different countries, with limited services available in each. PayPal in the UK has limitations on how much you can transfer and withdraw at any time based on your account verification. A verified account has far greater services available than those that are unverified.
Frequently Asked Questions
If you're feeling a bit overwhelmed by all the information we have just laid out in the article, this FAQ section is for you! It has a few of the most popular and important questions you should know before jumping into the world of online gambling.
Can I Use My PayPal Account On Any Gambling Site?

No. While most gambling sites and online casinos do allow PayPal as a payment method, there are those that don't, so be sure to check out which ones do before you sign-up for an account.

How Long Will It Take For My Winnings To Reflect In My PayPal Account?

Most online casinos pay out your winnings within 48 hours. Money will reflect in your PayPal account seconds after it has been released by the casino.

How Long Does It Take For Money To Appear In My Bank Account Once I Withdraw It From PayPal?

Transactions within the UK take one working day, depending on the time of day your withdrawal took place. Please note that this could be longer if the withdrawal occurred over a weekend or bank holiday.

How Much Does PayPal Charge Per Transaction?

PayPal has a set transaction fee of 2.9% for any and all transactions.
Conclusion
Online gambling is a relatively popular pastime for many living in the UK. Now, with the introduction of payment services like PayPal, betting online has become much easier as it allows you to transfer and withdraw multiple currencies.
You can quickly and easily transfer funds to your casino bankroll, giving you the ability to play multiple casino games without the fuss of having to get your debit card out every time you play.
Linking your online casino to your PayPal account is painless and can be done by following quick, easy steps as laid out by the casino. Link your bank account to your PayPal account and manage your bankroll easily by only using PayPal to deposit and withdraw funds for your online casino account.
Be sure to follow our tips as we help beginners crack the world of online gambling and make the payment process much easier and fuss-free.