The KYC Process at Online Casinos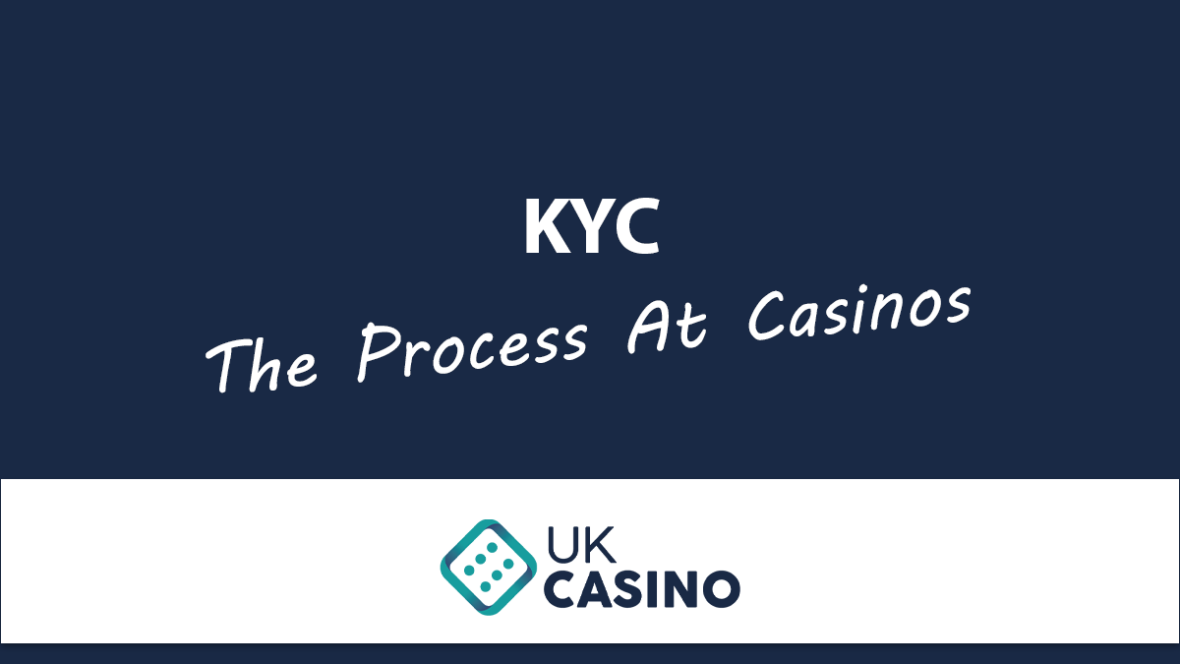 If you like to play at online casinos for real cash prizes, KYC is something you need to know about. Although KYC might sound like a knock-off fast-food restaurant, it's an important process that all financial institutions in the UK have to follow.
KYC is an acronym that stands for Know Your Customer and places certain obligations on casinos. If you've ever been asked to upload documentation at a casino, KYC was probably the reason.
No one likes to have to jump through hoops or wait for identity checks to be completed. But understanding the whole KYC process and what casinos are looking for provides new insight into why it's a necessary evil.
This guide explains what KYC is in detail, how the process works and what casinos are looking for.
KYC: An Overview
Know Your Customer, or KYC as it's most commonly known, is an umbrella term that covers a range of legislation and is used in financial industries around the world.
The goal of KYC is to prevent the proceeds of crime from entering financial institutions and to identify the individuals using their services. This means that some of the key pieces of legislation for KYC relate to anti-money laundering and counter‑terrorism financing.
Different types of financial institutions have slightly different requirements, but in general, KYC means that every company must be clear about who their customer is and where any money has come from. In order to achieve this, the customer must be able to produce proof of their identity and finances.
All financial institutions, including casinos, must do due diligence to ensure they check any claims regarding identity. In other words, they cannot accept their customer's claims at face value and must verify all information. This is done by requesting and checking a range of documentation that shows name, address, and date of birth.
The Role of KYC in Gambling
The UK has one of the most tightly regulated gambling industries, with companies authorised, monitored and regulated by the UK Gambling Commission (the UKGC).
Although the Financial Conduct Authority is generally responsible for overseeing compliance with KYC legislation, that's not the case for the gambling industry. The UKGC monitors KYC in gambling and can levy hefty penalties on any casinos that don't comply.
Casinos in the UK must have a licence from the UKGC to be able to operate legally. As the UKGC oversees KYC within gambling, this means that casinos will not be granted a licence if they don't meet the KYC requirements in full.
Historically, casinos have been targeted by fraudsters as being an easy way to launder cash. KYC prevents the proceeds of crime from entering the betting system, as criminals won't be able to prove where the money came from. Typically, they'll also be reluctant to provide their real details as this will create a traceable trail back to the cash!
KYC is integral to combating fraud within financial services, but it also acts as a means of protection too. The UKGC has tightened the regulations in recent years to make it harder for underage or vulnerable individuals to gain access to gambling facilities. KYC helps by checking that players aren't underage and aren't considered to be vulnerable.
Breaking Down the KYC
KYC can be broadly broken down into three separate elements:
Customer Identification Program (CIP)
Customer Due Diligence (CDD)
Continuous Monitoring (CM)
Every country which has KYC requirements enforces the above three steps through their own legislation. Fraud prevention and anti-money laundering (AML) legislation are central to the process.
CIP requires players to prove their name and address, typically by producing documents such as a driving licence, passport, bank statement and utility bill. The casino may also ask for proof of the source of funds. This is to prove that you are playing with money that is legitimately yours. A screenshot of PayPal or Skrill or your bank statement will typically suffice.
CDD is potentially the most complex part of the process as it involves the casino carrying out a risk assessment on the customer. If the risk of financial fraud, money laundering or terrorism is low, a simplified process can be followed.
Conversely, for customers identified as high-risk, enhanced due diligence may be necessary. High-risk customers may fall into the category of politically exposed persons (PEPs), or they may simply be playing with larger sums of money. These customers are more likely to be asked to provide proof of source of funds and other documentation.
Most players view KYC as a one-off process that the casino has to follow when a withdrawal is requested, but this isn't the case. Good KYC practice requires a casino to be vigilant for any changes that may indicate greater risk. To do this, the casino must continuously monitor players' accounts and take proactive steps if any red flags are identified.
This means that the casino can request KYC documents from players at any time. If they do so, it's not because they're deliberately being difficult or putting up a barrier to prevent you from withdrawing money – it's because a trigger has been identified.
Every casino will have its own system for risk assessment and alerts, but some of the most common triggers for KYC include:
Changes in player's behaviour – this could include changes in how long you play for
Different types of transactions on your account
Changes in how much you bet or how frequently
Altering the personal details on your account
Changing the payment details
Registering for a new account
Requesting a withdrawal
Not all of these will automatically trigger a KYC request, as it depends on the level of risk that the casino believes is present.
Managing KYC Online
If you're playing at a land casino, some of the checks can be carried out quickly in person. This is because it can be much easier to see – in some cases! – whether a player is clearly over the age of 18 years. If this is the case, a simplified process can be followed to verify identity.
Online casinos don't have the luxury of vetting their players face-to-face, so they need to take a more robust approach. Players will need to upload their documents, and this typically includes photo IDs such as passports or a driving licence. If the photo isn't clear, the KYC check may fail – and this may be the only reason. Therefore, it's extremely important to make sure that you upload clear and legible documents when asked to do so by the casino.
If you're playing at a licensed casino, you can trust them to protect your data. However, it's still a good idea to redact certain information, such as the CVV code on a debit card. The casinos will still be able to check your identity, even if you withhold these details.
In some cases, if the casino is not able to identify you based on the documents provided, they may ask you to upload a selfie. As with documentation, ensure that this image is clear, or else it will fail their verification checks.
KYC: The Process in More Detail
When you upload documents for a KYC check, what does the casino do next? You may think that it's just a tick-box exercise, but there's quite a lot of work that goes on behind the scenes.
This is because casinos are obliged to verify your ID rather than just accept it at face value. It's easy for rogues to obtain fraudulent documents or falsify details, so the casino has to ensure that what players provide is legitimate.
There are several ways that they can do this, such as biometric checks using the photos provided and searching national databases. This could include the electoral roll or credit reference agencies. Wherever possible, casinos will try to verify identity electronically while minimising any requests for more information. There is software available that helps casinos to do this, such as checking the numbers issued on a passport or driving licence. This can often be done even if the documents were not issued by the UK government.
International databases will be searched to check players against lists of PEPs or for players who have been previously blacklisted for fraud etc. Some of the most common checks include:
Deceased individuals
PEPs
Names of individuals known to be fraudulent
Individuals who have been sanctioned
Individuals who are known to be associated with fraudulent documents
Individuals who are known to be using genuine documents obtained with other fraudulent documents
Documents which are known to be fraudulent
Information about the latest trends for AML and fraud, and identity theft will also be readily available to casinos.
Casinos may outsource the process of checking to agencies that offer specialist services with identity verification. These companies have access to a greater range of databases that can enable identity to be checked more quickly and efficiently. Playing at a licensed casino puts a lot of responsibility on the casino to only use trusted third parties. Therefore, you shouldn't have any concerns about your personal information being used in this way. The whole process should be documented in the casino's terms and conditions, which should be visible on their website.
As mentioned above, KYC is about more than just preventing crime. It's also at the heart of protecting vulnerable players. And these are some of the most important checks that a casino will carry out.
GamStop is an organisation in the UK that helps players to stop gambling, should they want to. A player can contact GamStop and request to self-exclude. This means that they won't be able to play at online casinos and won't be able to register for new accounts until their period of self-exclusion expires.
All UKGC-licensed casinos are required to check with GamStop for self-excluded players. As it's extremely difficult to get past casino checks with fake IDs, there is no way for self-excluding players to gain access to new casinos.
Can Casino Players Avoid KYC?
There's no denying the fact that from the customer's perspective, KYC requirements are a nuisance. You just want to get on with playing, and if you win, you want to be able to withdraw your cash without any delays. As you'll need to upload certain documents, KYC slows down the process of playing and withdrawing your money.
It is possible to avoid KYC – if you're happy to play at an illegal, unlicensed casino. No casino based in the UK can operate legally without meeting KYC requirements. And if the casino is happy to break the law on this, what other legal requirements are they happy to ignore?
It is never a good idea to play at an unlicensed casino just to avoid KYC requirements. Having to verify your identity may be inconvenient, but it gives you the assurance that the casino takes its responsibilities seriously.
As a player, you hand a lot of sensitive data about yourself to the casino, and you could potentially be transferring significant amounts of money too. A licensed casino guarantees that your data and your money will be kept safe and that if you win, you'll receive the prizes without quibble.
There are lots of other reasons why it's important to only play at licensed casinos, such as the guarantee that games are fair. Unfortunately, that means that putting up with KYC requirements is not something you can avoid.
You can make it easier to pass KYC requirements by having the right documents available to upload. You can read more here about the Dos and Don'ts of KYC requirements, which should make the process more painless going forward.
There are often different tiers of KYC checks, with the simplest ones carried out when a new player registers. This doesn't mean that all KYC checks have been completed, as further checks may be necessary to make a withdrawal, for example. There is no advisable way to avoid these checks, so it's better to provide the requested documentation and just remind yourself that it's proof that the casino's processes to keep you safe are working properly!