Understanding KYC Document Requirements for Online Casino Players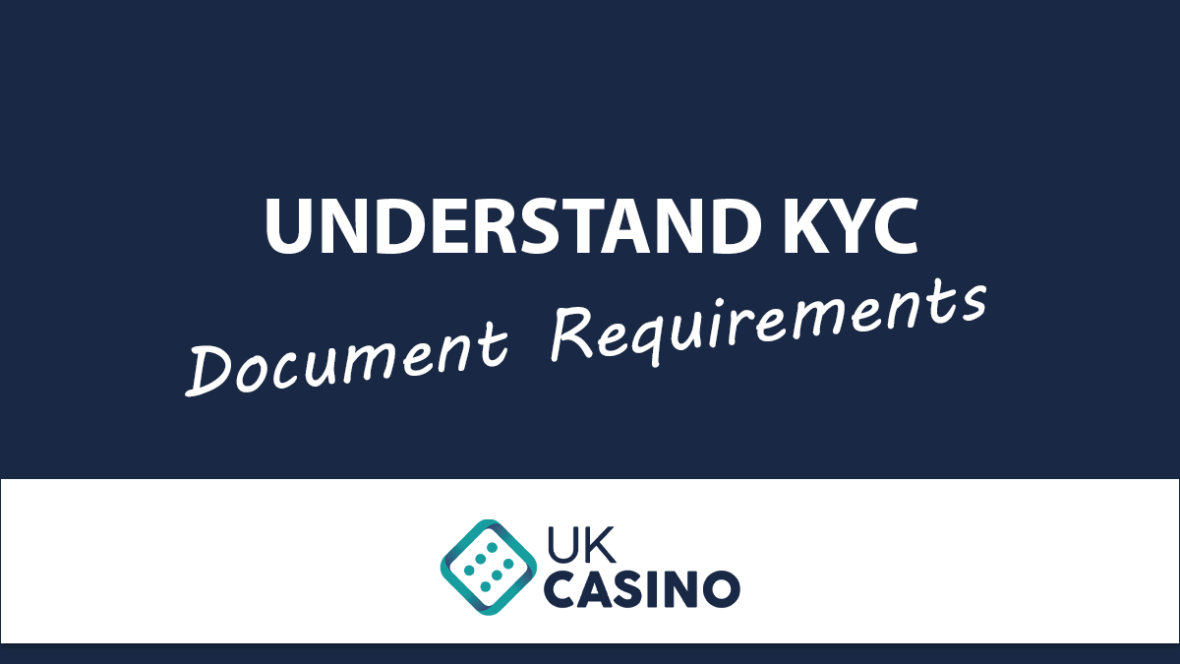 You've joined a new online gambling casino, but before you can put your tried and tested gambling techniques into practice, you have to pass a KYC (Know Your Customer) verification process. Surely, you have a ton of questions going though your mind: Why do I need to do this? Are they asking me to share sensitive information? How safe is my data?
These are all valid concerns, and you're not the only player that has them. This guide will take you through the ins and outs of the process, why it's necessary, and what you can do to keep your information out of nefarious hands.
Why KYC Document Requirements Matter for Online Casino Players
By simply verifying the identity and information of the players, online casinos can detect and prevent identity theft and account hijacking. They do this by implementing procedures such as only accepting deposits and withdrawals from an account which matches the registered account holders name. Imagine you've just hit the jackpot, and then you lose your account. Obviously, every player would like to avoid going through that. Isn't that reason enough to take the time to go through the KYC process?
These KYC processes also act sort of like an ID check in a bar. It helps confirm that potential players are legally allowed to gamble. And this, in turn, promotes safe gambling practices.
The Role of KYC in Preventing Fraud and Ensuring Safety
Implementing KYC procedures may be time-consuming and, to the uninformed, a bit tedious, but they keep you safe. And they ensure that the online casino industry protects itself against fraudulent activities.
A comprehensive AML compliance procedure must be in place for betting enterprises to avoid becoming a source of crime and to adhere to betting laws. It should specify, among other things, how the business identifies, evaluates, and reports financial crime. Besides, online casinos also require licences to function as legal entities, and these procedures ensure that they meet the regulatory obligations set by gambling authorities.
Submitting KYC Documents: Best Practices for Online Casino Players
We know that it's a frustrating process and that it seems never-ending, but at the end of the day, it is to your benefit as well as the casino's. To make the experience as quick and painless as possible, we've put together a comprehensive list of the dos and don'ts. Actions to take and pitfalls to avoid during the verification process.
What to Do
Know What You Need To Submit

KYC document procedures are not a one-size-fits-all process and will vary from one online casino to another. Though the may be small, there will be slight differences in the process players must follow to submit their documents. The specific rules for what acceptable documents are may even be different. It's never safe to assume anything, so it's best to check and double-check.

Before you register and play at any new online casino, it is best to do a little research. Make sure you review their terms and conditions, or if they have a dedicated KYC section, read through it to understand what is expected of you.
Do it Right the First Time

To save yourself the trouble of having to send, resend and resend again, make sure that the documents you send are clear and easy to read. Changing any of the information is also a serious no-no, and any online casino worth its salt will pick up on alterations.
Use Authorised Documents

This is an official process, so they need official paperwork. Online casinos will most likely ask you to send a government-issued ID document – maybe a passport or a driving licence. They will definitely need something that has a photo of the player on it – as most online casinos now do selfie verification as well.
Verify Your Email Address

Verifying your email address has become part of daily life, and almost everything you do these days requires it. It is also a standard verification process that most online casinos will ask you to do. But, it serves a double purpose. It confirms your identity, and it makes sure the online casino can keep in touch with you. Wouldn't you hate missing out on a big jackpot because they couldn't tell you about it?
Keep Copies of Your Documents

Technology is not infallible, and anything can happen, as they say. Best advice: Always have a Plan B. When it comes to KYC documents, this means keeping a copy of everything that you send to the online casino. Then, should there be any issues or discrepancies, you don't have to start the process from the beginning, and it's as easy as sending a second email. Presto! They have all the information again.
What Not to Do; the Don't of KYC Verification
Don't Provide Expired Documents

Online casinos won't accept expired documentation. This is particularly true of your proof of address paperwork. So don't send them the utility bill from the house you rented during your university days. Online casinos need current documents or, at the very least, nothing more than three months old.
Don't Submit Only Half of What You're Asked For

When players don't send absolutely everything that the online casino needs for their KYC procedure, it only delays the process. Imagine a continuous back-and-forth between the player and the casino for the sake of a few pieces of paper. It's a waste of time for both parties!
Don't Alter or Modify Documents

To keep yourself out of trouble, send original documents, nothing that has been changed in any way. Online casinos do not take too kindly to altered paperwork, and you could put yourself in some hot water. You will definitely be disqualified from the process, but you could even have to face the law.
Don't Use Someone Else's Documents

You're the one playing; it's your hard-earned money on the line, so it should be your documents used in the KYC process. This is just another way that players are denied verification and, indeed, the chance to enter the casino floor.
Don't Use Documents from Non-Accepted Sources

Another surefire way to have your KYC documents rejected and possibly disqualified from the whole process is by sending documents from non-accepted sources. Online gambling institutions will only accept documents from official sources such as the government or reputable financial institutions.
Don't Delay Document Submission

There's an adage: Don't delay; send it today. Players who keep that in mind when they go through KYC verification have cracked the code. These are the players that win the big bucks because they are able to play before anyone else. They sent their documents as quickly as possible, and the system worked smoothly.
Don't Share Sensitive Information Unnecessarily

Don't throw caution to the wind and just start sending your most sensitive information. You have to remain vigilant in protecting your personal information. Be very cautious of sharing unnecessary sensitive information. Don't submit full bank statements or tax returns unless they are specifically required by the online casino in order to complete the verification process.
Common KYC Document Requirements: What You Need to Provide
Proof of Identity
Typically online casinos will require a valid government-issued form of identity. These will mostly be documents such as a valid ID card, passport, or driving licence. It is important to make sure that whichever document you are asked to submit contains the following information:
Your full name
Date of birth
A clear photograph
All relevant identification numbers
Proof of Address
For an online casino to verify your residential address, they will ask you to provide documentation such as your utility bills (water and electricity statements), bank statements, or any official letters. As we've mentioned, these documents usually need to be no older than three months. And you need to make sure that your name and address are clearly visible on any documents that you submit.
Proof of Payment Method
Online casinos need to verify that any funds you deposit with them come from a legitimate source. For this purpose, they will request that you submit proof of the payment method that you used to deposit the funds. This can be either a screenshot of the transaction or a copy of your bank statement showing the transaction details.
Selfie or Photo Verification
Some online casinos may require further proof of your identity and may ask you to provide a recent selfie or photograph. By comparing this selfie or photograph with the image on the identification documents you submitted, they can confirm that you are the account's rightful owner.
Additional Documentation
In order to make sure that they comply with anti-money laundering (AML) regulations, some online casinos may ask you to submit additional documentation. This will depend on the online casino's specific requirements or regulations. These documents may include proof of funds, which could come in the form of employment records, tax returns, or bank statements.
Verification of Bonus Eligibility
You've won the jackpot and you want to cash out – but you're stuck. By going through the KYC verification process, you can avoid the anticlimax and make sure that your money is paid out immediately and that you are eligible to receive any bonuses or offers. There are usually certain requirements for the payout – and it might be wise to go through those as well.
Proof of Source of Wealth
If you are a high-value player, your chosen online casino may require proof of your source of wealth. These documents may include such things as investment portfolios, property ownership, or business documents.
Always refer to each online casino's specific KYC guidelines to understand their exact document requirements. These documents may differ from one online casino to another, especially if they fall under different jurisdictions.
How to Ensure the Security and Privacy of Your KYC Documents
There are certain guidelines that players should follow to make sure that their documents are handled safely and that their privacy is protected. It is important for players to follow these guidelines to protect themselves.
Choose Reputable Online Casinos
When it comes to choosing an online casino, be sure only to select those that are licensed and regulated by reputable gambling authorities. One such authority is the Gambling Commission in the United Kingdom. This way, the casino will most likely have stricter security measures, which in turn will protect your personal information.
Encrypt Your Documents
There are many file encryption tools or password-protection software available on the internet. These are specifically designed to prevent unauthorised access to your private documents. Before you submit your KYC documents, consider using some of these tools, which will add an extra layer of security to your documents. Thus ensuring you are protecting your privacy.
Verify the Casino's Security Measures
It is always a good idea to verify an online casino's security measures. Keep a lookout for SSL (Secure Sockets Layer) encryption on their website. SSL encryption ensures secure transmission of data and prevents your personal information from falling into nefarious hands.
Review the Casino's Privacy Policy
Another way to protect your information is to ensure that whichever online casino you choose has very strict privacy policies. Make a note of the section on how they handle and store your personal data, and more specifically, if they share your data with third parties without your consent.
Use Secure Methods of Transmission
Most casinos will require that you submit your documents through secure methods of transmission, such as encrypted email or secure file upload systems. These will be provided by the casino. Never submit your documents through unsecured channels such as social media platforms.
Verify Data Retention Policies
It is very important that online casinos do not store your KYC documents for too long and just keep them for the time necessary to complete the verification process. Therefore, it's always advised that you review their data retention policies and make sure that they have policies in place to securely delete all your documents once the retention period has expired.
Monitor Account Activity
By regularly monitoring your account activity and transaction history, you can detect any unauthorised access or suspicious behaviour. Should you find an activity that you do not recognise, be sure to report it to the casino's customer support immediately to enable them to investigate the matter and take further action should it be necessary.
Be Wary of Phishing Attempts
Phishing attempts are where malicious entities may try to impersonate the casino and request your KYC documents through fraudulent means. Before submitting any documentation, especially those with sensitive information, to any entity, you should verify the authenticity of the communication.
Delete Local Copies
Though it is a good idea to keep copies of all the documents that you submitted during the KYC verification process, it is an even better idea to delete these documents once the process has been completed. This includes all temporary files that you may have stored on your devices. This will make sure that your sensitive information isn't vulnerable to access by unauthorised persons.
Seek Support from Customer Service
If you're still worried about the process or you have any questions, it's always best to contact Customer Support. The Support staff are trained and will be able to answer all your queries.
Following these tips and tricks keeps you safe, keeps your documents safe, and makes sure that you get through the process as smoothly and easily as possible so that you can enjoy your online gambling experience.