What Are The Different Types of Jackpots?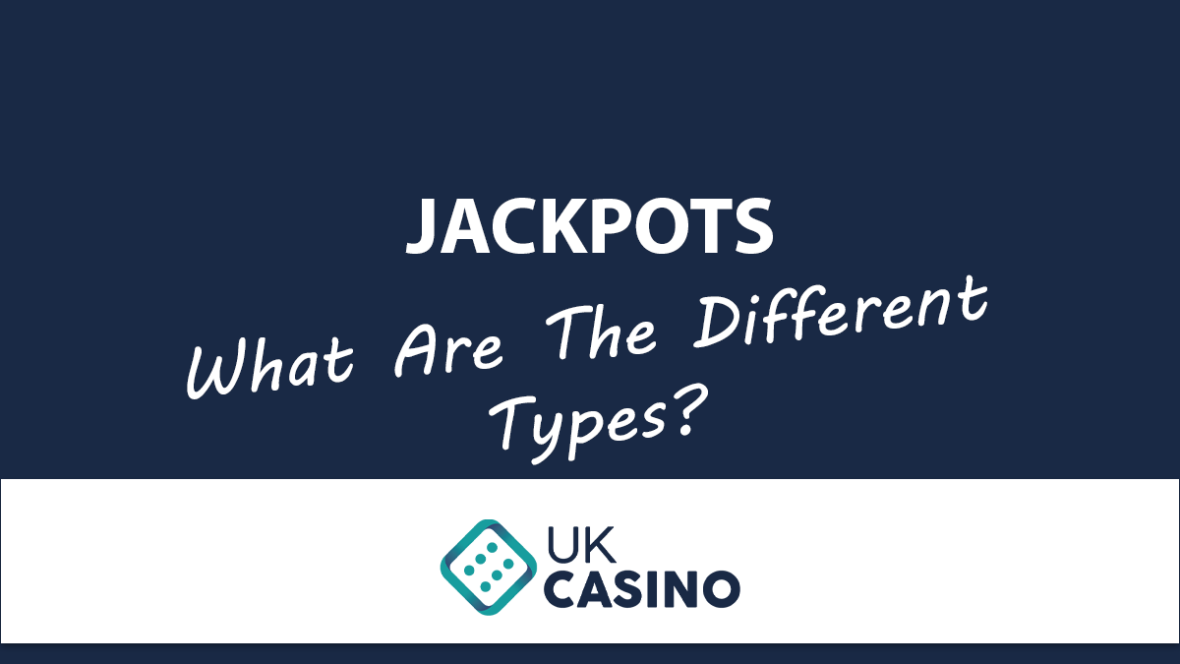 Jackpot slots are slots where you can win a jackpot. These jackpot slots work the same as regular slot machines. Only jackpot slots have an extra dimension because you constantly have the chance of winning a jackpot. The chance of winning a jackpot depends on many factors. It depends on what kind of jackpot game it is, the size of the jackpot, and the type of jackpot itself.
Jackpots always fall at a random moment because they work with a Random Number Generator (RNG). This ensures that the outcome of a jackpot game is fair at all times. Online casinos that do not use RNG are unreliable, often operate without a UK license and can, therefore, not be found on our website.
Jackpot slots and games usually have a lower Return to Player (RTP) compared to their ''regular'' counterparts. Because jackpot slots offer an extra feature compared to regular slots in the form of a jackpot, the standard pay lines pay out slightly less well. Otherwise, the RTP would become too high and online casinos would lose money constantly.
What Different Types of Jackpots are There?
As mentioned before, the jackpot you can win depends on the type of jackpot you play. UK online casinos offer different types of jackpot slots, and we will cover them in this section of this guide.
The different types of jackpots are:
Network Jackpots
Local Jackpots
Fixed Jackpots
Mystery Jackpots
Multiple Jackpots
Network Progressive Jackpot Slots
A network progressive jackpot slot is an online slot machine that is featured in multiple online casinos, of which the jackpot increases as no one hits it.
Out of every wager, players at all the different casinos combine place at the slot, a small portion gets added to the slot's jackpot until one lucky player hits it. Once a progressive jackpot slot is hit, it is reset, starts with a certain seed amount, and can technically be hit the next spin again (although this virtually never happens).
Local Progressive Jackpot Slots
Unlike network jackpots, local jackpots only increase within a particular online casino. Only players at that specific casino can increase the jackpot by playing the game. As a result, these jackpots do not get as high as network progressive jackpot slots. Nevertheless, it is nice that the jackpot is progressive, so you never know how high it can become.
Slots With a Fixed Jackpot
With these jackpot slots, you know in advance what the jackpots are as they are fixed. These jackpot slots are also local and often lower than the progressive ones. Some examples of fixed jackpot slots are 9 Masks of Fire (2,500 times your bet per spin), Sweet Bonanza (21,000 times your bet per spin), Crystal Classics (25,000 times your bet per spin), and Fire Forge (50,000 times your bet per spin).
Mystery Jackpot Slots
Mystery jackpot slots are essentially the same as local or network progressive jackpot slots, but the top prize falls when the jackpot has reached a specific amount rather than randomly. You might think this is a bit weird as this seems not so mysterious at all compared to ''regular'' progressive jackpot slots. However, the catch is that players don't know in which game the jackpot will fall. In most cases, mystery jackpot slots are only active within a particular online casino or casino group.
Slots With Multiple Jackpots
Slots with multiple jackpots are often slots with multiple fixed jackpots to be won (mini, midi, major, mega, for example). In some cases, these slots have multiple progressive jackpots, but these are a bit rare compared to slots with multiple fixed jackpots. Examples of popular slots with multiple jackpots are Aurora Wilds, Jackpot Raiders, and Mustang Gold.
The Most Popular Jackpots Of The Top Game Providers
In the United Kingdom, there are many different types of jackpot slots. Because games with a jackpot are popular, many game providers have developed their own network jackpot. Microgaming, Relax Gaming, and, for example, Big Time Gaming all have their own network jackpots. Below you will find an overview.
Mega Moolah – Microgaming
Microgaming is a game provider that has multiple network jackpots. That is because Microgaming is actually a platform to which several smaller game providers are connected. The range of games from Microgaming is, therefore, extensive and diverse. There are two types of network jackpots at Microgaming: the WOWpot and the Mega Moolah jackpot.
The Mega Moolah jackpot has been around for a long time (released in 2006) and is a bit more famous. That is also because the current jackpot record in the online casino is held by Mega Moolah, as we mentioned before in this guide.
You can unlock the Mega Moolah jackpot game at any time, and then you have a chance to win four different jackpots. You can win the mini, minor, major or mega jackpot, which are all progressive jackpots. They each have a specific starting amount, also called seed amount, but can become very high. The Mega Moolah seed amounts are £10, £100, £10,000 and £2,000,000, respectively.
This well-known savannah-themed game became very popular, which is why more Microgaming slots later included the Mega Moolah jackpot. You now also have Immortal Romance Mega Moolah and Absolootly Mad Mega Moolah, for example.
WOWpot – Microgaming
The WOWpot was introduced in 2020 and is still relatively new. This jackpot also consists of 4 levels: mini, minor, major and mega. They also have more or less identical starting amounts as those of Mega Moolah. Only the major jackpot starts at £50,000, while the Mega Moolah jackpot starts at £10,000.
The difference, of course, is in the games. Some Microgaming games have the Mega Moolah jackpot, and some games have the WOWpot. Our favourite WOWpot slots are:
Book of Atem
Sisters of Oz
Poseidon: Ancient Fortunes Megaways
The advantage of two different network jackpots is that you can check which one is higher. It is more interesting to play the game with the highest jackpots.
Dream Drop – Relax Gaming
The Dream Drop jackpot from Relax Gaming is also relatively new (set up in 2022), but millions of pounds have already been paid out several times. Relax Gaming introduced the Dream Drop jackpot on Temple Tumble 2, but more Relax Gaming games have also added the jackpot feature. For example, you can now win the mega jackpot on Snake Arena and TNT Tumble.
The Dream Drop Jackpot consists of no less than five different jackpots, all of which are progressive.
Mega Jackpot: Initial value £500,000 & Maximum amount of £1,000,000
Major Jackpot: Initial value £25,000 & Maximum amount of £50,000
Maxi Jackpot: Seed value £100
Midi Jackpot: Seed value £5
Rapid Jackpot: Seed value £1
As you can see, the biggest jackpots do have a fixed amount. The disadvantage of these jackpots is that the mega jackpot cannot amount to millions. The advantage is that the mega jackpot falls much more often.
Spin to Win – Stakelogic
Stakelogic has come up with a unique progressive jackpot: the Spin to Win Jackpot. If you happen to trigger the jackpot feature on one of the Stakelogic slots, you go to their live studio in one go.
Basically, it is a combination of live casino and slots. A host awaits you in the live casino studio. The host spins a Money Wheel, which determines what kind of prize you will win. Most pockets yield a cash prize, but there is also a 'Jackpot' pocket.
If you're lucky, the wheel will stop on the jackpot pocket, and then you'll move onto a second wheel. There are three jackpots on this next wheel: the Mini, Major and Grand jackpot. The Mini Jackpot is by far the most common, but you now have a chance to win the Grand Jackpot. This jackpot starts at £100,000.
MegaPays – Big Time Gaming
Big Time Gaming is another prominent game provider with a network jackpot. On all 'Megapays' games, you can win a million quid jackpot in addition to the basic game. At the moment, you can win the jackpot on the following BTG games:
Bonanza Megapays
Danger High Voltage Megapays
Star Clusters Megapays
Who wants to be a Millionaire Megapays
Big Time Gaming once started with the concept of 'Megaways', which grew into a huge success. Many other game providers are now using the Megaways mechanism. After that, Big Time Gaming also came up with Megaclusters and Megaquads. Now there are Megapays games, which are combinations between Megaways and progressive jackpots.
A Megapays slot machine works the same as a megaways slot machine, but with an added extra chance of winning high jackpots. There are four different jackpots, with the Mega Jackpot starting at £300,000 and reaching into the millions.
You can unlock the jackpot feature at any time. You don't need any specific symbols for it. During the jackpot game, a random symbol is chosen, and the number of times you spin this Megapays symbol determines which prize you get.
4 – 7 symbols net you the mini jackpot (seed value of £100)
8 – 11 symbols net you the midi jackpot (seed value of £1,500)
12 – 14 symbols will give you the major jackpot (seed value of £20,000)
15+ symbols gives you the mega jackpot (seed value £300,000)
FAQs About Jackpot Types
What Is A Hyperlink Jackpot?

A hyperlink jackpot is a system that uses a second screen and allows players to win one of four progressive prizes. The second screen bonus, once triggered, features spinning reels and the progressive jackpot won is based on the total value of the numbers on the five reels.

What Jackpot Has The Best Odds?

The online jackpot slot with the best odds is Mega Joker by NetEnt, with 99% RTP and a built-in progressive jackpot feature.

What Kind Of Jackpots Are There?

There are progressive, fixed, network, local, and mystery jackpots and slots with multiple jackpots.

How Are Fixed Jackpot Slots Different From Progressive Slots?

Fixed jackpot slots have fixed prize amounts, while progressive slots have jackpots that continue to go up until they are hit.