What Is Considered Successful Gambling?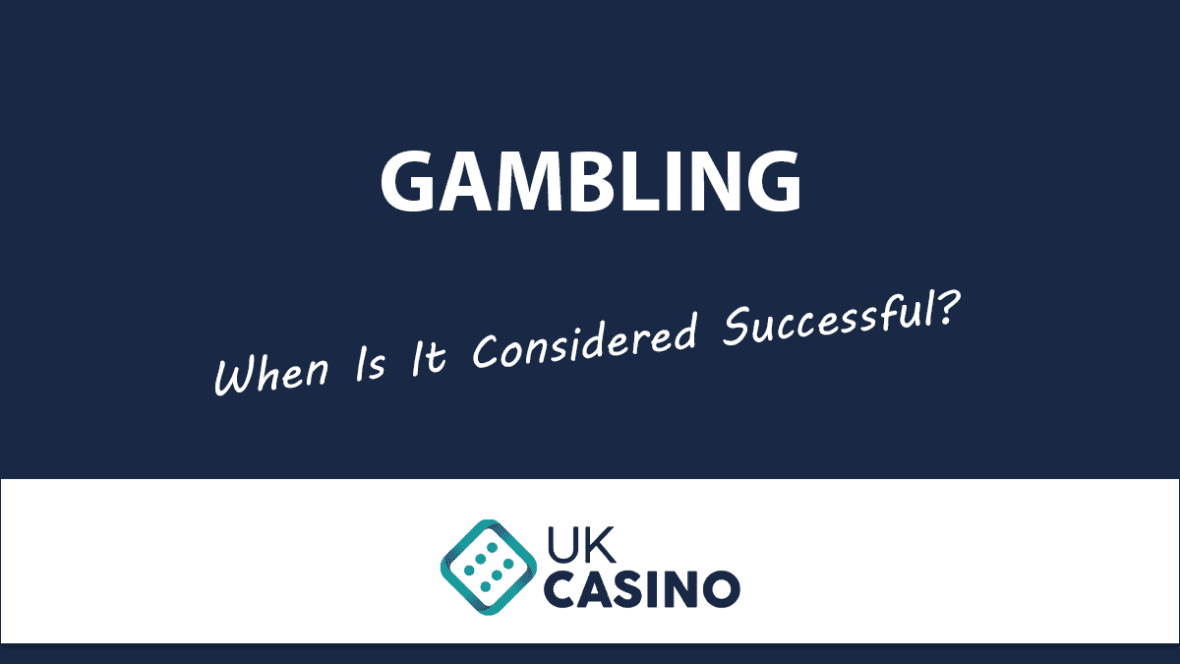 Success is relative in all walks of life. Winning the World Cup is obviously successful. Graduating from university could be seen as a success. For people battling depression, getting out of bed is a successful day. It all comes down to perspective.
This is true even in relation to gambling. Winning a good chunk of change is obviously successful. Not losing could be seen as successful. While to some, simply enjoying themselves is a successful day of gambling.
A global and ongoing survey carried out by YouGov utilises their Global Gambling Profiles to discover more about people's attitudes to gambling worldwide. The most common answer to the question: "Which, if any, of the following are important to you when placing a bet of gambling?" was fun/enjoyment.
Bookmakers Definition of A Successful Gambler
The bookies have their own measure of what makes a successful gambler. They use stake factoring, which is a way of grading customers based on their success. Newspaper reports suggest it is widespread.
Testimonies from anonymous employees of massive bookmakers like Paddy Power Betfair and William Hill explain how they use stake factoring. The practice is essentially empowering customers they perceive as losers while those profiting are restricted.
An employee of William Hill talked about how new accounts launch with a standard stake factor meaning they can use the whole gamut of bet selections. When an account starts to win, they start lowering it.
It starts with 50%, and if they keep winning, it can drop to 25% and eventually all the way to 1%. The process is reportedly automated at some of the more technologically advanced bookmaking firms. This suggests that now numbers and statistics programmed into an algorithm can indicate whether you are a successful gambler.
Newspaper reports also suggest different categories of successful gamblers that bookies use. There are latency cheats who attempt to exploit the delay between events occurring and bookmakers responding.
They also use the term "bonus abusers", which refers to people who exclusively use the offers and promotions handed out by bookies. There is also the term "arbers" which refers to arbitrage gamblers. They look for poorly priced odds, they place that bet and an opposing bet elsewhere.
Bernard Henry, a gambler who had an account with Coral, submitted a subject access request to the company. It was revealed he had won £38 across four years of gambling, but his account had been restricted from placing sports bets because he has beaten their odds 73% of the time.
It would not be unfair to extrapolate from this story that Coral thinks winning £38 over four years is successful, as is beating their odds 73% of the time.
Legal Definition Of A Successful Gambler
In 1925, the case of Graham v Green set a precedent that earning a living from gambling does not make it a trade. It regards a gambler who makes most of his living from betting on horses at their starting price.
The trial found that the plaintiff was not required to pay taxes on his earnings from gambling. What is most interesting, though, is the character assessment formed during the trial. It is not clear what role Rowlatt J had in the case, but he details his opinion that the gambler is merely skilful like a card player is skilful.
He explains how the plaintiff's actions are not organised in the same way as bookmakers' is, therefore it cannot be considered a trade. Afterwards, he adds: "I think all you can say of that man … is that he is addicted to betting. It is extremely difficult to express, but it seems to me that people would say he is addicted to betting, and could not say that his vocation is betting."
Of course, this is an assessment received from a man who hails from a different time than now. 1925 attitudes are different to those a thousand years later. This is arguably a case of successful gambling, the man funded his lifestyle through bets, but ultimately the judgment placed on the gambler is that he was an addict.
Tips For Being A Successful Gambler
These are absolutely not tips for how to win money while gambling; these are tips for having an enjoyable gambling experience while protecting yourself and those around you from harm:
Know When To Walk Away – No, we are not going to just recite the Kenny Rogers song here, but knowing when to take a loss and walk away is important. Chasing losses is high on the list of causes of bet regret.
Know When To Hold On – This is more of a matter of skill. Knowing the moments when you can take advantage can take time to recognise. You could perhaps learn this skill by counting cards during Blackjack or reading your friends' faces for poker.
Understanding Odds – Understanding decimal and fractional odds can be quick and easy. Make sure you fully understand full cover bets and parlays before getting involved with Lucky 31 selections and Yankees.
Stay In Your Budget – This is very important and reinforces don't chase your losses. Walking away after losing only as much as you promised will reduce the chance of bet regret. Don't chase losses when you've hit your floor.
Time Limit – If you find it difficult to stick to a budget, then consider your gambling, but you could try a time limit instead.
These are tips that can help you be safe while gambling. Now we shall look at characteristics that are shared by people perceived to be successful gamblers. These characteristics are compiled from a medical doctor writing about his experiences interviewing professional gamblers. He came to the conclusion that they share these nine traits:
They are good with numbers – The doctor notes that they aren't all mathematical geniuses, although some are. Basically, on some level, they are comfortable with mental arithmetic. Something the doctor believes is only possible through practice.
They have 'street smarts' – The doctor points out they all had average IQs, but they were cunning.
They are brave – he uses a much more crass and sexist term to suggest they are all brave.
They can be objective – The doctor believes they are all adept at putting their emotions to one side. They can marinate on a decision before acting impulsively.
They hate losing more than they like winning – One case study highlights how the gambler had little reaction to winning but was very angry at himself for losing.
They get a different pleasure from winning – The doctor suggests that they get cognitive pleasure from winning in a system that creates a lot of losers rather than the immediate pleasure others get from winning one bet.
They are disciplined and hard-working – they report that they share a talent for discipline and hard work.
They have records – an interviewee suggests that not knowing exactly how far ahead or behind you are is evidence of being a bad gambler.
They are self-aware – by this, the doctor seems to mean that they don't kid themselves he says: "They know their weaknesses, and don't bet when they don't have the required expertise. They aren't big-headed and they aren't vain. They are brutally honest with themselves."
When Success Starts To Fade
Successful gambling can become unsuccessful pretty rapidly. Now, we are not talking about losing a bet or losing an amount of money, this is problem gambling. Gambling addiction or compulsive gambling happens when someone continues to gamble despite negative consequences across their life.
When gambling starts to affect relationships, work life, social life, and financial stability but the activity is sustained – this is very unsuccessful gambling.
This is part of the motivation behind the UK's first-ever responsible gambling campaign that was applied industry-wide. The campaign led by the Senet Group ran with the slogan: "When The Fun Stops, STOP." It uses colours and striking images to promote healthy gambling habits.
It was reported to be a beneficial campaign because in its fourth-year results suggested: it helped over a third of gamblers exhibit control, more than two million people have quoted the phrase, and around a fifth of people said they had warned people about their gambling because of the advert and helped them to approach it more appropriately.
UK residents might also remember the "Tap Out" campaign that promoted the idea of avoiding impulse betting, betting when you're bored, when you're inebriated, or chasing your losses. It used a burly wrestler character that would force the potential gambler into a grapple before they could click the place bet button.
One person who partook in tapping out said: "Sometimes you put the app off, go and do something else, and you actually forget to put the bet on!" Tapping out reduces the chance of bet regret because you can consider if the bet is worth it or not.
These campaigns are judged to be triumphant if they reduce harmful gambling practices among UK residents. Charities and gambling support groups, therefore, consider successful gambling as simply gambling responsibly.
A Rare Example of A "Successful" Gambler
Keen gamblers and people interested in the industry might be aware of Billy Walters; outside of James Caan's Axel Freed, he is one of the most famous gamblers in the world. He reportedly had a winning streak that lasted over 30 years.
Encyclopaedic entries about Billy Walters regularly include phrases like: "He claims" or words like: "allegedly", which scream hyperbole. In 1987 he supposedly stopped all types of gambling except sports betting, and within this decade, he joined the Computer Group.
Over a period of 39 years, the group apparently had one losing year. In 1992, The Computer Group was investigated and charged with conspiracy and illegal transmission of wagering information. In 1996, one of his companies was raided, and money-laundering charges were brought against him.
In 2007, he said in an interview with the Wall Street Journal that he could make between $50-60 million in a good year. Around 2010 and 2011, he would employ a network of "faceless grunts" to place bets for him at various Las Vegas resorts.
In April 2017, William T. Walters was found guilty and sentenced to five years in prison for insider trading. This sentence was eventually commuted by one Donald J. Trump. Since then, stories of his exploit have been few and far between.
Billy Walters is what you might consider a successful gambler: he's rich, famous and has reportedly won a lot of money from gambling. He is noted as a philanthropist, something that may not have been possible without his alleged gambling, but he was constantly investigated by the FBI and eventually went to prison for four years.
You can judge the success of Billy Walters.
Conclusion
The relative nature of success spreads when also concerned with gambling. Billy Walters is a famous example of an arguably successful gambler. He has purportedly had a 30-year winning streak, but the activity encompasses his everyday life.
Surveys suggest people think having fun is the most important characteristic of successful gambling. Bookmakers have models of successful gamblers they use to change the bet selections available to players.
The legal definition of successful gambling comes from a precedent that permits the speculator's habits but still passes judgment on them. You might be able to find common characteristics between professional gamblers, but this does not necessarily equal success.
Charities believe successful gambling should be judged by how responsible it is, and this attitude is adopted by a lot of gambling tips. Campaigns around gambling also promote this idea in betting shops and at online casino websites.
Losing money is not necessarily unsuccessful but chasing your losses and subsequently losing more is. This all implies that playing responsibly and enjoying yourself are two of the most important ways to be a successful gambler.