What Is Gambling?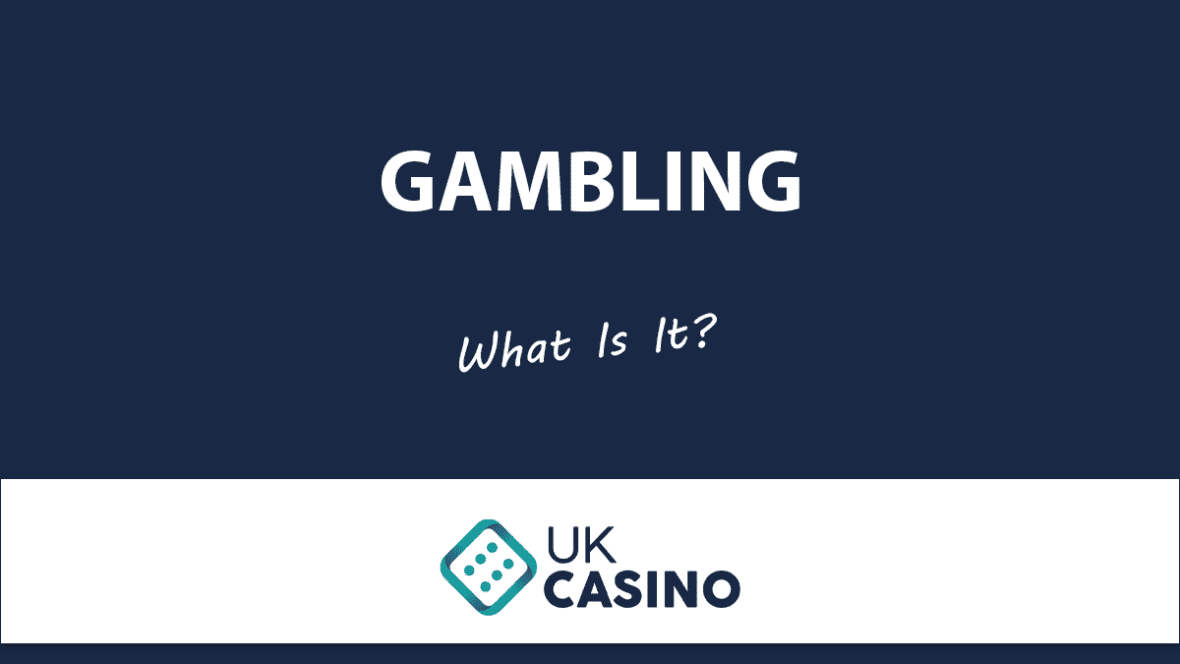 The word gambling can be such an umbrella term, and you could argue that we have all gambled in some way or another. The term gambling can refer to taking a risk, no matter the size and regardless of whether money is involved. People might even say they are going to "take a gamble" when they try out a different product to one of their favourites. Of course, these are nothing compared to the huge gambles people take when betting. So what exactly is gambling?
What is the Definition of Gambling?
The dictionary produced by the Cambridge University Press defines gambling as the activity of betting money, for example, in a game or on a horse race. This is quite a limited definition improved upon by an American dictionary, Merriam-Webster. They say that gambling is the practice of risking money or other stakes in a game or bet. This is more descriptive because it acknowledges the element of risk. Random House Unabridged Dictionary suggests gambling is simply playing a game of chance.
The most detailed description is provided in the Encyclopaedia Britannica entry for gambling. It says that gambling is "the betting or staking of something of value, with the consciousness of risk and hope of gain, on the outcome of a game, a contest, or an uncertain event."
Legal Definition
In UK legislation and particularly within the Gambling Act 2005, gambling is split up into three different categories. There is gaming which is defined as playing a game of chance for a prize; someone is considered to have played if they acquired a chance of winning. A prize means money or money's worth.
The second category is betting, which is making a bet on the outcome of a race, event, or competition, as well as betting on the likelihood of something occurring or whether something is true or not.
The third is playing in a lottery. A lottery is defined by whether or not people have to pay to participate, one or more prizes are allocated to one or more participants, and the allocation of said prizes relies on chance.
What are Slot Machines?
Slot machines are also known as fruit machines in the UK and in the past, were called one-armed bandits. They are the most popular casino games in the United States, but the UK's association with physical slot machines is related to the pub. Punters would also call them fruities, and they'd sit in a dark corner of the pub surrounded by crusty carpet and, before the smoking ban, covered in ash.
In general, a slot machine involves a player staking a certain amount of money to spin the reels. Players can win money when the slot machine generates matching combinations of symbols. Some combinations are worth more than others, and there is generally a top prize known as a jackpot. Slot machines used to work via a series of springs and gears, but nowadays, they are computer-based. Game developers have to keep them fair, and they do this using random number generators that randomly determine the outcome of a spin.
Slot machines are also known for their bonus features, usually involving some bonus spins and the chance to win bigger prizes than in the base game.
What are Live Casino Games?
Live Games are a relatively new phenomenon in the world of online gambling. They attempt to recreate the experience of visiting a brick-and-mortar casino from the comfort of home. They are casino games that involve a real live croupier, presenter, or dealer.
Live Casino areas of online casinos started with classic table games like blackjack, roulette, and baccarat. Nowadays, some unique live games wouldn't be possible in a traditional casino setting. Gonzo's Treasure Hunt and Adventures Beyond Wonderland are two popular examples that involve gameplay you are unlikely to have encountered before.
Live Games have become so popular that massive brands like Evolution Gaming and Playtech have gone all in. They have all invested in purpose-built live casino studios. These are essentially casinos that are not accessible by the public in person. They are recording studio casinos where the company packs in multiple tables to boost their live casino games output.
What is Sports Betting?
Sports betting is placing a bet on the events and outcome of an upcoming sports match, competition or event. You can do this online and in person, but both involve a bet slip. The options when it comes to sports betting are overwhelming. Within every sport, you can bet on the outcome of a competition as a whole, the outcome of an individual match of a competition, and you can even bet on the events that occur within a match taking place as part of an overall competition.
To be more specific, let's take football as an example. The World Cup is one of the most watched sports events in the world; over half the world watched the 2018 Fifa World Cup. You can bet on who will win the World Cup overall, you can bet on who will win a match that takes place as part of the World Cup, and you can bet on how many corners or yellow cards there will be in a World Cup match. Sports betting can get so specific that you can even bet on whether there will be a goal in the first ten minutes of a football match.
When betting on sports, you can bet on single outcomes, but a popular option is to build an accumulator. This is when you add a series of selections to your bet slip and bet on all of them happening. The odds are combined for a bigger payout than betting on them individually, but all of the events must occur for you to win the bet.
Horse Racing is hugely popular for betting; it is the first form of sports betting in the UK. In the 1600s, King James I laid the foundations for the horse racing we know today. He was a jockey who established Newmarket which still hosts races today. People could bet on the final placement of a horse.
Ascot Racecourse was commissioned by Queen Anne in 1711, and within the same year, it hosted its first race. Seven horses competed for a £50 plate. Since then, it has been the second largest spectator sport in the country and is arguably worth over £3 billion to the UK economy.
What is Bingo?
Bingo involves buying a card or ticket labelled with numbers in different column groups. Players then listen to a caller who draws numbers from a mechanical drawing machine and shouts them out. If the number matches one on your card, you daub it. Daubing is simply covering the number, but there are special daubing pens for bingo.
In the UK, there are typically three prizes available for each round of bingo. The first prize goes to the person who completes a whole line of marked-off numbers. The second goes to the first person to complete two lines. The final and largest prize goes to the person who marks off all of their numbers.
It is relatively unknown that Bingo has roots that go back hundreds of years. In Quebec, Canada, it is known as Kinzo. It is a game of chance that has not always been intrinsically linked to casinos. In the UK, where its popularity increased in the 20th century, bingo is enjoyed in dedicated bingo halls. The Canadian bingo industry is worried about an ageing clientele, while Britain has turned bingo into a multi-million-pound industry.
The British version uses 90-balls and often goes by this name. The tickets here contain three rows and nine columns. Each column represents a group of numbers, so the first column will only contain numbers between 1-9. The second column contains numbers between 10-19, and so on, until the final ninth column, which includes numbers between 90-99. Each row has a mix of five numbers, so there are 27 spaces but only 15 numbers.
Other variations involve different tickets and different numbers of balls.
What Is The National Lottery?
Lotteries were possibly the first example of betting in the UK. Circa 1566, Queen Elizabeth I launched the first national lottery. It was available to the public and an initiative to raise money for harbours in need of repair. Four hundred thousand lots were made available, but only around 40,000 were purchased. The prize was given out in 1569.
The national lottery still exists now, but it is run privately by the Camelot Group. Players select six numbers or have six numbers randomly selected for them. On Wednesdays and Saturdays, a draw is made and prizes on handed out based on how many matching numbers you have. The jackpot is given to someone who guesses all the numbers correctly. The smallest jackpot in the UK National Lottery was £720,152. When no one wins the jackpot, it rolls over to the following week. The biggest win ever was £161 million.
Conclusion
Gambling is risking the loss of something valuable with the hope of getting earning something more valuable. The word gambling can include a wide range of activities. When people think of gambling, they probably picture roulette and craps, but it can mean so much more. Beyond slot machines and betting on sports, UK residents love to play bingo, and there has been national bingo stretching back to before the 20th century.