What is Slingo and How to Play It?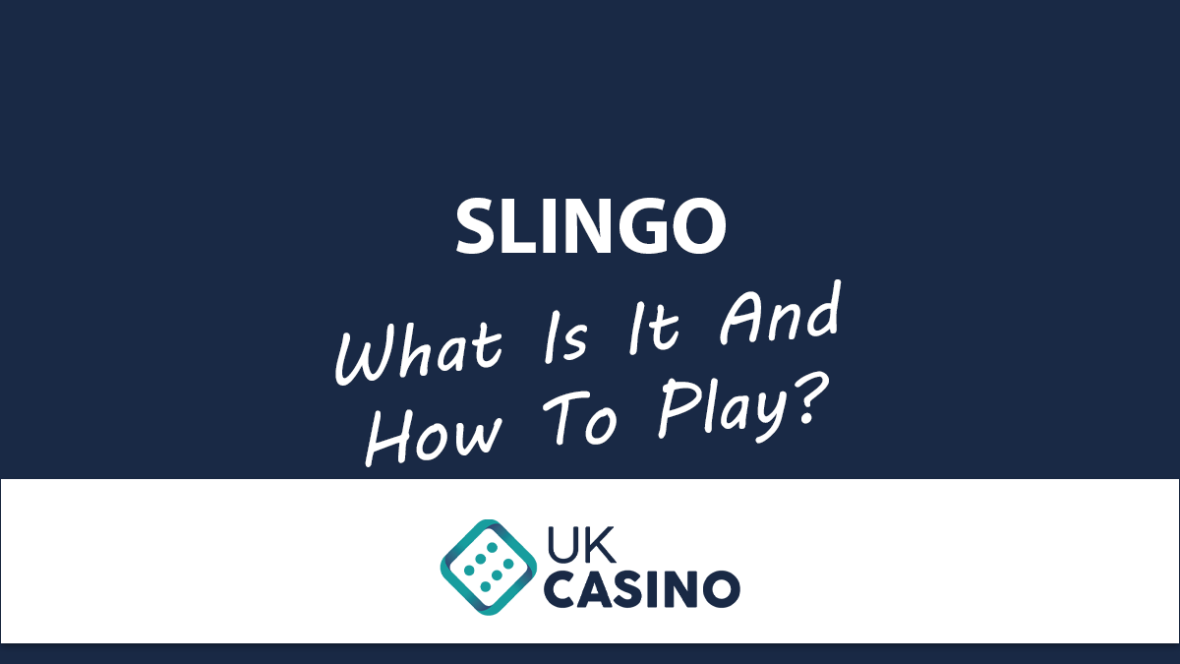 One of the benefits of online casinos is that they can offer a huge variety of games. This means there's an opportunity to offer new and exciting options. Sometimes this just means a twist on a traditional table game, such as Lightning Roulette, but there are also brand new games to try out.
Created in 1996, Slingo falls into both categories, being an exciting new way to play traditional games but also something completely new.
Confused?
Keep reading to find out exactly what Slingo is and how to play it!
Slingo: The Basics
Take a closer peek at the name, and you might be able to guess what Slingo is all about. That's because Slingo is a portmanteau word made up of the two different games that it derives from.
Any ideas?
Keen casino players might have guessed that the name of Slingo is made up of "slots" and "bingo", which are the two games at the heart of the rules. Slingo is a clever fusion of both of these traditional betting games, giving players the best of both worlds and creating a completely new experience in the process.
Slingo is played on a 5×5 grid which is covered with numbers, in the style of 75-ball bingo. Underneath the grid, there is a single reel which fills with numbers and special symbols which change on each spin. The aim of the game is to mark off numbers in a way similar to bingo to get "Slingos" and win.
Slingo Features and Gameplay
There are lots of different versions of Slingo, and some have a few extra little features, but the heart of the game is the same every time. And if you've ever played slots or bingo online before, you'll quickly spot that Slingo really does bring both of these games together!
Game Design and Symbols
You'll start with a grid filled with numbers, which looks remarkably like a bingo card. Underneath the reel will be blank, with spaces for five different tiles. Somewhere on the screen will be your "balls" – these represent the number of turns you'll have. During these turns, the goal is to mark off complete rows of matching numbers. These rows can be horizontal, vertical or diagonal – they all count as a "Slingo".
There are a number of different symbols that can land in Slingo; unlike slots, there isn't a different value for each one, as you're just matching numbers. However, there are some other symbols that you might see:
Numbers – mark off the same number on the grid if you have it
Blocker – this symbol takes up space on the reel but doesn't provide any benefits
Wild – players can choose any number to cross off in the same column
Super Wild – players can choose to cross off any number on the whole grid
Free Spins/Turns – these are added to the number of balls and taken at the end
Multiplier – increases the value of a Slingo
Coins – awards an instant cash prize
Not all of these symbols will appear in every game of Slingo, and others may have additional features, such as triggering a jackpot bonus game.
It's also important to mention that although we're describing the grid as filled with numbers, some games of Slingo use symbols instead. This is just a different design and doesn't change how to play Slingo; the principles of marking off the symbols bingo-style is exactly the same as if it were numbers.
How to Play Slingo
To play Slingo:
Select your stake – this is the total cost of each game, not per ball
Click on the start button, and the reel will fill up
The game automatically checks off matching numbers
If a wild or a super wild symbol lands, you'll need to choose the tile to mark off
The game continues until all of the turns have been taken, including any free turns
During the game, you can track your progress against potential prizes by checking the paytable on the screen. Typically you'll need three or more Slingos before you get a payout. The more Slingos you get, the higher up the paytable ladder you'll climb, with the potential for big prizes at the top.
This is the basics of playing Slingo, but there are sometimes options to extend the game. If you're close to climbing up the paytable, this might be something you want to consider. The next section looks at what you can win on Slingo and the different options for extending each game.
Payouts vs Stake on Slingo
When you play slots and bingo, there's not much you can do if you don't win, but that's not the case in Slingo. Players can decide whether to keep playing – at a cost.
Just like bingo, in Slingo you can hover excruciatingly close to a win while you're waiting for the right numbers (or symbols) to appear. That means when the game is over, you might be interested in buying some more turns.
The game will automatically calculate the cost of more balls but beware! The closer you are to winning, the more expensive the balls will be. In addition, if you're already quite high on the payout ladder, more turns will instantly be quite costly.
You can keep buying more turns for as long as you want, but this can rapidly start to ramp up the stake. Even with a relatively low starting stake, as you climb the paytable, more spins could cost a lot of money. You'll therefore need to balance up your budget, how much you could win, and what you've spent so far.
This is what makes Slingo so appealing; players have the ultimate control over what to spend and how long to bet. In theory, you could keep playing until you reach the top of the ladder, but there's a good chance your spending would outstrip your prizes.
Bonus Game Play
Slingo often includes a bonus game or sometimes several different bonus games. At the lower levels of the paytable, the prize may be a simple monetary sum. Higher up on the paytable, you will be given access to special bonus games as your prize. This is where there's the potential to win the top payout of the game – but there are no guarantees.
The type of bonus game varies depending on the title you're playing. Sometimes you'll be taken to a full set of reels with symbols of different values, just like a regular game of online slots. Other games might include a pick-me screen or an accumulator trail. The style of the bonuses and what's available is often the determining factor for players deciding which Slingo game to choose.
Some games of Slingo have multiple types of bonus games, with the most lucrative at the top of the payout ladder. Others have a single bonus game, but as you climb up the paytable, you'll receive more spins or picks.
Potential Payouts
Slingo is a game that offers lots of fun, and its unique structure means that players are always in control. But ultimately, it's all about how much you could win, and that means crunching the numbers.
Most Slingo titles have an RTP of 95% or above, with some titles offering an RTP of over 96%. However, before you dive in to find the Slingo game with the highest RTP, let's just examine this in a bit more detail.
The RTP of Slingo can vary hugely depending on which game you play. Some Slingo games have variants that allow players to choose which prize they want to play for, with different levels of volatility. Opting for a low-volatility prize may increase the likelihood of a payout, but the RTP is typically lower overall.
Low-volatility games tend to pay out more frequently but with lower values, while high-volatility games are harder to win, but you'll typically win more. Medium volatility games sit in the middle of the two!
Therefore, when you're looking at the RTP of Slingo – or other casino games – it's important to factor in the volatility. Games which have high volatility and offer the chance of enormous wins on bonus games can make the RTP seem more attractive. This is because the larger payouts push up the overall average, while in reality, the probability is that you'll have a long wait before a big prize is triggered.
This doesn't mean that you should avoid high-volatility games because, with the use of random number generators, there's no way of predicting when you might win. Volatility and RTP are simply markers that describe the average experience, but as players will know, when you play casino games, anything could happen!
Winning Strategies for Playing Slingo
Like many other casino games, Slingo requires some good luck to bring home a big win. However, unlike games such as slots and bingo, there's more to the gameplay than just being fortunate.
You can't do anything about the numbers that come up on the reel, but you can use your wild and super wild symbols wisely. You'll be able to select from either the column or the whole grid, so look for symbols that will allow you to either make a Slingo or get close to it. If there's the option to check off a number that benefits multiple rows, this is also a good move.
For example, if you get a wild symbol on the middle column, consider marking off the centre number. This is because it could be used in four different Slingo combinations – vertical, horizontal and both diagonals. By checking this off, you're giving yourself a headstart on completing other rows.
The biggest factor to consider in Slingo is whether or not to buy extra turns at the end. This feature can help to bring in the big wins by helping you edge over the finish line, but you can also end up chasing losses and spending way more than you planned.
When buying spins, be extremely careful not to get caught up in the excitement of the game. Some Slingo titles allow you to specify in advance how many extra turns you will be offered or to set stop-loss limits on the game. If the price of buying more turns is high, a pop-up box will appear asking if you're certain – make sure you've considered the potential risk-reward before playing on.
Playing Slingo Online
You can play Slingo at online casinos with lots of different titles to choose from. Although the basics of every Slingo game are the same, there can be different features that you may like or prefer to avoid.
Some Slingo games are brand new, with no connection to other casino games. However, you can also find Slingo versions of some of the most popular titles, such as Slingo Rainbow Riches and Slingo Fluffy Favourites.
There are also branded Slingo games, such as Masked Singer UK Slingo and Britain's Got Talent Slingo. Some of these are just standard Slingo games with a different theme, while others offer new features. This is particularly the case with Slingo Deal or No Deal, where you'll have boxes to open, and you'll be able to decide whether to do a deal with the Banker!
Slingo is a game that's continuing to increase in popularity because it presents unique opportunities to control the gameplay and set your own risk and reward. With lots of new titles continuing to be released, you can check out what's available at many online casinos.
FAQs
How Much Can I Win At Slingo?

The amount you can win at Slingo depends on the game you choose. Some games of Slingo offer payouts of x5000 or more, so check the details before you start to play.

How Many Slingos Do I Need To Receive A Prize?

The paytable ladder will show you how many Slingos you need to win, but it's typically a minimum of three or four.

What's To Stop Me From Buying Spins Until I Win?

Unless you're playing a Slingo game that limits the number of extra turns or how much you can bet, you can keep buying more balls until you win. But this is unlikely to result in a profit as the stake increases significantly as you get closer to a payout. The key to winning at Slingo is buying extra balls at the right time to deliver maximum prizes for minimum spend.