What Slots have the Lowest RTP?
31 January 2023
207 Views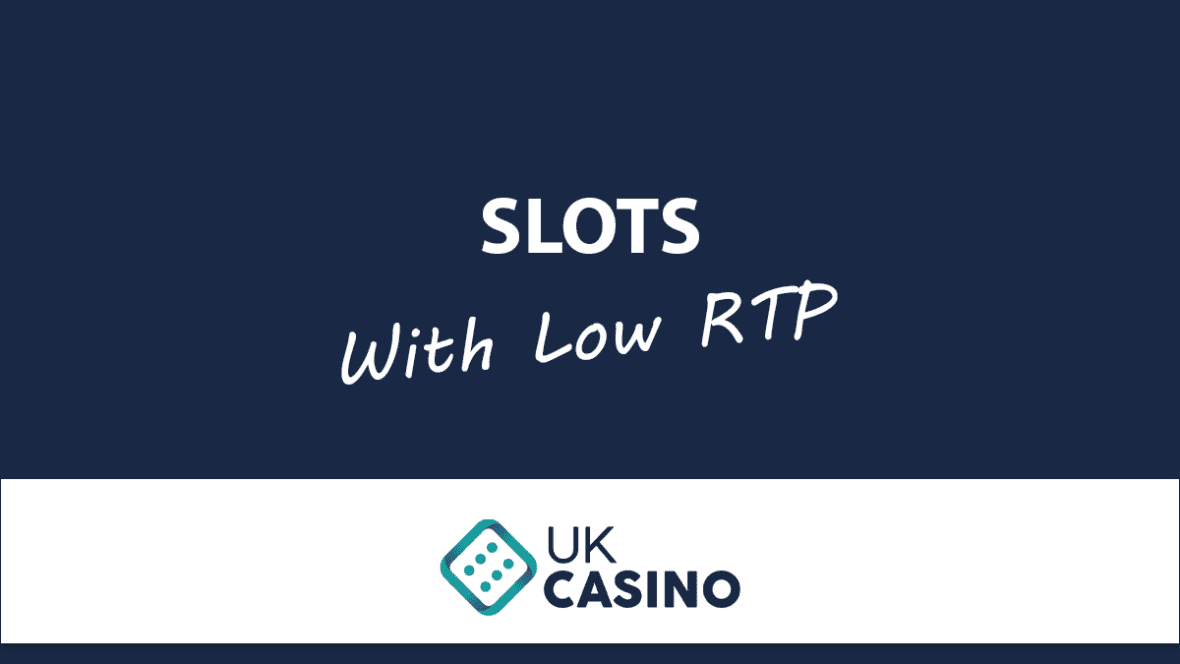 The return-to-player (RTP) percentage is the average amount of money an online slot is programmed to allow players to earn back over time. The lower it is, the worse your odds of winning. Games with high RTP are preferred by punters because of the frequent wins. However, some still favour slot titles with low RTP, and you may be wondering if there are benefits to playing them. Why would someone pick a game with fewer opportunities of winning over one with better chances?
Every slot has an RTP that determines the amount of money you can win from spinning the reels over a period. The house edge is the percentage left for the casino to profit after deducting the returns. For example, a slot with a 97% RTP guarantees that with time, you can win back about £97 out of every £100 spent wagering. In this scenario, the house edge is 3%. The average RTP of slot games in legit casinos is 96.10%, and anything less than this is generally considered low among punters.
Why Play Low RTP Slots?
There are many games with low return-to-player percentages, and they still remain relevant and popular among punters. This means they must enjoy enough engagement from the gambling crowd. But why would anyone want to play some of the lowest RTP slots?
One of the first reasons most people play online slots is for entertainment. Whether winning or losing, the thrill of gaming can be satisfying in itself. Low RTP games are perfect for when you are bored because of the infrequency of winning chances. Dopamine is released to the brain as you play, which peaks whenever you win. It makes things more exciting when you start unlocking payouts.
Another reason is that you can win bigger when you play them. Low RTP slots may have fewer returns, but they are also known for huge jackpot opportunities. You can try the progressive slots, where you can win up to millions of dollars, or try the fixed jackpots. Here, you have a higher chance of being a winner, though you may not earn as much as a progressive slot.
Slots with the Lowest RTP
The slots where you stand a lower chance of landing frequent wins can appear unproductive and not worth your while. Being unaware of their essence indicates either being new to online gambling or merely knowing the meaning of return-to-player without enough information to understand it. Slot games with some of the lowest RTPs are also some of the most popular. These include the following:
Mega Moolah
Mega Moolah is a game from Microgaming, and it is one of the most popular online slots. Most punters have played this title before, and despite having one of the lowest RTPs, it remains a big hit among gamers. Mega Moolah has a jackpot with a long history of making millionaires, and this is one of the main reasons for its popularity. In 2015, a British player reportedly won over £13m.
Mega Moolah has the lowest RTP on this list, at 88.12%, which means you have a chance of winning an average of £88.12 out of every £100 wagered. However, you also have a possibility of landing the progressive jackpot worth millions. The amount gets so huge because a percentage of each bet placed is added to a central pool. Every wager contributes to the entire jackpot amount.
Gold Money Frog
Gold Money Frog is an Oriental-themed low RTP slot from NetEnt. Enjoy the beautiful soundtrack as you explore the setup of 5 reels, 3 rows, and 25 paylines. The game's design incorporates some elements of Asian culture, including paper lanterns and lilies. It features several bonus features for more exciting gambling.
For example, landing the scatter symbol unlocks a free spins bonus where your wins get tripled. It has one of the lowest RTPs at 92.96%, but the game also features a progressive jackpot of three levels where you can get a much bigger payout.
Tiger Spell – Xtra Choice
Tiger Spell Xtra Choice is a title from the stables of Novomatic, a top-tier software provider. A fantasy video slot with a captivating emerald-green interface, this game has one of the lowest RTPs at 93.02%, giving the casino a house edge of 6.98% out of every wager made. However, there are 100 ways to win, including a chance to win x1000 of your bet.
Things get more interesting with the bonus features provided. Explore the numerous scatters, wilds, free spins, and other exciting features of this Novomatic game.
Gold Frenzy
Gold Frenzy is another title with a low RTP, yet enjoyed by players in the UK. An impressive offering from the stables of Blueprint Gaming, it is themed after the era of the gold rush. Players will find the interface easy to navigate, as it uses a simple layout of 5 reels, 3 rows, and 10 paylines.
The returns on bets may seem low at 93.32%, but the game provides a progressive jackpot where you can rack up a huge payout. You can choose to bet small at 0.10 coins, using the chance to increase your wagers steadily for a big progressive jackpot win.
Count Duckula
A quality offering from leading software provider Blueprint Gaming, Count Duckula is an online slot based on a vampire duck. With a bright and colourful design, this game features 5 reels, 3 rows, and 20 paylines. Playing for entertainment purposes only will have you enjoying the 93.35% RTP.
There are several bonus features included in the game, which will make sure that you are having a great time during your gambling session. High-rollers will also enjoy Count Duckula, as maximum wins are capped at £250, 000.
Fire Joker Freeze
Fire Joker Freeze is a fruit machine-themed slot that was launched in 2016 by Play'n'Go. Another game with low returns for punters, it uses a simple 3-reel 3-row layout with 5 paylines. New players at online casinos will enjoy this slot for its low wagering amount.
The low 94.2% RTP means over time, players will get back an average of £94.20 out of every £100 they spend. However, the game uses a simple video slot format that provides opportunities for you to earn up to x1000 of your bet.
Joker Millions
Joker Millions is a 5-reel slot that was released by Yggdrasil in 2015. It is a simple game with a classic fruit machine interface, and it has been enjoyed by punters since its launch. Despite its 94.3% RTP, it provides a progressive jackpot to ensure players can land huge payouts. This retro-themed slot is a medium-variance game with 25 paylines. With several bonus features guaranteeing a thrilling experience, Joker Millions is clearly designed for more than what meets the eye.
Hot Slot
Hot Slot is a game with 5 reels and 10 fixed pay lines. Developed in 2018 by Barcrest, it is a mid-variance slot with a retro design and special features. Its return-to-player percentage is among the lowest for online slots, meaning fewer wins for punters, but it is still very popular and enjoyable. The better part is Hot Slot allows a low minimum bet, so conservative players can gamble conveniently.
If you haven't already, get ready to enjoy the fruit-themed interface and neon icons of this exciting slot!
Chilli Heat
Chilli Heat is a Mexican-themed 5-reel 3-row slot with 25 pay lines. The game's design features elements of Mexican cultures, such as mariachi and tequila. It has an RTP of 94.99%, another one of the lowest odds for players at an online casino.
Despite the low returns, however, there are many chances of winning included in this mid-variance slot to ensure a better gambling experience. Apart from the jackpot, you can explore its several bonus features for a more fun time.
Game of Thrones
Based on the hit HBO series, the Game of Thrones is an exciting slot from the tables of Microgaming. Using 3D effects and non-stop action, Landing any of the special bonus symbols gives your winnings a significant boost. The Iron Throne Scatter alone is worth x200 of the total wager placed. The wild symbol is represented by the Game of Thrones logo.
Its RTP is also low at 95%, which means you stand a chance to win back that percentage of your wagers over a period. However, its odds of winning are still higher than the others on this list. This is probably why the game does not include a jackpot feature for punters.
Conclusion
The above list reviews games with some of the lowest return-to-player percentages but which still are massively enjoyed by gamblers in the UK. The RTP is the percentage of return the players can expect from a slot game after several rounds. The low returns of some of these titles may seem unattractive to newbies, but those who have tried those titles know otherwise.
The credibility of the online casino and the title you're playing matter. Slots with RTPs as low as 85% still get accepted for licensing by regulatory bodies like the Malta Gaming Authority. That means that they are completely safe and fair.
Entertainment is one of the main reasons most people participate in recreational activities like online gambling. A high RTP slot may not be so convenient if you are only interested in playing to pass the time. This is because games with low percentage returns tend to also have a lower minimum bet line than others. This way, you can enjoy the excitement and thrill like every other person, but you can play for longer within the same budget.
From the instances given, it is clear that low RTP slots provide players with some of the best and biggest jackpot wins.