Why Was My Online Casino Account Closed?
18 September 2023
29 Views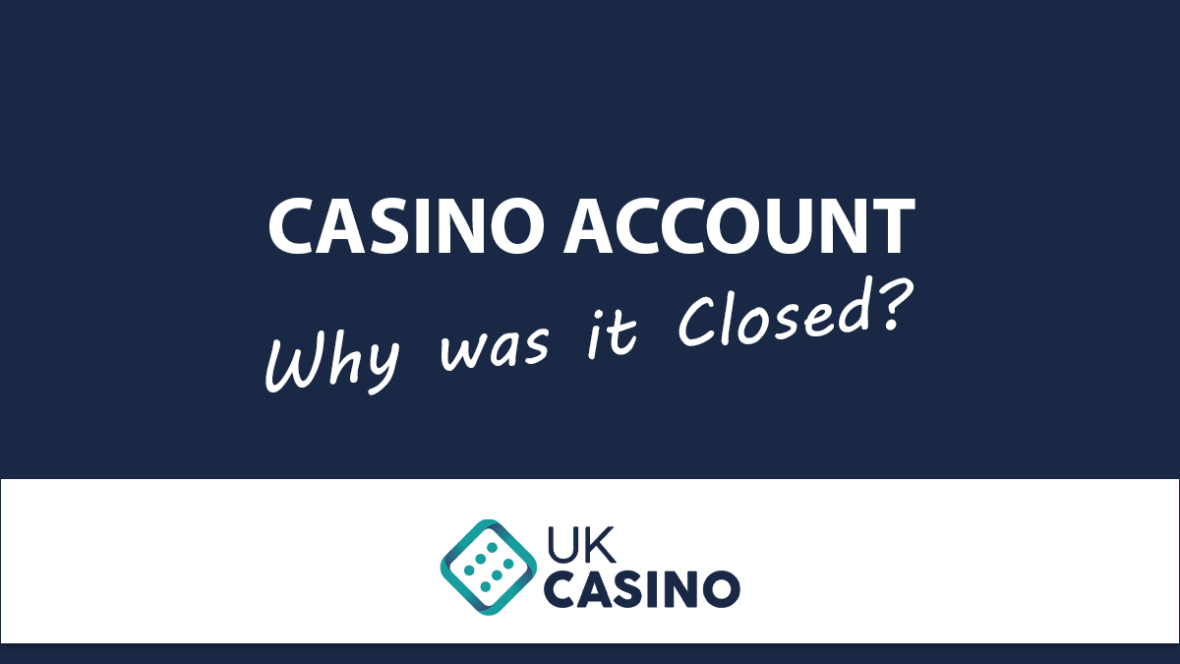 If you've been looking forward to a gaming session at an online casino, you might be shocked to find that you can't log in to your account.
It can be frustrating to discover that your casino account has been closed without your permission, especially if you don't feel as if you've done anything wrong.
Online casinos have the power to close, suspend, or limit players' accounts, and that means locking you out of play. We delve into the reasons why your account may be closed and what your rights are.
Can a Bookmaker or Casino Legally Close My Account?
If you have an ongoing and active casino account and deposited money, the idea that your account could be closed may seem outrageous. However, casinos and bookmakers have the right to close a player's account for one of many reasons.
The presence of funds in your account won't make any difference to a casino's decision to close your account.
Casinos in the UK have to be licensed by the UK Gambling Commission (UKGC), and this means they must comply with their guidelines. While the UKGC allows casinos to shut accounts, it expects each and every reason to be fully outlined in the terms and conditions.
When you join a casino, you should be prompted to read and accept the terms and conditions. Although it may seem like a tedious task, it's advisable to read through the fine print thoroughly so you are informed about what the casino deems to be prohibited behaviour.
Different offences may carry different penalties. For example, a casino may opt to limit your account to low-value bets only rather than closing it completely. The range of penalties must be set out in the terms and conditions, and these must be available for players to read. Without this, the UKGC says that penalties such as account closure are unenforceable.
Understanding The Reasons
Let's be clear: casinos don't like closing players' accounts. There's a lot of competition to attract players, and casinos prefer to keep as many active players as possible. However, there are some circumstances which can lead to swift account closure, and we're going to examine these in turn next.
Violation of Casino Terms and Conditions
Violating the casino terms and conditions is a one-way ticket to your account being closed. Each casino will have its own specific terms and conditions, but most of them contain similar clauses.
Some of the most common types of prohibited behaviour include:
Holding duplicate accounts
Attempting to bet from a country that is excluded
Using a VPN
Allowing someone else to use your account
Using someone else's payment details for deposit or withdrawal
Professional betting
Cheating or using technology to gain an unfair advantage
Abusing bonuses
If you breach the terms and conditions of the casino, your account will be closed, and in some cases, your winnings may be confiscated. The casino may treat any winning bets as void, returning the stake and cancelling any winnings.
Suspicious or Illegal Activity
This is a controversial area as there have been claims that some online casinos use this reason to avoid paying out legitimate claims. That is why it's important to only play at licensed casinos because they must be able to identify and explain the behaviours they believe are suspicious or illegal. If you make a complaint, the casino will have to be able to explain the reason for their decision and show that they've acted in accordance with their own terms and conditions and UKGC rules.
Suspicious or illegal activity could cover a range of different behaviours which include:
Unusual betting patterns
Change in the value of deposits or withdrawals
Depositing money and then withdrawing it without playing (or minimal playing)
Playing just below the threshold for further checks
Large, frequent wins
All online casinos employ sophisticated technology, which enables them to identify all of the above. If you suddenly change the frequency or value of your betting, you may be asked for more information, and your account may be closed if you don't comply.
Casinos are often targeted by criminals to launder the proceeds of crime. Therefore, the UKGC has very tough rules that set out what casinos are expected to do to combat illegal activity. Failure to have these measures in place can lead to hefty financial penalties or worse, so casinos are quick to take action on any account where there is suspicious activity.
The exact nature of the technology in place may vary from one casino to another, but each provider doesn't have to act alone. Non-profit organisations such as the International Betting Integrity Association (IBIA) help casinos to identify suspicious accounts, and information sharing is common.
Verification and Identification Issues
In the UK, the UKGC expects all casinos to complete a process known as KYC. This means they have to check the identity of all players signing up rather than just accepting applications at face value.
Most players find the process of proving their identity somewhat onerous, so casinos streamline the KYC requirements as much as possible by using digital checks, where appropriate. However, players may still need to upload documentation which shows their name and address and sometimes their image.
If you don't comply with any identification requests made by the casino, they won't be able to allow you to play. This means that your account could be closed and any winnings locked. Without proper verification and identification, you won't be able to request a withdrawal of any winnings from the account.
As a result of a report from the Competitions and Markets Authority, the UKGC rules state that casinos cannot confiscate funds prematurely. Even if your account is closed, you should have at least 12 months to verify your identity, which will enable you to withdraw your money.
However, if you are still unable to verify your identity after 12 months, the casino has the right to confiscate your funds and terminate the account.
Responsible Gambling Concerns
All casinos have a responsibility to protect vulnerable players and must have procedures in place to help them do so.
Some of the responsible gambling measures that casinos have in place should aim to identify underage players. Any player who is younger than 18 years who is caught registering or attempting to play will have their account closed immediately.
Other responsible gambling concerns might include players struggling to gamble within their limits. Casinos have sophisticated ways to identify red flags, and they may ask players for proof that their betting is affordable. The UKGC has fined several casinos for failing to safeguard players, and for allowing them to bet money which should have been flagged as a risk.
This means that if you are unable to satisfy the casino that you have the means to be able to afford to gamble comfortably, your account may be closed for your own protection.
You may have even self-excluded yourself from a casino without realising what it entails. Self-exclusion is a tool that all UK-licensed casinos must offer, enabling players to take a break from play for a specific time period. The goal of self-exclusion is to ensure that players can't simply log in and gamble in a moment of weakness. Therefore the account will be closed for the period of self-exclusion, with players completely unable to gamble. Not knowing what self-exclusion is, is not an explanation – once you click on the self-exclusion button, you cannot revert your decision.
Casinos must not contact or target self-excluded players with marketing material when they are taking a break. They will not simply switch the account back on if requested or if you claim that self-exclusion was put on by accident; self-exclusion is a powerful tool and will remain in force until the period of exclusion expires. Even when that happens, you need to specifically ask to have your account reopened.
Technical Problems and Errors
This is one of the areas where account closure is more likely to be reversed. If your account has been closed due to a technical problem or an error, contacting the casino may be all it takes to get things up and running again.
One of the more common problems is too many attempts to log in. If you can't remember your password or user ID, trying too many times will lock your account. It is a security tool that's designed to protect you from hackers. Therefore while it may be frustrating, it's a good sign that the casino is keeping your data safe.
Many online casinos provide access to their live chat function without the need to sign in, so get in touch and explain the problem. You may need to pass security checks first, but the customer support team should be able to resolve matters quickly and get your access restored.
How to Prevent Your Account From Being Closed
There are some steps you can take to prevent your account from being closed by a casino. Many of these are obvious, such as not committing any illegal activity and not breaching the terms and conditions!
However, understanding exactly what the terms and conditions say is an important step that many people skip. For example, you may not be aware that many casinos prohibit more than one account from the same IP address. This is one violation that could get your account closed, where prior knowledge could prevent the problem entirely.
Other advisable steps include:
Don't treat the casino like a savings bank – only deposit money you intend on betting.
Comply with any requests for verification swiftly.
Don't set up duplicate accounts to safeguard against account closure – ironically, this will end up in account closure!
Don't use a VPN.
Minimise the number of withdrawal requests – don't make multiple requests every week.
Don't try to gain an advantage by using AI or other technology – you'll get caught and banned.
Don't use arbitrage betting – it's not illegal, but casinos don't like it and may class it as abuse.
Use all bonuses and promotions fairly, and don't play exclusively with bonuses.
What Are My Options If My Account Has Been Closed?
If your account has been legitimately closed by the casino, your options depend on what their terms and conditions say and the reason for the closure.
Your first priority is likely to be any funds that were in your account. This article examines what happens to your casino funds in more detail, but in some circumstances, casinos have the right to confiscate your winnings. The UKGC has very strict rules about what action licensed casinos may take, and they stipulate that all penalties must be clearly laid out in the casino terms and conditions.
If you are suspected of engaging in illegal activity, you may not be able to get your money back right away. However, the casino cannot simply make an allegation without carrying out further investigations or referring the matter to the authorities.
Depending on the reasons why your account was closed, you may be wondering how you can get your casino account reopened. In some cases, it's possible to reopen your account, such as a period of self-exclusion expiring. However, if your account was closed due to a serious breach of the terms and conditions, the casino may be unwilling to reconsider lifting the block.
In Conclusion
You may be nonplussed about why your casino account was closed when you first discover it has been, but there's usually a very good reason. Checking back through the casino terms and conditions is a good place to start and may shed light on the problem.
If you're ever in doubt about the reason your account has been closed, you should contact the casino in the first instance. Once you've had an explanation, you can decide whether to appeal or submit a complaint – or whether to simply join a new casino.