Online Poker Tournament Types And Formats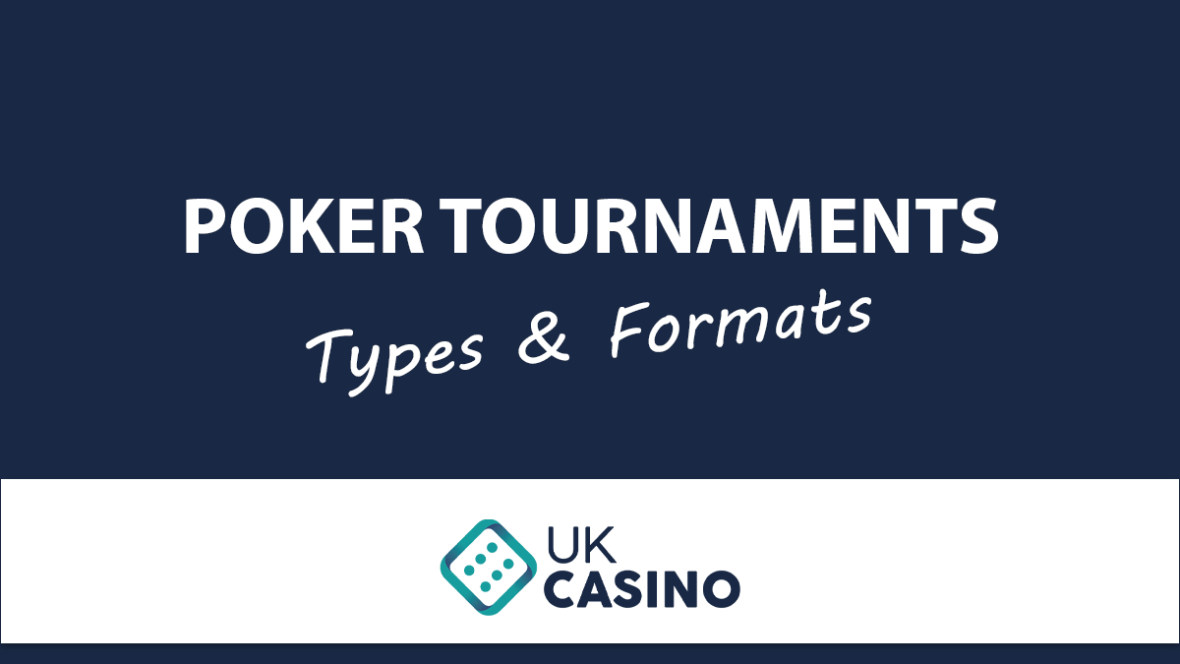 Online poker is one of the most popular forms of online gambling in the UK. Each of online poker site offers several different types of tournaments in multiple formats. It can be confusing to navigate this landscape to find the right poker tournament for you.
In this article, we discuss the difference between poker tournament types and formats and run you through the most common ones that you will encounter. We finish by sharing with you our top tips for choosing the right online poker tournament.
What Is The Difference Between A Tournament Type And A Tournament Format?
Tournament type and format are sometimes used interchangeably, but they are not the same.
Tournament type refers to the overarching and fundamental characteristics that define a tournament. The type will impact the tournament's structure, rules, and goals.
Meanwhile, tournament formats are subcategories within a tournament type. These formats dictate your playing experience, including how the blinds progress, the chips you start with, the length of each level, and the additional ways you can win.
Types Of Online Poker Tournaments
This section of this article covers the types of online poker tournaments that you might encounter at an online casino.
Sit and Go Tournaments
Two characteristics define a sit-and-go tournament. Firstly, they are not scheduled. Instead, they start when enough players have joined the lobby. Secondly, they are much smaller than scheduled tournaments, usually featuring one table of 2 to 10 players.
Sit-and-go tournaments have become popular because they are much quicker and more convenient than larger multi-table tournaments. With a maximum of 9 players to eliminate before the tournament ends, it should be done within the hour rather than lasting all day, making you feel like you are at the final table of a poker tournament. Choose a turbo or super-turbo tournament if you want an even more rapid experience!
The main disadvantage of sit-and-go tournaments is that the jackpot for winning will be substantially lower. This is because you are playing for a maximum of ten players' stakes.
Multi-Table Tournaments (MTTs)
MTTs are the polar opposite of sit-and-go tournaments. They are large-scale events with expansive player pools, numbering hundreds or even thousands of participants. While these are quicker online than at in-person tournaments, online MTTs can still last several hours.
A key thing to consider about MTTs is that you don't have to start playing at the beginning of the tournament. There will be a set entry period when you will be able to join. Some players register as late as possible to avoid getting knocked out early. However, this will give you much less of a chance to muster a healthy amount of chips to take you into the next stages.
After the entry and re-entry periods have finished, players will start getting knocked out, and the number of tables in play will shrink. Eventually, there will be one table left of players battling it out for the top prizes.
Shootout Tournaments
Shootout tournaments are another captivating type of poker tournament, where players are positioned on a table and must eliminate all other players on the table to advance into the next round. The winners of each table are consolidated into a new round of tables. This is a high-stakes winner-takes-all structure where unless you win your table, you will be eliminated.
After all the rounds are completed, there will be one table left. This table gets to fight it out in the final round for a share of the biggest prizes.
Satellite Tournaments
All great online poker sites will have high-stakes tournaments where the prizes will run into thousands of pounds. However, not all players have sufficient bankroll to afford entry, which is where satellite tournaments come in. These tournaments have far lower entry fees, but instead of winning real money, you will win entry to a high-stakes tournament. Playing well in a satellite tournament is the best way to turn a small bankroll into huge winnings.
Make sure that you pay close attention to the terms and conditions of any satellite tournaments that you enter. Many of these are "penny buys", costing you just 1p or 1 cent to join. However, these are often sub-satellites that grant you entry to another satellite rather than the main tournament itself.
Rebuy and Add-On Tournaments
Running out of chips in many tournaments will spell the end of your tournament experience. However, rebuy tournaments are starkly different because you will have the chance to buy another entry after you are eliminated. Remember that you will always have a limited amount of rebuys, so don't use up all of them immediately.
Add-on tournaments are similar yet slightly different. In these tournaments, players who have not been eliminated will have the chance to add on chips once the entry period has ended. For a fee, often equal to the entry fee, you will be able to gain more chips. Having more chips can drastically improve your position as the tournament continues.
Rebuy and add-on tournaments are great if you have enough bankroll to keep playing even after you have lost. However, they are less good for players with a smaller bankroll, who might amass a fortune in chips from great poker play only to see add-on and rebuy players catching up.
Bounty Tournaments
Bounty tournaments offer you another way to win big. Every time you knock out a player, you will win a bounty. These tournaments are suited to aggressive players who relish going all-in and eliminating someone from the tournament. However, they also tend to have smaller jackpots because much of the prize fund will go towards bounties. Consider if this play style suits you before you enter a bounty tournament.
Freeroll Tournaments
Freeroll tournaments are any new online poker player's dream. They are a chance to play in a real-money tournament without having to wager any of your hard-earned cash. You will usually need a ticket to participate in a freeroll tournament which can be gained through promotions, free spins, or as a reward for making a deposit.
However, these tournaments are a great way to develop your skills in online poker without risking your money. They can also help you to understand if you enjoy poker enough to play in a tournament with an entry fee.
Tournament Formats
The following section of this article will introduce you to the array of tournament formats you might encounter while playing online poker.
Freezeout Tournaments
This article features lots of tournament types and formats that add exciting layers of complexity to your online gaming experience. Freezeout tournaments go the other way by bringing poker back to its basics. All players start with the same amount of chips and cannot re-enter or add-on chips at any point. Once you have been eliminated, that is it.
The key to succeeding in a freezeout tournament is patience and chip accumulation. Not being able to re-enter means you must make careful considerations every time you commit yourself to a big bet. This will allow you to preserve chips by playing defensively to pounce on your opponents when it counts.
You will also need to adjust your playstyle more than in a normal tournament because of the risks of over-committing. In the early game, you may still be able to engage with many hands as the blinds will be a smaller proportion of your stack. However, as the game progresses and the blinds increase, you must become much more conservative.
Progressive Knockout Tournaments (PKOs)
PKOs take inspiration from bounty tournament play to offer you an even more exciting experience. Rather than having a single bounty on every player's head, the bounty will increase for players that have knocked out other players. Knocking out one of these high-value players means that even if you don't win the full tournament, you will still have the opportunity to amass great winnings from it.
You should constantly adjust your play when enjoying a PKO. While a small bounty may not be worth the risk, you should go all-in when you normally wouldn't to try to take down a high-value player.
Turbo and Hyper-Turbo Tournaments
Not everyone has the time to spend hours and hours a day playing online poker. They want to get an adrenaline rush in a much shorter time which allows them to maintain their personal commitments. Turbo and hyper-turbo tournaments are perfect for this, with all players getting a shorter amount of time to make decisions and blinds that increase far more rapidly.
The key strategy for turbo and hyper-turbo tournaments is to be aggressive from the start. If you move slowly, the increasing blinds will take a high amount of chips from you, and you won't be able to influence the hands.
Also, consider how you can use bluffs to your advantage. Players won't have as much time to work out if you are bluffing, so you will be able to pull off some outrageous bluffs.
However, turbo and hyper-turbo tournaments may not be appropriate for players that want to delve deeper into poker strategy. You won't get time to seriously think about what you are doing and will feel a lot of pressure to act instinctively. Furthermore, it is easier to lose control of your gambling with these tournaments because you can enter multiple tournaments within a single session.
Deep Stack Tournaments
Players that don't like turbo and hyper-turbo tournaments will certainly enjoy deep stack tournaments. These tournaments give players a huge starting stack compared with the blinds and may allow them a longer amount of time to make their decision. You can expect a lot more action to be going on in the post-flop and players taking the time to use all of their poker skills.
As more hands will get played to completion during a deep stack tournament, you will need to adjust your poker strategy. As cards go down during the turn and the river, the complexion of the table will change. You will have chances to make and call new bluffs and make informed decisions to try and get as much value out of your competitors as possible. For this reason, players with exceptional hand-reading skills will excel in this type of tournament.
Heads-Up Tournaments
There are many types of sit-and-go tournaments, but heads-up is one of the most popular. In this type of play, you will be pitted against one other player, with the winner coming away with the entire prize fund.
When playing heads-up tournaments, it is crucial you are aggressive. If your opponent senses weakness, they can force you to fold through the blinds every time until your stack is so small that you become toothless. Furthermore, you need to have high positional awareness, as with each hand, you will switch from being in a position to being out of position.
Heads-up tournaments are also a great way to get valuable experience for playing in other types of tournaments. Understanding how to compete aggressively against one other player will pay dividends if you are ever positioned for an outright tournament win.
Another variation of heads-up tournaments to consider is the round-robin. In this case, players are pitted against each other in brackets. Winning players continue to the next round, while losers are eliminated. The winner is the last player standing.
Online Poker Tournament Series
An online poker tournament series is a run of tournaments that are organised by a provider over the course of a week or month. Great tournament series will feature every type of online poker tournament mentioned in this article.
Winning a tournament in a coveted series is your chance to win from a huge prize pool. Furthermore, a win is highly prestigious, and you will often be rewarded with a unique and distinctive bracelet or ring.
Choosing The Right Online Poker Tournament For You
Now that you understand the huge variety of poker tournament types and formats, it is time to find tournaments that best fit your gambling style. Each of the examples given will offer you different pacing, excitement, and chances to win prizes.
However, there are more factors that you must consider when choosing the right tournament for you. For example, you need to choose a tournament that is suited to your bankroll and the amount of time that you have available to spend on an online casino.
Following these crucial features of responsible gambling will guarantee that playing in these tournaments will not harm your mental or financial health and your ability to fulfil your everyday responsibilities.