Can a Bank Close Your Account for Gambling?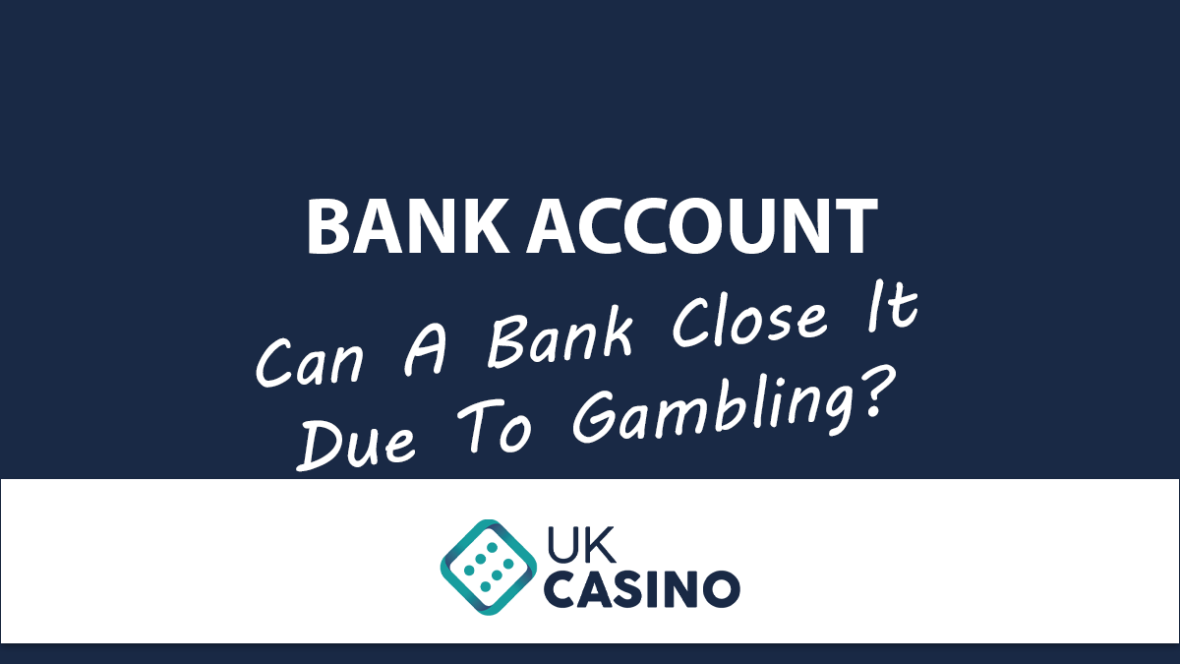 Do you like to gamble? If you do, you are not alone! Many people find it a fun and exhilarating way to spend an afternoon and potentially make a little extra money. Because of this, the internet has become home to many online casinos and games of chance.
That is why online gambling has gained in popularity in the UK (and globally, really), providing entertainment and potential financial gains for millions of people. Though that may sound like a fun way to spend a little time, it is crucial to emphasise the importance of responsible online gambling.
Responsible gambling ensures that individuals can enjoy the activity while maintaining control over their finances and well-being. This can be challenging without a good partner, and that is where regulated online casinos and banks come into the picture.
So, let's explore the realm of responsible online gambling and all the information you need on how your bank could play a role in maintaining a safe and secure environment for you and the rest of the gambling community in the UK.
Banks & Responsible Online Gambling: What Is Their Role?
UK banks recognise the importance of creating a supportive environment for their customers that allows them to engage in online gaming responsibly. This active role allows banks to contribute to mitigating potential risks associated with excessive gambling and its impact on their customer's finances.
How do they do this, you ask? This is done by the banks working closely with gambling regulators to help establish frameworks that recreate an atmosphere of responsible online gambling. This collaboration involves sharing information and best practices between banks and gambling regulators like the UK Gambling Commission.
The exchange of information allows banks to stay up to date on the evolving trends and emerging risks in the landscape of online gambling. With them staying vigilant and proactive, banks can enhance their ability to detect and respond to issues related to gambling of this nature and protect their customers accordingly.
So, with these banks fulfilling their responsibility and collaborating with these gambling regulators, the UK's online gambling landscapes strive to create responsible practices and a safer, more enjoyable experience for all involved.
Why Would A Bank Close or Restrict Your Account?
Now that we understand the role that banks play in responsible online gambling, it's time to really take a look at why they may choose to take actions such as closing or restricting an account. Banks may take these necessary measures if they've had suspicious activity related to online gambling.
This could mean anything from unusually large deposits or withdrawals to frequent transactions with gambling merchants to transactions done with offshore gambling websites. Closing or restricting your account is done to protect customers from potential financial harm and prevent fraudulent activities in the online gambling sphere.
There are other reasons why a bank may choose to close or restrict your account, and those could include:
Violations of gambling guidelines – If a bank detects violations of guidelines, such as excessive spending or signs of addictive behaviour, they may opt to close accounts or impose restrictions. The objective is to promote responsible gambling practices, assist individuals, and maintain a healthy balance between their gambling activities and personal finances.
Non-compliance with Anti-Money laundering and KYC regulations – Banks must comply with anti-laundering laws and know-your-customer regulations to prevent illegal financial activities. That means if they identify any of these non-compliances as suspicious transactions linked to online gaming, they may decide to close or put restrictions on your account.
We want to emphasise that these measures are not taken to discourage online gambling but rather to maintain a secure and responsible customer environment. Banks play a crucial role in identifying and addressing these potential risks and look to ensure that individuals can enjoy online gaming while mitigating the chances of financial harm or involvement in illicit activities.
What Happens If Banks Close or Put Restrictions on Your Account?
But what are all the consequences that one may have to deal with? We highly advise individuals to consider potential consequences before engaging in online gambling! Having an in-depth knowledge of their financial responsibilities is also a good idea. The consequences of the bank imposing account closures or restrictions include:
These actions can directly affect your ability to engage in gambling activities. Transactions with gambling merchants may be declined, preventing further participation in online gambling.
You might find yourself limited or without access to funds held in the account, temporarily or permanently.
For accounts closed related to online gambling, you may encounter challenges when wanting to pursue financial agreements with a bank, like mortgages or obtaining credit. Banks maintain records of closed accounts and share information with other financial institutions.
Gambling Blocks: Why This Is a Good Option?
The great thing is that if you're worried about having some sort of gambling problem, there is a step you can take. As an account owner, you may have the option to request gambling blocks with many UK banks.
These are designed to help you keep control over your gambling activities and stay on the straight and narrow when it comes to responsible gambling practices. By practically requesting such blocks, you can actively manage your finances and ensure a healthier approach to your online gambling activities.
In fact, there are a lot of benefits to using these self-imposed gambling blocks. They can act as a property to help you set limits on your gambling expenditure. On top of this, they can help deter you from problematic gambling behaviours, potentially saving you from many headaches down the road.
Assisting Online Gamblers: Blocking Measures Available to Banks
Banks possess the capability to block online gambling transactions as part of their commitment to responsible financial practices. They employ various technological tools and systems to identify and restrict transactions with gambling merchants.
This ability allows them to create a safe environment for their customers who engage in online gambling while promoting responsible financial behaviour. Along with this, there are several other additional measures that they may take to assist gamblers and responsible online gambling, which include:
Spending Limits – Many banks offer the option to set spending limits on accounts, specifically for online gambling transactions.
Transaction Notifications – Financial institutions also provide transactional replication services, including alerts or notifications for online gambling activities.
Once again, we want to note that while banks can take these measures to assist gamblers in being responsible when gambling, individuals are responsible for maintaining healthy gambling habits. Online casinos aid this process by implementing safer gambling features such as setting time and money limits right through to cool-off periods and self-exclusion.
By leveraging the resources and tools banks provide, you can foster a balanced approach to your online gambling and ensure that you stay well financially.
What Is the Timeline of Account Restrictions?
When it comes to potential account restrictions related to online gambling, the time frame can really depend on the circumstances and policies of said bank. In cases of suspicious activity violation, the duration of account restriction may be temporary or indefinite, depending on the severity of the situation.
It's essential for you to understand that these restrictions are put in place to protect customers and ensure responsible financial practices. If your account has been restricted due to online gambling-related concerns, the process for reinstatement typically involves the following steps:
Contact your bank customer support service to inquire about the specific requirements and process for reinstating your account.
Address the concerns that led to the account restrictions in the first place.
Your bank may require you to adhere to responsible gambling guidelines, such as setting spending limits, completing educational programs, or reviewing your gambling habits.
The bank may conduct a verification and review process to meet the requirements before lifting the account restrictions.
It's important to understand the process and requirements can vary from bank to bank. Each bank will have its own specific procedures and criteria for resuming online gambling activities. Therefore we highly advise you to directly contact your bank to understand the exact steps or requirements applicable to your situation.
UK Banks That Offer Blocking Services
Several banks in the UK recognise the significance of responsible gambling and have creative services to help their customers manage online gambling activities. These services are designed to provide you with all the necessary tools and features to be responsible with your financial behaviours and support a healthy approach to the entertaining world of online gambling. Here are three of the biggest UK banks that offer these services:
Barclays
Barclays Bank offers a "gambling control" feature. This feature allows customers to block transactions from gambling activities. It also empowers you to take control of your spending and make informed decisions about your own gambling habits.
Monzo
Monzo Bank is another institution that offers blocking services. This is done within its mobile app. By enabling this feature, you can block transactions with gambling merchants, creating a barrier to impulsive gambling and fostering responsible gambling practices.
NatWest
"Gambling transactions control" is an option offered by NatWest Bank. This option enables you to block transactions directly related to online gambling. Like all the other features we've already discussed, this helps you to manage your gambling activities responsibly.
What About Credit Cards?
Customers in the UK are not permitted to gamble using credit cards, according to the Gambling Commission. Following evaluations of internet gambling by the Commission and gaming machines and social responsibility policies by the Government, the prohibition became effective on April 14, 2020.
This prohibition applies to all online and offline gambling forms with the exception of local lotteries. This will significantly increase protection for those who are susceptible to problem gambling.
Additionally, it is no longer possible to use a credit card to fund an intermediate account like Skrill or PayPal, then use that account to fund a betting website.
Responsible Online Gambling: It's a Team Sport
In conclusion, responsible online gambling is a shared responsibility between individuals, online casinos and banks, understanding the reasons for account closures or restrictions, being able to request gambling blocks, and using all the additional measures offered by the banks.
These tools and resources are there to help you engage in online gambling responsibly you'll find yourself more financially balanced. It's also important to exercise self-control, seek help if needed, and use resources to maintain a healthy balance between online gambling and personal finances.
And remember, if you are struggling with online gambling or have concerns about gambling habits, seek help and utilise available resources. Organisations and support services dedicated to helping you with these difficulties are available. Helplines, counselling services, and education can help you responsibly manage your gambling activities.