The Benefits of Using Multiple Sportsbooks
11 September 2023
26 Views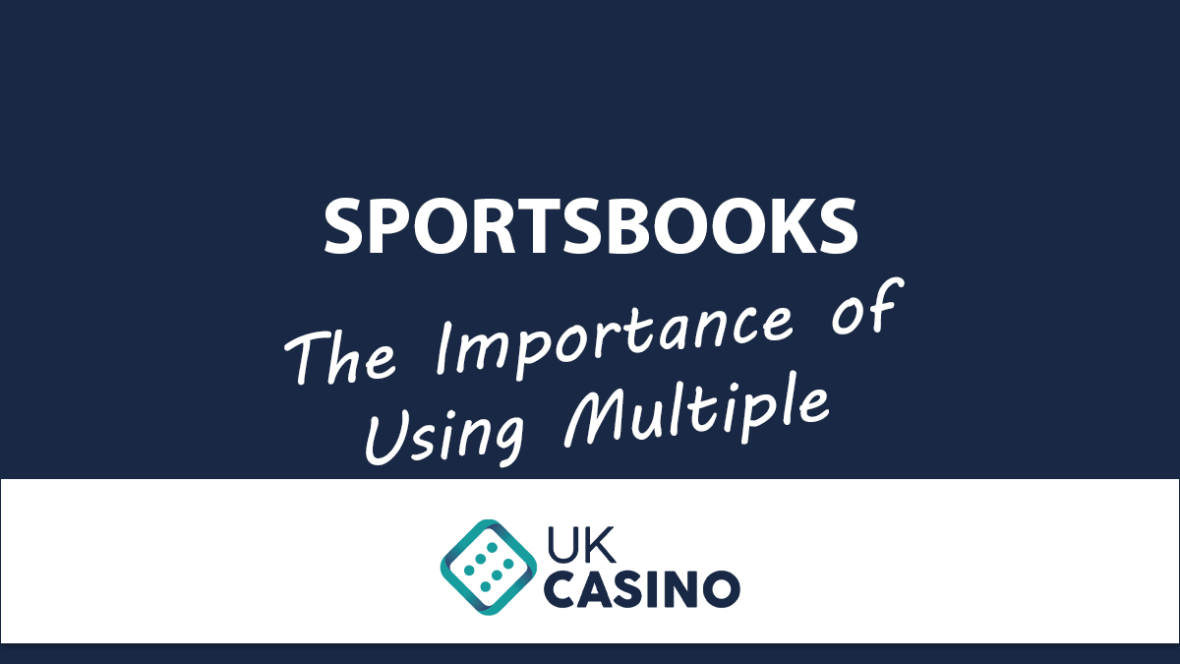 There are hundreds of sportsbooks to choose from in the UK, but many players make the mistake of only using one sportsbook. This gives you less choice as far as odds, access to betting markets, promotions, and more are concerned. There are countless benefits to straddling across multiple sportsbooks, particularly if you are a prolific sports bettor. It is commonplace amongst the professional sports betting community to use as many markets as possible.
Read this article to learn more about the benefits of using multiple sportsbooks.
Increased Access to Betting Markets
Using multiple sportsbooks gives you a unique opportunity to expand your horizons into new betting markets. This is because each sportsbook specialises in different markets, including geographical location, target audience, and sports leagues. Some sportsbooks even have exclusive access to certain betting markets, meaning that you can only access them by playing on specific sportsbooks.
Accessing these unique betting markets can open up one of the biggest joys of sports betting finding new sports to bet on. You can become introduced to the sports culture from a completely different part of the world, giving you a great opportunity to become more knowledgeable about sports as a whole.
It isn't just sports that you can access different markets on. Even if you are just betting on football, different aspects of the game can be wagered on, depending on which provider you are working with. For example, some sportsbooks can offer markets on the number of corners, cards, free kicks, first scorer, and much more. Few sportsbooks carry every one of these markets, so playing on multiple sportsbooks will diversify your choices.
There are further benefits that you can get from accessing multiple markets at the same time, including accessing more specialised bets rather than being restricted to traditional bets and comparing odds to allow for line shopping. This is covered further in the section below.
Improved Odds Comparison
The significance of the odds, when you place a bet, cannot be overstated. The odds determine the profitability of your wager when you win or choose to cash out. Each sportsbook calculates the odds that it can offer based on different factors, including team statistics, historical data, market trends, and individual player performances.
Furthermore, when a sportsbook loses big, it might be dissuaded from offering particularly generous odds. For example, when Leicester City won the Premier League in 2016, players who had been offered odds of 5000-1 at the start of the season were due a huge windfall at the cost of the bookies. It has been estimated that British bookies paid out a record £25 million to those who had bet on Leicester City to win the league.
Although every bookmaker uses the same factors when deciding what odds to offer players, they combine these factors into unique algorithms. The result is that every sportsbook will offer marginally different odds even if they offer identical markets.
These differences are always marginal. However, these small discrepancies can cost or earn you money depending on how you play the markets. Even though this difference will be tiny on a single bet, if you are betting very regularly, you will find that there will be a substantial difference in your overall profitability or loss.
This does not have to be a time-consuming task whereby you look into every sportsbook you use to compare the odds manually. There are many odds comparison websites out there that are constantly updated to help players to locate the most favourable odds. Use these to streamline your process to always place bets that are supported by the most favourable odds.
Therefore, comparing multiple sports markets whenever you make a bet can be an efficient process that consistently pays dividends to players. Although you will work with very marginal odds differences, all gamblers can improve their chances of beating the bookies through odds comparisons.
Enhanced Line Shopping
Line shopping is a similar method to odds comparison, also making sure that you always take advantage of the most favourable lines for any given wager. Line shopping is one of the best ways to increase your chances of getting long-term profitability through sports betting.
Line shopping takes advantage of the differing odds on any event or outcome given by various sports betting platforms. These differences arise because of differing opinions, risk management strategies, or algorithms bookmakers offer.
This strategy is where you use every sportsbook you can access to find the most favourable lines on the market. The more bookmakers you gamble with, the better your chances of line shopping successfully. Once more, odds comparison websites are the best place to go to ensure that you are line shopping correctly and are not missing out on any great opportunities.
Whether you bet recreationally or as a professional, line shopping is the best way to make more money and engage with multiple markets simultaneously.
Access to Promotions and Bonuses
Another substantial advantage you can easily gain from using multiple sportsbooks is getting a range of bonuses and promotions to help boost your bankroll. This will help you to make more bets on an increased number of markets.
Sportsbooks use promotions to try to attract your attention. These bonuses, including sign-up bonuses, deposit and no-deposit bonuses, free bets, enhanced odds, and more, are something that you can take even more advantage of if you are using multiple sports books.
Primarily, you need to take advantage of sign-up and first deposit bonuses. These are usually the most generous promotions and are used by gambling platforms to attract new players. However, by taking advantage of as many welcome offers as possible, you can play the system to ensure you have the biggest bankroll possible.
Furthermore, welcome bonuses often feature free bets, sometimes without even needing to make a deposit. Getting multiple free bets by playing with many sportsbooks will extend the number of risk-free bets you can place.
Using multiple sportsbooks also will help you be very selective, using only the promotions best suited to your gambling preferences. If a sportsbook specialises in a particular sport, it will often offer bonuses that are specific to that sport. There is no point in giving yourself extra wagering requirements in a sport you are not into, so choosing bonuses tailored towards your favourite sport will ensure you always have a lot of bankroll to engage closer with it.
The final key benefit of using multiple sportsbooks to access a range of promotions and bonuses is that it allows you to hedge your bets, whereby you play the promotions against each other to guarantee a profit. You might find that one sportsbook is offering a free bet for a sporting event, and another is offering enhanced odds. In this case, you can bet for one outcome with enhanced odds and another with your free bet. Whatever the outcome, you will still be able to make a profit.
It is worth noting that every sportsbook has introduced measures in their terms and conditions to try to make it harder for players to conduct such behaviour. The foremost of these restrictions are wagering requirements. When a bonus is added to your bankroll, you must wager it a certain amount of times within a specified time frame before you are permitted to withdraw. Other restrictions include minimum odds restrictions so that you don't use free bets to bet on an outcome that is near guaranteed to happen.
These restrictions combine to mean that you must become a prolific player on a platform to have any chance of profiting from free restrictions or boosts to your bankroll. This means that betting enough to make use of multiple platforms' promotions at once is near impossible. Before you commit yourself to using multiple bonuses, take the time to look into the terms and conditions properly so there is no chance of you being confronted with a nasty surprise.
Mitigating Risk and Managing Bankroll
Managing your bankroll is the practice of always remaining in control of how much you are depositing into your account and never burning through your bankroll too quickly.
In sports betting, managing your bankroll requires you to effectively manage risk so that you never take a bet that is likely to eliminate a large chunk of your bankroll, and you are always gambling responsibly. Diversifying your betting across multiple sports books is great for helping you to spread the risks, minimise any losses, and optimise your strategy for better outcomes.
The reason that diversification leads to lower risks is that using multiple sportsbooks protects you against making costly errors. If you make the wrong bet that loses you a lot of money, you can use the range of other markets available to you to make back your losses.
Furthermore, diversification mitigates the risk of missing out on betting on a very important event. All sportsbooks are sometimes faced with unforeseen technical issues, and this can stop you from placing the bet you want to, which can throw a spanner into your carefully thought-out strategy. Using other sportsbooks means that you can simply take your bet elsewhere to the platform that offers the next best odds.
Finally, diversification works with betting as it does with any kind of investment. Putting money on multiple different events and outcomes means that you don't have all your eggs in one basket. Therefore, a single big event going against your bet will only make a minor dent in your bankroll. Hopefully, you can make up the difference by having positive outcomes in different events.
Be aware that it can be harder to manage your bankroll and betting budget if it is spread across multiple platforms. If you don't track your bankrolls effectively, it can become impossible to know if you are keeping within budget. Make sure that you use a formal system like a spreadsheet to ensure you never lose track of where your money is. Moreover, you will need to move money between your betting accounts very frequently, so make sure you choose sportsbooks with easy, fast, and free withdrawals.
Access to Live Betting and In-Play Options
Live betting is a truly exciting attribute of sports betting, whereby players can wager on outcomes during the event. For example, if your favourite football team is losing 10 at the end of the first half, you might choose to bet in play for 2:1 at the final score to make the second half even more exciting. Common options to bet on in live betting include the next team to score, the next player to score, and the total number of points scored in each period.
Live betting is not only entertaining and diverse, but it also allows you to stay in the game if you become frustrated by technical difficulties. Although the odds will have changed, you can bet on the original outcome you wanted to wager on at any point during the game if you find the right live betting platform.
However, the availability, quality, and options for live betting vary in every sportsbook. Some sportsbooks will offer comprehensive bet in-play options, but most only have a few features available for live betting. You will likely have to drift between different providers to find the live bet you want to make.
It is also worth remembering that the odds for live betting will differ between UK sportsbooks even if they have identical markets available. You will likely have to use the same line shopping principles described above to ensure you always find the best possible odds. However, because of the fast-changing nature of live betting, odds comparison websites will not be able to always keep up with changing bets. You will have to use your instinct and knowledge of sports betting to work out if the offered odds are worth the risk.
Some betting platforms go beyond simply offering great odds to help you engage more with your favourite team. Sportsbooks will occasionally possess a licence to live stream the action straight to your phone. Watching the game live will help you make a more informed choice and work on your sports analytical skills to see if you can predict what will happen based on what is unfolding before your eyes.
To conclude, sportsbooks vary greatly in terms of the range of live betting options they have available. As live betting evolves further, players will see that more markets are becoming consistently available across different platforms. The advantage of this development is that sportsbooks will be pulled into a competition to provide the best options, and committed bettors will be able to compare betting platforms to find odds discrepancies that they can profit from.
Having Fun by Using Multiple Sportsbooks
We have seen that using multiple sportsbooks is a great way to enhance the likelihood that you have of making a profit from sports betting. It allows you to always get the best odds possible and to make use of discrepancies in odds setting to make a profit. It also allows you to make the most of the increasingly generous promotions that are available on all online casinos and betting platforms.
However, using multiple platforms is also a great opportunity to get more fun and excitement out of sports betting. You can get a more exciting experience by opening yourself up to new sporting cultures, as well as new types of betting in sports that you already enjoy. This includes specialised bets, prop bets, and alternative wagering options that you can choose to fit your betting style. Betting on multiple platforms offers a further chance to get involved with live betting, so you can bet in-play on the markets that are most appealing to you with great odds.
Finally, you will experience an extra layer of strategy which brings a new skill to perfect. Constantly comparing and keeping up-to-date with changes in odds can be a challenge. But you can get great rewards and the chance to earn captivating big wins from your hard work. This could make sports betting fun once again if you have started to get bored of it.