The Differences Between Sportsbooks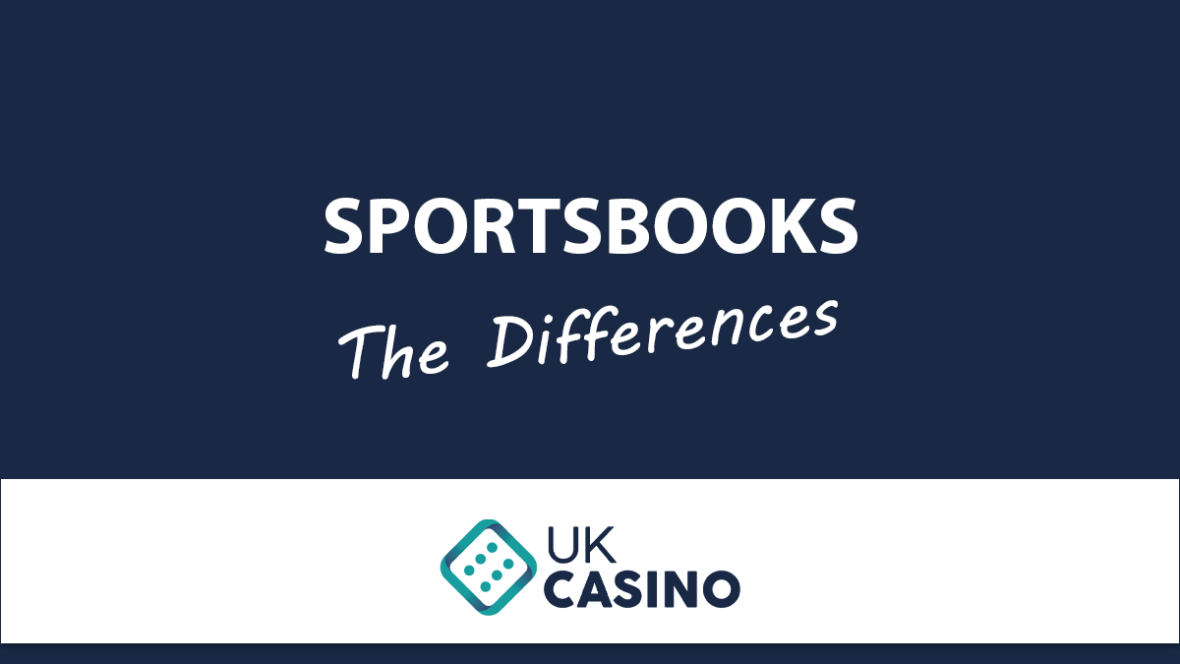 If you've ever fancied a flutter on your favourite horse or a football match, you might have previously taken a trip to the local bookmaker. But the evolution of online betting means it's now possible to manage everything online.
Sportsbooks accept bets on a wide range of sports, but they're not the only available option for online gambling. Below is a closer look at online betting and how to use sportsbooks to place different types of wagers.
What is a Sportsbook?
Online casinos offer traditional casino games such as roulette, blackjack, and poker, but if it's sports that you want to bet on, you'll need a sportsbook.
Some sportsbooks are available alongside a casino, while others are a standalone site. However, they all perform the same function: enabling bettors to place a wager on a sport.
In many ways, sportsbooks are just like traditional bookmakers. They calculate the odds for each event, and you can decide whether to bet at the price offered. More than one outcome is offered for each event, and bettors can choose who they want to back.
For example, in the 2023 FA Cup Final, it would have been possible to bet on either Manchester United or Manchester City to win. You would have been quoted different odds depending on who you wanted to bet on, but sportsbooks would have offered the option for both.
Sportsbooks And Betting Exchanges
Even though it's possible to bet online, there are still brick-and-mortar sportsbooks available so you can bet in person. However, most people prefer the convenience of online betting as you can gamble wherever you are, and you can manage everything with just a few clicks.
Online sportsbooks may offer play via their desktop site, or there may be a mobile app available to download. Not every sportsbook offers an app, so it may sometimes be necessary to play through your browser.
Betting exchanges are similar to sportsbooks, as they also offer a way to bet on sports. However, you can choose what odds you want to bet at, and you can also choose whether to back or lay a bet. In other words, in addition to betting on a team or participant to win, you can also bet on them to lose. In other markets, this is known as shorting a bet.
At an exchange, the company doesn't accept your bet, unlike at a sportsbook. Instead, you'll need other bettors to accept your bet. If you're not matched in this way, your bet can't proceed. Therefore, although you can name your price in theory, if it's not competitive, you won't find anyone to accept the bet.
Licensing And Regulatory Requirements For UK Sportsbooks
In the UK, all gambling activity is tightly regulated, and any company that wants to offer its services must be licensed by the UK Gambling Commission.
However, getting a licence isn't easy as the UKGC is known to be one of the most stringent regulators in the world. Sportsbooks must be able to demonstrate they meet the required standards and can maintain these while providing betting services.
Any sportsbook found to be breaching its licence will be subjected to a financial penalty and possible restrictions on its services. In extreme circumstances, it may have its licence withdrawn.
For this reason, sportsbooks must be extremely diligent when following the code of conduct and implementing the policies the UKGC expects them to have.
Betting Options
Most people know that you can bet on a team or person to win an event, but many more types of wagers are available in sportsbooks. Below are some of the most popular types of bets that you can opt for:
Moneylines
A money line bet is the simplest type of bet and is just about whether a team or player will win. To use the previous example earlier in this article, you could bet on Manchester City to win the FA Cup.
If the team or player you bet on wins, then you win the bet. If they lose, you lose the bet and have to sacrifice your stake.
Point Spread
With a point spread, you are betting on the margin of the final result; simply predicting the correct team to win isn't enough.
You should find two different options on the bet; a minus sign indicates the favourite, while a plus symbol shows who the underdog is. For example, a team with a score of -6.0 will have to win by more than six points for your bet to win. In this example, the other team would be scored at +6.0; this means they either have to win or lose by less than 6.0 points for you to get a payout.
Over/under
An over/under bet relates to the totals accumulated in a match. You choose whether you want to bet on under or over based on the points total declared.
For example, during a football match, the total might be set at 3 for the total number of goals scored. If you think the combined goals of both teams will be less than three, you bet under. If you think there will be more than 3 goals scored, you bet over.
Over/under bets are very popular and second only to a point spread and money lines.
Parlay
Another name for a parlay bet is an acca or an accumulator. This refers to placing a series of bets which are treated as one single large bet. Each of the individual bets can be unrelated, but they must all win for any kind of payout. If even a single leg of the parlay bet loses, there will be no payout.
Parlay bets are a great way to achieve large returns on a relatively small stake, but they're also one of the hardest types of bet to win.
Prop bets
Also known as proposition bets, a prop bet is a wager which isn't directly related to the outcome of the match or event. They can be put into one of two categories: game props or player props.
A typical game prop bet might involve the team who scores first or the total number of goals scored. A player prop bet would typically involve something relating to their performance, such as the number of passes completed.
Live bets
Live bets are placed after the event has started and allow bettors to take advantage of changing odds as the play unfolds. It's possible to be extremely specific with the type of bet, such as betting on the outcome of a penalty about to be taken, as well as placing more standard wagers such as money line, spread bets or over/under.
Deposits and Withdrawals
There's a real thrill in winning a bet, but it's even more exhilarating if you can collect a cash prize too. And that's what gambling is all about; placing a bet and reaping the financial benefits if you got it right.
But to do that, you'll need to credit funds to your account, also known as making a deposit. Sportsbooks don't all offer the same options for payment, so if you have a specific preference, this is something you should check out before signing up.
In the UK, it's no longer legal to use a credit card to make a deposit into your gambling account. There are plenty of alternatives that sportsbooks can offer, such as PayPal, Skrill, bank transfer, Apple Pay, and payment sites like Trustly. Some sportsbooks will accept cryptocurrency, but this isn't a widespread option yet.
Pay particular attention to the terms and conditions because you may be required to receive any withdrawals via the same payment method as your deposit. Conversely, in some cases, there are far fewer options for withdrawal than are offered for payment.
In most cases, funds that are deposited appear instantly, although, with some types of bank transfers, there may be a delay. However, for withdrawals, it can take longer to receive your money; in some cases, this may be as much as 5-10 days. If you haven't verified your identity before you make a withdrawal, you will also need to do this. Checking your identity may mean your first withdrawal is slower than the published timescales.
Aside from the methods of deposit and withdrawal, there may be certain limits in place. The sportsbook may cap how much you can bet, as well as restrict how much can be withdrawn each week and month. If you plan on gambling larger amounts, you may find your betting hampered if these limits are small. Some sportsbooks offer more generous limits than others, so shop around if this is a priority.
Customer Support
Customer support can be one of the trickiest areas for online sportsbooks as it's not as easy as getting help in person. Therefore, when registering for a sportsbook, it's a good idea to check how they provide support to their customers and the hours they operate.
There are only a handful of online sportsbooks that provide a contact telephone number. Most sportsbooks provide a live chat facility to get in touch with their customer service team. An email address is usually offered as an alternative for more complicated questions or queries.
The very best sportsbooks will provide 24/7 live chat, which can be useful if you tend to gamble at unsociable hours. You might never expect to need to contact customer support, but if you find you have a question about a payment or a withdrawal, you'll probably want to get in touch right away.
Finding An Online Sportsbook
There are many different online sportsbooks available, so it may help to narrow down the features you are looking for. These might include:
Range of sports. Are you looking for mainstream sports or niche events? Some sportsbooks are better than others at offering a diverse range.
Types of bets. Prop bets and live betting can be very diverse, with not all sportsbooks offering the same selection.
Bonuses and special offers. Bonuses can help to bump up your payout if you win the bet, so look for offers such as enhanced odds, free bets or loyalty points.
Betting limits. Check the minimum and maximum stake limits so you aren't priced out at either end.
Mobile compatibility. Some sportsbooks have a mobile app, while others rely on a desktop site optimised for mobile devices.
Reviews. Word of mouth is a very powerful way to find out what a sportsbook is really like, so online reviews can be extremely helpful.
Interface and ease of use. A website that is difficult to navigate will quickly get frustrating; look for a sportsbook where you can find what you need easily.
Licence. Last but definitely not least, always ensure that you only ever bet on a sportsbook that is licensed by the UKGC.
Bearing in mind all of the above, take a look at a variety of sites to get a feel for what's on offer. Sportsbooks such as Mr Mega, Betiton, All British Casino, and JeffBet are good starting points.
Betting Strategies
The best part about betting on sports is that anyone could have a genuine chance of winning, and it's not reliant on sheer luck. The more you know about a sport, the better your chance of winning.
Therefore, the more you can beef up your knowledge, the better. And many sportsbooks provide a range of tools that can help with your betting strategies and know-how. This could be anything from betting tips from experts, in-depth stats, or just a general blog that provides education on various aspects of sports betting.
Take full advantage of all of the tools available at sportsbooks, but remember that the decision is ultimately yours, and you shouldn't ever be persuaded into betting on something you're uncomfortable with.
Responsible Gambling
It can be annoying when you don't win, but betting should never be relied on as a source of income. Gambling at sportsbooks should always be fun, and you should never place a wager with money you can't afford to lose.
All sportsbooks must have a range of measures in place to help support vulnerable customers. These include providing on-screen reminders if you've been playing a long time, checking before allowing you to place a large bet, providing the facility to limit your daily bets, and offering you the option for self-exclusion.
The latter is an easy yet powerful tool which bettors can use if they want to take a complete break for a while. Self-excluding means you won't be able to play at any licensed casino until your chosen exclusion period has expired. This is important as it means that you can't rejoin in the heat of the moment and ensures that you get the break you intended.
Organisations such as GAMSTOP can provide additional support to anyone struggling with gambling.
Summing Up
Sportsbooks offer bettors the chance to wager on a wide range of sporting events, with bets that cover everything from backing the winner to predicting the next scorer in the match. If you want to lay bets, you'll need to use a betting exchange which is slightly different as it allows you to set your own odds.
Betting at a licensed sportsbook should always be your first priority, but apart from this, there's no "wrong" option. The sports you like to bet on, how much you want to bet, your preferred payment methods, and how you like to play will all help you decide the best sportsbook to use.