What Happens to Your Funds When Your Online Casino Account is Closed?
22 September 2023
104 Views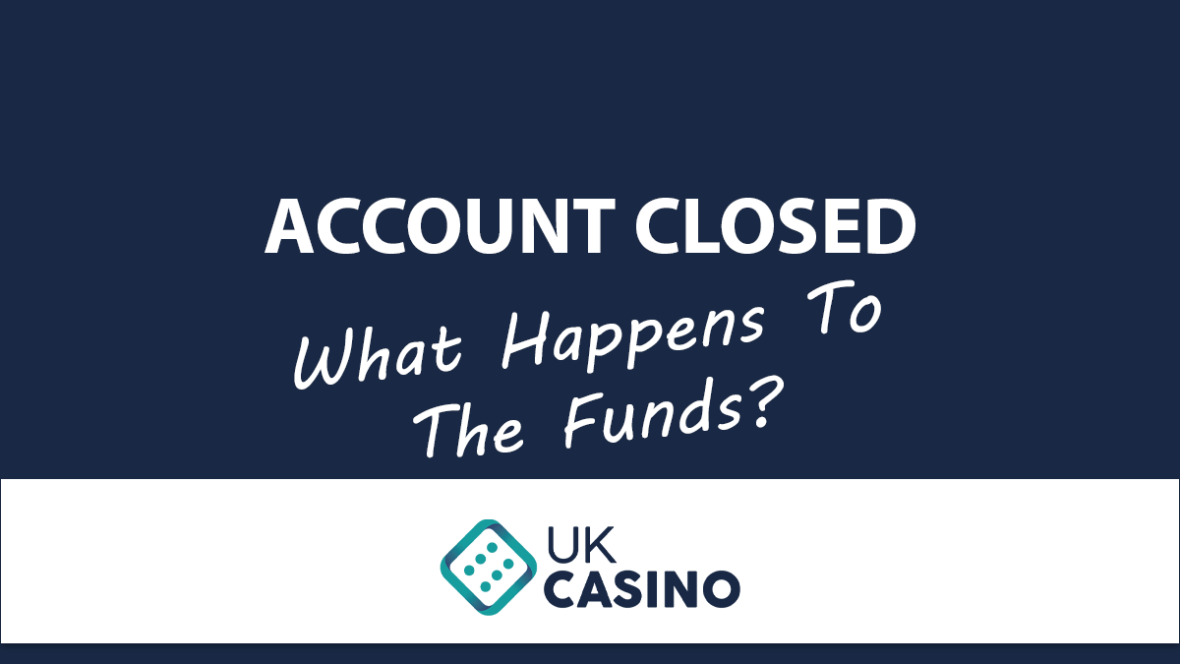 If you've been lining up a few nice little wins at the online casino, you may have already been planning what to spend your money on. But what do you do if the casino shuts your account before you've made a withdrawal?
It may sound shocking, but there are lots of reasons why a casino may close your account – and it may be completely legitimate for them to do so!
When your online casino account is closed, you will lose all access to your funds. This may be temporary or permanent, depending on the reasons and circumstances. Below we take a look at what actions the casino will take and what rights you have to get your money back.
Can a Casino Close My Account If I Have Funds Available?
There are many reasons why a casino might close your account, and unfortunately, they have the legal right to do so. An online casino does not have to get your prior approval to close your account, even if you still have funds remaining.
Sometimes it's simply because the account has become dormant. You may have forgotten you opened the account, or you may have moved overseas and can't access it from your new location.
Every company has its own procedures on dormant accounts, but as a general rule, you can expect your account to be closed if it's not been active for more than 12 months.
However, sometimes you may be an active player and still suffer the frustration of a closed account. There are lots of possible reasons why your casino account was closed. Some of the most common include:
A violation of the casino's terms and conditions
Self-exclusion
Concerns over your identity
Regulatory action
If you are playing at a casino licensed by the UK Gambling Commission, which should always be the case, you will have some protection. Casinos have to stick to a very strict code of conduct which prevents them from shutting accounts and withholding cash without a very good reason.
Unfortunately, if you are playing at an unlicensed casino, you may be at risk from fraudulent actions by a rogue operator, with few options for recourse.
It doesn't mean your account can't be closed if you play at a licensed casino, but you can be confident that the casino will act fairly and reasonably.
The UK Gambling Commission Rules
The UK Gambling Commission regulates the UK gambling industry, including online casinos. It has been explicit in confirming that casinos can close an account for one of many reasons, the most common including:
There is the risk of harm
The casino's terms and conditions have been broken
There is a risk of damage being done to the business
The UK Gambling Commission expects casinos to have comprehensive terms and conditions that clearly state the circumstances which allow them to close an account. If a casino closes an account for a reason which is not in accordance with its terms and conditions, players may have valid grounds for a complaint.
All of this underlines the fact that it's important to properly understand the terms and conditions when joining an online casino. Understanding the rules and when a casino has the right to close your account can help to prevent unexpected problems.
What Happens to Funds in a Closed Account?
There is no single answer to the question of what happens to funds once your account has been closed. Much depends on the reason for the casino account's closure. In some cases, you will no longer be entitled to the money. In others, the casino should return the funds to you.
We'll look at some of the most common circumstances here:
Self-Exclusion
Self-exclusion is a tool that bettors can use which stops them from being able to place a wager. If you have a problem with gambling or are concerned that you may be spending too much money or time at a casino, you can request that your name be added to the self-exclusion list.
This step shouldn't be taken lightly, as once your name is on the list, it's irrevocable. This is because someone struggling with responsible gambling may get an urge to start betting in a moment of weakness. Self-exclusion provides protection because there's no way to reverse it, so you can't start playing right away, even if you request the self-exclusion to be taken down early.
GAMSTOP and licensed casinos support players by operating strict self-exclusion lists. Once you have self-excluded, the casino will close your account and stop sending you any marketing material. They will also use all their resources to identify you should you attempt to open a second account.
You can still self-exclude if you have money in your casino account. Having a balance won't stop the casino from actioning your request or from closing your account. However, as you have not committed any misdemeanours, the UKGC expects casinos to return your money. This should happen automatically, but if it doesn't, you can contact the casino and ask them to release the payment.
The one exception is any winnings you rack up while self-excluded. If you manage to evade the casino checks and place a bet, you won't be allowed to withdraw your winnings if you're caught. The casino will void the bet and return your stake, and you will not be entitled to receive any of your prize money.
Term and Conditions Violation
The terms and conditions of a casino don't exactly make thrilling reading, and it's easy just to scan through the fine print without really taking it in. Nevertheless, it's a good idea to make sure you understand the rules of the casino, and the circumstances in which they can withhold your money.
If you violate the terms and conditions of the casino, they may refuse to release your winnings. There is a long list of misdemeanours that could be considered a violation of the terms and conditions of the casino. This frequently includes items such as:
Using a VPN to log in
Holding more than one account
Betting from a country that isn't permitted
Abusing casino bonuses or promotions
Being underage
Payment or identity fraud
Failing to verify your account
Exceeding the limit on withdrawals
Suspicious patterns of betting
The UKGC states that the casino must be very clear about the requirements, and the consequences, in their terms and conditions. If it's not stated in the terms and conditions, the casino cannot simply refuse to allow a withdrawal.
However, casinos cannot simply insert any clause they want in their terms and conditions. The UKGC has guidelines on what constitutes fair practice, and anything that is in breach of this will not be enforceable. If you think any of the casino terms are unfair, you can submit a complaint and ask for the contract to be reviewed.
If you're guilty of one or more of the breaches outlined in the casino terms, and it's a fair clause, you won't be eligible to receive your winnings. Casinos are allowed to confiscate winnings if it is stipulated in their terms, provided these terms were made available to you when you signed up.
The only exception is failing to provide proof of identity or verify your account. Based on the action by the Competitions and Markets Authority, the UKGC does not permit casinos to confiscate monies that legitimately belong to the player on the basis of failing to provide verification unless an extended period of time has passed.
In some cases, casinos were attempting to confiscate funds that belonged to the player after a very short period of time. While casinos are entitled to, indeed obliged to, check identity, they are not allowed to enforce short deadlines. They are permitted to delay payment until the documentation has been produced, but players must be given a minimum of 12 months to comply with the request.
Suspicious Play
Out of all of the potential violations, suspicious play is one of the most controversial. This is an umbrella term that could be used to cover different types of betting that casinos are not happy with.
The suspicious play could refer to betting patterns which seem out of keeping with the player's usual gambling habits, which could indicate that fraud is taking place. Suspending the account swiftly could protect the player from fraud if their account has been accessed without their knowledge.
However, one of the big criticisms is that casinos use "suspicious play" as a way of targeting players who are winning too much. This doesn't apply to a player with a single large win but to players regularly picking up significant sums.
The UKGC does allow casinos to close accounts of players where suspicious play has occurred. To be permitted to do this, the casino must clearly outline what types of betting would be considered prohibited and classed as suspicious play. Casinos cannot simply close an account with the vague reason of "suspicious play" without being more explicit about what the player has done, and this behaviour must be detailed as prohibited in the casino terms and conditions.
Regulatory Action
Although it's relatively uncommon, the UKGC can remove the licence of any casino if they believe there has been a significant or sustained breach in their licence conditions. This means that the casino would no longer be permitted to offer gambling services to customers and would close with immediate effect.
Active players may have funds in their accounts and they would lose access to this money immediately if a casino was forced to suspend its services. Due to the impact on players, the UKGC considers withdrawing a licence as a severe penalty and a last resort.
It is possible for sites to return after being suspended, but it's uncommon. Once a casino has reached the point of having its licence revoked, it's more likely that it will simply cease trading.
As well as suspending a casino's licence due to a breach in conditions, the UKGC can also take regulatory action if it believes that the casino is no longer properly solvent. If there are serious concerns that the casino may run out of money to pay players, they may be temporarily barred from operating as a precautionary measure.
If regulatory action has been taken against a betting site, regardless of the reason, some functions will usually still be accessible. The casino should display a notice explaining why play has been suspended and why no further betting is available. However, players should still be able to log into their accounts, and they should be able to make a withdrawal.
If you have money in an account at a suspended casino, it's advisable to move swiftly. This is because the casino may go bust, and this can make it more difficult to get a refund of what you're owed.
Protection for Funds
Money in personal bank accounts is protected against the institution going bankrupt by the FSCS (Financial Services Compensation Scheme), but this doesn't apply to gambling firms. There is no automatic protection for money held in players' accounts, but that doesn't mean you'll be completely exposed if the casino goes bust.
The UKGC requires licensed casinos to hold players' money in a separate account, but this doesn't mean that it's been legally ringfenced. Casinos are grouped into one of three categories based on the level of protection they offer players:
No protection. The terms should make it clear that in the event of insolvency, players' money would not be segregated or protected.
Medium protection. The terms should make it clear that there are some arrangements in place to protect players' money in the event of insolvency, but there are no cast-iron guarantees that funds would be returned.
High protection. All players' money is held in a ring-fenced account which is controlled by an independent trustee and monitored by an external auditor. The money is recognised as being legally segregated from the casino's money and provides the best possible chance of getting a refund if the casino goes bust.
Casinos must make it clear to players which level of protection they are offering. This information must be made available to all new players, who must confirm they agree and accept the terms. Players must also be provided with a link to the terms and conditions where this must be set out in full detail.
Any protection in place will only apply to the account balance. Any bets in progress will not be covered by any protection and will normally be sacrificed in the event of insolvency.
What Happens to Unclaimed Funds?
In many cases, players will be aware of the money in their casino accounts, but that's not always the case. Some of the accounts which are closed are dormant with no ongoing or active play.
It may be that the player has forgotten they opened an account. This is likely to be the case if the balance is relatively low and they hold accounts at multiple casinos. Alternatively, the player may have self-excluded without requesting a refund or moved to a country where the casino is not accessible. Despite being online, not all casinos are available to access in every country.
The terms and conditions of each casino cover the rules relating to dormant accounts, and it's this which governs how the funds are treated in tandem with guidelines from the UKGC.
In the same way that the regulator stipulates that players are given a 12-month period to prove their identity, a similar rule applies to dormant accounts. Casinos are not allowed to assume that an account is dormant or treat it as such until there has been a minimum of 12 months from the last activity. Casinos can leave it longer than 12 months, but they can't make it any shorter, even if their terms and conditions say otherwise. The UKGC guidelines take precedence over any individual terms set out by the casino.
Due to the obligations placed on casinos to hold players' money in a separate account, there are associated running costs for every registered player. This means if players aren't actively betting, the casino will be losing money on their account.
Once the 12-month period ticks past, the casino can treat the account as dormant. This means they are allowed to deduct administrative fees from the account balance. Over time, this will eat away at the player's money and can ultimately reduce the value to zero if left long enough.
The fees and the circumstances which describe when an account will be treated as dormant must be set out in the terms and conditions. In addition, the casino must provide the player with a reminder about what is going to happen, and this must be sent out 30 days in advance. The casino is also obliged to try once more to contact the player to return their money before simply converting the account to dormant and deducting fees.
Pending Winnings and Bets – What Happens Now?
As such a wide range of circumstances can lead to account closure, there are several different potential outcomes relating to any open bets.
If you have self-excluded, the casino should cancel all of your open bets with immediate effect. You will receive your stake back, but you won't be able to continue with a bet that you previously placed. The UKGC has very strict rules surrounding self-exclusion, and casinos cannot seem to be supporting ongoing gambling after you have specifically requested to stop.
If you have committed any kind of criminal offence or you were in serious breach of the terms of the casino, any open bets would be voided. However, it may not be immediately clear whether this is the case, so the casino may allow the bet to remain open while they investigate what's happened. If you are found not to be guilty of the accusation, the winnings from the open bet will be credited to your account. If you're found to be guilty, the bet will be voided, and you won't be entitled to receive any winnings.
Are Bonus Funds Treated Differently?
Bonus funds are freebies that players receive from the casino, and there are often different terms and conditions relating to the play. For example, wagering requirements often apply to bonus funds, so they can't be immediately withdrawn after a win.
If your account has been closed, the casino will probably have a clause in the terms that states any bonus funds will be forfeited. This is because you won't have been able to complete any wagering requirements.
The UKGC allows casinos to treat bonus funds slightly differently to the player's own deposits and winnings related to this. Bonus cash can be more easily withdrawn and forfeited, providing the terms stating this are made clear to the player from the start.
To Sum Up
Although casinos are normally clamouring for customers to sign up, there are a number of circumstances that can arise where your account may be cancelled. This may be due to action by the regulator, the UKGC, or it may be the casino has determined that you have broken its terms and conditions.
Whatever the situation, the casino must be very clear about the misdemeanour and penalty in the terms and conditions. This means specifying whether the casino will void your bets and confiscate your winnings or whether you will be eligible for a refund.
Unless you have engaged in criminal or prohibited behaviours, the casino is normally obliged to return your funds. The UKGC doesn't allow casinos to hang onto your money unless there is a very good reason, and will typically expect your money to be refunded. In some cases, such as dormant accounts, you will need to message their customer service team to request this.
As always, reading the terms and conditions thoroughly before signing up is crucial. By ensuring that you understand the casino terms, you can avoid breaching its rules and having your account closed as a result.