Bets You Can Make in Roulette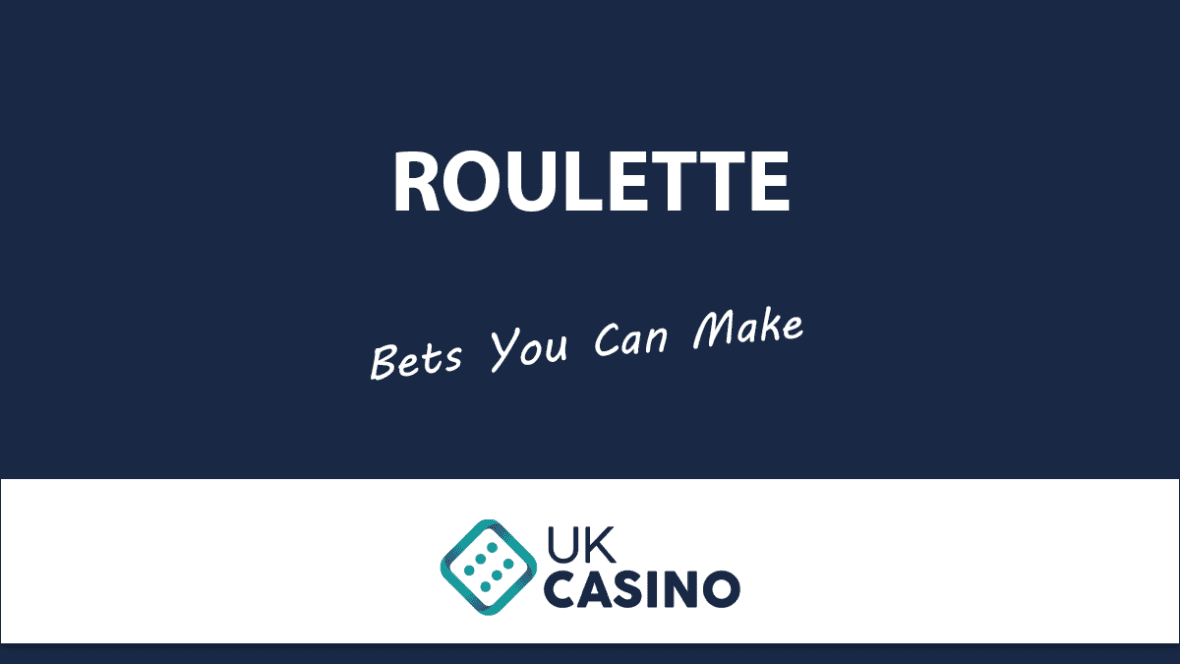 Roulette is one of the most exciting games in an online casino, whether alone with the dealer or with other players. It is a worthwhile game to wager on, and has various bet types for amateur and experienced punters to explore. Some knowledge of the different types of roulette bets will help you understand how the game is played and how to wager. It will help you keep up pace with other punters as you play live games and ensure you keep making calculated moves.
The various roulette bets also help you know the statistics of each wager you make. Things like payouts, odds, and house edges will no longer be a mystery to you. Instead of being treated like an amateur, you will be taken more seriously when other players see you know what you are doing. It will also help you with information on keeping track of the money you win or lose as the game progresses.
Here, you can learn more about the types of roulette bets you can explore to spice up your gaming at the tables.
Playing Roulette
Named after the French word which means "little wheel", roulette is a game where a player can place various types of bets. You can bet on either a single number, groups of numbers, red or black colour, if the numbers will be low (between 1 and 18), high (between 19 and 36), or whether it is an even or odd number.
The rules of roulette are fairly simple. The croupier determines the winner by spinning the ball along the rim of the wheel's outer edge as the wheel itself goes in the other direction. When the ball slows down, it falls back into the wheel and is deflected into one of its coloured numbers.
The numbers are a total of thirty-eight in American roulette and thirty-seven in European or French roulette. The odds represent your chances of winning a wager and are based on the roulette type. For example, the odds of landing a single number in a straight-up wager in an American roulette game are 37 to 1, since there are 38 numbers in total. Each round ends with winnings being paid out to the punters with successful wagers.
Different Types of Bets in Roulette
When playing roulette, you can employ any of the many bets available to help you make better decisions for a more rewarding time. Roulette is largely a game of luck, and strategies can only help so much where luck is involved. Knowing how to place different types of roulette bets can help you take advantage of situations and improve your winning chances.
The main two types of roulette bets are outside and inside bets. The basic rules of the game are embodied in these, so make sure to know them well before joining a roulette table.
Outside Bets
Outside bets are usually the best and safest types of bets to place in a game of roulette. They include the bets placed in the wheel's perimeter, offer low stakes, and are ideal for beginners. In an outside bet, you wager on a group of numbers or colours instead of placing bets on specific numbers.
The following outside bets are applicable:
Red/Black
This is probably the most popular of the easy bets you can make when playing roulette. Known as rouge et noir in French, this type of bet involves betting on the ball landing in either a red or black number.
A bet on such an outcome in roulette is known as an even-money bet, and it comes with odds of 1:1. During payout, you win back the wagered sum plus an additional amount equal to it.
This type of bet is ideal for beginners since you are wagering on either outcome, and this is usually the case. European roulette uses a wheel with a single 0, while there is an extra 00 featured in American roulette. If the ball lands on either spot, the house wins.
Odd/Even
Marked on the table as "odd" and "even", this type of bet is called impair et pair in French. Another easy move beginners can learn quickly, this bet involves wagering on the ball landing on any of the even or odd numbers on the wheel. Ideally, there are 18 even numbers and 18 odd ones in the game layout to bet on.
Wagering on the ball landing on any of the odd or even numbers spread out equally makes it an even-money bet, and the odds are set at 1:1. The chances of winning fall below 50%, however, due to the presence of the 0 and 00 positions.
High/Low
Known as passe et manque in French, this is another type of bet beginners will find easy to employ in different situations during their gambling adventures. This bet is placed to wager that the ball will land on either a low or a high number. The low numbers fall between 1 to 18, with the high numbers between 19 to 36.
Making this move will yield a payout of 1:1, since it is an even-money bet. The 0 and 00 are relevant here too, and slightly reduce the odds of winning below 50%.
Columns
There are usually three columns of numbers on every roulette wheel, each containing 12 numbers. This type of bet is placed to wager on the ball landing in any one of the three. With this bet comes odds of 2:1 to double your funds.
A bet on column 1 means the ball is expected to land on any of 1, 4, 7, 10, 13, 16, 19, 22, 25, 28, 31, or 34.
In column 2, the numbers covered in the wager are 2, 5, 8, 11, 14, 17, 20, 23, 26, 29, 32, and 35.
Column 3 contains 3,6, 9, 12, 15, 18, 21, 24, 27, 40, 33, and 36.
Both 0 and 00 are not included in this bet, and the house wins if the ball lands in either.
Dozens
Known as douzaine in French, this is a wager on the ball landing on either of the first, second, or third group of 12 numbers.
The wager is won if the ball lands on either the first dozen of 1 to 12, the second dozen of 13 to 24, or the third dozen of 25 to 36. You are allowed to wager on two of the three dozens, with odds of 2:1. Landing the ball on either 0 or 00 loses the bet, and the house wins.
Inside Bets
These are the bets made on specific numbers, either single or multiple. Inside bets involve wagering on any number you like, or you can try improving your chances of winning by selecting multiple numbers at once. This bet is riskier and attracts a higher payout. Inside bets you can try include the following:
Straight up
This is a bet involving any number of your choice from the wheel. In a straight-up bet, you place single wagers on any numbers you like before the next spin. You win the wager if any of your chosen numbers are hit during the spin.
Odds for this bet are at 35:1, so you can earn more if any of the numbers you bet on are landed, including 0 and 00. This is the time to bet on your lucky number if you have one.
Split
This bet is typically placed on a line running between two numbers on the layout. The wager is placed on the ball landing on any one of two numbers adjacent to each other, for example, 10/11 or 16/17. The bet is won if the ball lands on either number after the spin. The odds for this type of bet are 17:1, in the event of a successful win.
Street
Also known as a trio or steam bet, this type of wager involves a row of three consecutive numbers. In this bet, you wager on the ball landing on any number in a row of three numbers, for example, 1/2/3 or 7/8/9. The wager is won if the ball lands on any one of the numbers in the trio after the spin. The odds for this bet are 11:1 for successful wagers.
Corner
Similar to the split, this type of bet involves four adjacent numbers. Corner bets are also known as square or four-number bets for this reason. A wager has to be made on four numbers adjacent to each other on the layout to resemble a square.
The wager is won if, after the spin, the ball lands in any of the four intersecting numbers you bet on. This bet applies to numbers such as 1/2/4/5, 2/3/5/6, and 29/30/32/33. Odds for this bet are set at 8:1.
Line
This type of bet is similar to a street but involves two instead of one row of three numbers on the layout. Also known as six-number bets, you are allowed to wager on the ball landing on any of the numbers contained in those two rows.
The wager is won if the ball lands on any of the numbers on the wheel, with odds set at 5:1. This bet applies to numbers 1 to 6, 13 to 18, 31 to 36, and so on.
Five-number Bet
Probably because the five-number bet involves only a small group of numbers on the layout, it is referred to as one of the worst roulette bets to make. The numbers involved in this bet are 1, 2, 3, 0, and 00. In this bet, you wager on the ball landing on any one of the five numbers listed. With probability set at 13.2%, the odds of winning a five-number or topline bet are 6:1. It has a higher house edge than most, and is a move best avoided.
Basket
This bet is also known as the "first four" bet. We can safely assume this is because it only involves the first numbers in sequence on the layout. The basket bet involves wagering on the ball landing in one of 0, 1, 2, and 3. Landing one of these numbers after the wheel is spun will earn you a win. The odds for this type of bet are 6:1.
Snake Bet
This bet involves numbers on the layout that create a unique pattern when selected. The numbers 1, 5, 9, 12, 14, 16, 19, 23, 27, 30, 32, and 34 are involved in this type of bet. When using the snake bet, you wager for the ball to land on any of the numbers highlighted. The snake-like pattern formed when the numbers are selected is the reason for its name. The odds for this bet are 2:1.
Others
The American roulette style of an additional 00 helps to create a better house edge of 5.26%, much higher than the French with its house edge of 2.7% due to a single 0. The French wheel, however, is ideal for trying out special moves and earning back part or all of your wagered funds. The ball landing on a 0 is not a loss when playing on a French wheel. Instead, it is a chance for you to enjoy a reduced house edge.
There are other variations to explore when playing different roulette tables, especially if you intend to stay ahead. Other types of bets you can make in roulette games, depending on roulette variation, include the following:
Final Bets
This bet is specific to American roulette games. The final bet is a bet made on the "final" or ending digit of a sequence of numbers on the layout. For example, you can wager on the "final 5", which means you intend to bet on all the numbers ending in 5. The numbers that apply here would be 5, 15, 25, and 35. In some online casinos, it is possible to split the final bet.
Bets In Prison
This type of bet involves getting back half of your wager and can be made in a European or French roulette game.
It is an ideal move for making even-money wagers because instead of losing the bet immediately the ball lands in 0, and it remains in "prison". If the result is 0 after you place an even-money bet on red, black, odd, even, 1-18, or 19-36, this type of bet allows your wager to remain in the game. This imprisoned wager is not lost yet until you lose your original bet on the second spin.
The croupier has to spin again with your original bet still in mind. If the ball lands on 0 again, the wager is lost. The same is the case if it lands on a different number. The house edge for this bet is 1.35%. Depending on the online casino and the rules that apply, there are different ways this imprisonment is implemented.
Best Bets to Try Out
There are many bet types you can go with to improve your chances of winning roulette games, whether American or European. You need to know how to apply these moves for them to work.
If you are a newbie, you can try playing with some basic even-money bets like black, red, odd, or even until you level up. Sign-up at a reputable online casino to access online roulette games where you can use the demo mode to get better at playing before opting for real money options. Online roulette games offer more variation than traditional brick-and-mortar casinos and are ideal for beginners and amateurs.
Conclusion
Roulette is one of the most popular casino games, enjoyed by punters in the UK and the world. It is mainly a game of luck, with little room for the application of skill. In this article, we explore many ways you can lay up your wagers when playing roulette games. You will also find useful information regarding the art of wagering in roulette, whether at a live casino or a traditional one.
Beginners will find information here about easy bets to start with. Regular punters will also find information about different types of game-changing bets they never knew existed. This information will help you improve your gameplay, from basic bets like red or black to more complex ones.
Knowledge of the roulette bet types can help you benefit from any betting situation and stay aloof from the competition. Go through them closely for more insight into how best to use the bet types mentioned to enrich your gambling experience.