How to Get Your Casino Account Reopened
26 September 2023
107 Views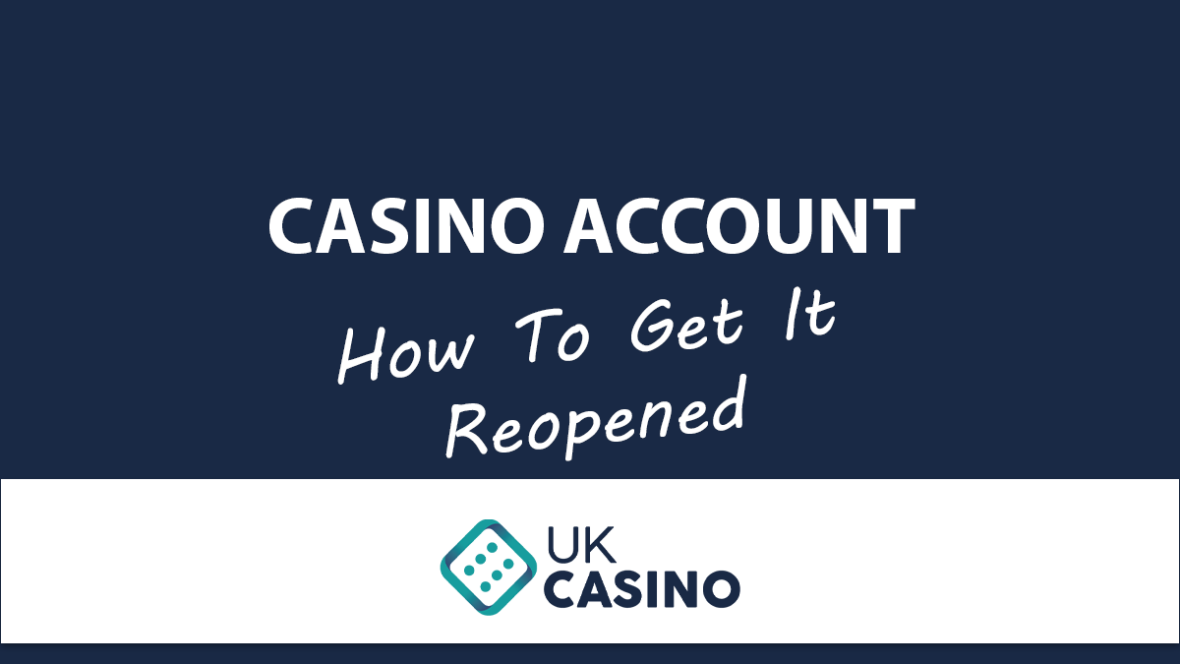 If you were looking forward to a session playing at your favourite online casino, it might have come as a shock to discover that your account has been closed.
Unfortunately, there are many reasons you may no longer be able to access your casino account, blocking you from both the games and possibly the funds that you held too.
But what can you do if this happens? Is there any chance of getting your account reinstated? We look at these questions and others relating to how to get your casino account reopened.
Can the Casino Close My Account?
Let's start with the big question: can the casino just close my account with little or no warning? The short answer is yes.
It may feel jarring, but in the UK, licensed casinos have the right to close your account for one of many reasons. They don't need to give you a warning before closing your account, and you don't need to have a track record of breaking the rules.
If you've breached any of the casino's terms and conditions, you stand the risk of having your account closed.
You may not be aware that you've breached any of the casino rules, but if your account has been closed, there's a very good chance that this is the reason. Have a read through the terms and conditions again and see if you can identify where you may have inadvertently broken the rules.
This is why it's a very good idea to read the casino terms and conditions before you start playing. Although most UK-licensed casinos tend to have similar rules, there may be some subtle differences. And if you get this wrong, you could find your account closed as a result.
You can find out more about the reasons why casinos close your account in our dedicated article, but broadly, these are the primary reasons:
You have asked to self-exclude
You have breached the terms and conditions
There are concerns over your identity or account verification
Illegal or suspicious activity
For regulatory reasons
Casinos in the UK must be licensed by the UK Gambling Commission (UKGC), which has high standards that have to be met. All licensed casinos must continue to comply with the UKGC guidelines in order to keep their licenses to operate.
Among other things, UKGC rules state that all casinos must outline any and all violations in their terms and conditions, and they must make the consequences clear. The terms and conditions must also be made visible to players and accepted by anyone signing up.
If a casino closes your account for breaching their terms and conditions but hasn't complied with what the UKGC says they must do, you could have valid grounds for a complaint.
How Will I Know Why My Account Was Closed?
As there are so many different reasons why your account could have been closed, it's not possible to come to any conclusions without more information. However, there are several ways you can find this, and piecing together some clues might give you the answer.
Before you start digging around, looking at the casino terms and conditions is a very good start. There are several clauses under prohibited behaviour that could be inadvertently breached, such as using a VPN to play. If you realise that you have violated the terms and conditions, that's probably the reason why your account has been closed.
If you can't find anything obvious in the terms and conditions, or you want confirmation of the reason, look back through your emails. Make sure you're using the email address that you signed up with, and perform a search for any communication from the casino. If you have a busy or large inbox, try using the search function on your email rather than just scanning manually. It's very easy to miss an email when you're looking through a lot of them!
The casino may well have given you a warning or written to you about the issue, and this may confirm the reason your account has been closed. For example, have you requested a period of self-exclusion and forgotten about it?
If there's nothing obvious, checking back through your account history may provide some clarification. Did you attempt to use a payment method that didn't belong to you, e.g. using a partner's PayPal? Even using another person's account to withdraw your winnings is a violation of the terms and could potentially lead to suspension.
If you've been blocked completely from the casino, the information you have access to will be rather limited. In some cases, such as self-exclusion, you may still be able to log in and request a withdrawal and check your account history, but you won't be able to play.
After you've checked all available information, if you're still unsure why your account has been closed, the easiest thing to do is to check with the customer support team. Most casinos have a live chat function which is available without logging in. This will give you direct access to get help, and you should hopefully receive a swift answer.
Don't be embarrassed about reaching out to the customer service team at the casino. It's not uncommon for a player's account to be closed, and the customer service team will be able to help explain what's transpired.
Requesting to Reopen Your Account
Once you know the reason for your account being closed, you have a decision to make. Depending on this reason, you may wish to simply move on and use another casino – and there are many online casinos to choose from!
However, if you would like your account to be reopened, you can appeal the decision with the casino. In the vast majority of cases, you won't be able to do this over the live chat function. This is because the live chat is designed for quick questions, and asking for your account to be reinstated can be a much more complex request.
For this reason, you should reach out to the casino using their email address. Some casinos have dedicated email addresses for different types of requests, while others use a single email address for everything. You should be able to find this information on the casino website under the Contact tab.
Contacting the casino to ask for your account to be reinstated is the first step, but ideally, you should have some evidence to support your case. Unless there is a simple oversight that's easily rectified, having documentation could mean the difference between your request succeeding and failing.
Here is some more specific information on the different categories of account closure:
Self-Exclusion
Self-exclusion is a tool that all players can use if they feel they need some help taking a break from gambling. You can choose how long you want to self-exclude, and during this time, the casino must not allow you to play, nor must it send you any marketing material.
Every UK casino must have policies around vulnerable players and socially responsible gambling. If they fail to adhere to these rules, there are hefty financial penalties. The casino will not be able to reverse a request for self-exclusion before the time period is up, but if it has expired, you can request for your account to be reinstated.
The process of reactivating your account will vary from one casino to another but usually involves getting in touch with the customer support team. Having proof of the length of self-exclusion that you previously requested could be helpful.
Breaching the terms and conditions
This is one of the more complex areas because the number of prohibited behaviours set out in the terms and conditions of most casinos is usually pretty extensive. Whether your account can be reinstated depends on the severity of the offence and the policies of each casino.
In some cases, casinos make what they describe as a "business decision" to close an account, and they reserve the right to refuse to allow you to reopen it. This means that you won't be allowed to open any new accounts either. It's not a good idea to try and trick casinos because their sophisticated algorithms will usually catch you, and you could have your winnings voided.
There are no hard and fast rules relating to account closures, so the more information you can provide about extenuating circumstances, the better. For example, if you tried to access the casino while on holiday overseas, the casino may have identified your location and blocked your account. If you normally reside in the UK and can prove it was just a misunderstanding about permitted access while you were on holiday, the casino may be willing to reverse their decision.
However, if you have created multiple duplicate accounts with the same casino, they may not be willing to allow you to play. Casinos will consider how much effort it will take to administer your account and the likelihood of future misdemeanours occurring. This is where your evidence is key; any information you can provide could help your request for the account to be reinstated.
Identity Concerns or Account Verification
Casinos are required to carry out identity checks on all their players. This is to comply with KYC requirements set out by the UKGC. Identity checks ensure that vulnerable players are protected and that all players are legally permitted to access online casino content.
There are some checks that are typically carried out when a player opens an account; these can be carried out electronically to cause a minimum of disruption. Players may also be asked to provide further proof of identity, or they may be asked to provide proof of the source of their funds. This is particularly the case if large bets are being placed.
If you do not provide the documentation or proof requested within the period allowed, the casino will suspend your account. This means that you won't be able to play any games nor make a withdrawal until you provide the necessary information.
If you are willing to provide proof of your ID and/or proof of the source of your funds, most casinos will be happy to reopen your account. Your account won't be opened until you provide the information and the casino confirms their checks are complete.
Illegal or Suspicious Activity
There are lots of different things that could be classed as suspicious activity by a casino, and if you're innocent, it can feel a bit accusatory. However, all licensed casinos have a legal obligation to be vigilant for signs of money laundering and criminal activity, and they typically operate policies which err on the side of caution.
Casinos use cutting-edge technology, such as AI, to identify red flags that could indicate suspicious activity. This could be anything from a radical change in your betting habits, a new customer betting huge sums, or depositing money and then making a withdrawal without spending the funds on casino games.
While all of these things could have an innocent explanation, casinos must check out every case. Your account may be suspended or blocked while they carry out internal investigations. If they believe your activity is illegal, the matter will be referred to the authorities.
The difficulty with this category of account closure is that the casino may not be willing to make full disclosure to you. You may be informed that there are concerns over suspicious or illegal activity, but you may not be given a breakdown of what you've done. This is because casinos don't want to tell criminals how and what indicators they use, as in the future, they will know how to evade the checks.
You may need to be particularly patient with this type of account closure. Ask the casino whether you need to provide any information, and be prepared to fully disclose the source of your funds if requested.
There is a chance that your account may be reinstated if you are able to fully answer their questions and allay their concerns. However, there is no fast-track option here; you'll need to provide all information and documentation requested and wait for them to finalise their investigation.
Regulatory Reasons
If the casino loses its licence, players will no longer be able to access their accounts in the usual way. When you visit the website, you should see a message explaining what is happening to the casino site and what you need to do next.
If it's a regulatory issue, you should still be able to log into your account for some time to request a withdrawal. However, there won't be any opportunity for your account to be fully reopened as the casino is not continuing to offer its services to players.
Appealing the Decision
In some cases, there's no way to appeal the decision, but this is a rare situation.
If you have self-excluded, the casino won't be willing to change its decision until your chosen period of self-exclusion has expired. Self-exclusion is designed to be impossible to reverse as a means of protecting customers who feel vulnerable. Therefore, if it were possible to simply take it back off the account, the protection would be meaningless.
If the casino has closed for regulatory reasons, you won't have any options at all. Casinos in the UK can only operate with a licence and if this is suspended or permanently removed, the casino cannot continue to offer gameplay under any circumstances. Your account may show as closed even though you haven't done anything wrong.
Apart from self-exclusion and regulatory issues, you can nearly always appeal the casino's decision. If they've refused to reinstate your account, you can choose to escalate the matter.
You have two choices here: you can ask for the matter to be escalated to a manager for a decision, or you can submit a formal complaint. The terms and conditions of the casino should outline how to escalate your request for a decision. The terms will also explain how to make a complaint and what the process involves. As per the UKGC rules, every casino must provide clear and accessible information about their complaints process.
Even if you don't believe the casino will change its mind, you must exhaust its complaints process before seeking to take it further. Once a casino has dealt with your complaint, if you don't get a satisfactory outcome, you have the right to refer your case to an Alternative Dispute Resolution provider.
If you choose to pursue your complaint further, it's important that you have given the casino the opportunity to address all of your concerns first. Therefore, make sure you include all of the information in your initial complaint to the casino.
Although the UKGC sets out guidelines that casinos must follow, it does not deal with individual complaints. If you have a general concern that the casino is not sticking to the terms of its licence, the UKGC will investigate. However, the UKGC will not adjudicate specific complaints about the closure of an individual account; that is the role of ADR.
Casinos are bound to comply with the outcome of ADR, even if the outcome is not in their favour. However, as a customer, you always have the ultimate right to take legal action if you're not satisfied with ADR. It's worth bearing in mind that the legal test is normally much tougher to prove than ADR, which tends to be more lenient to the player.
In Conclusion
If your casino account has been closed, it can be very frustrating, but there is a chance that the casino may alter its decision. Much depends on the reason the account was closed and whether you can provide any information to assuage their concerns.
Unfortunately, there may be cases where it's simply not possible to reopen your account, such as if you are still within a period of self-exclusion.
However, if this doesn't apply, you may be able to appeal the refusal or even submit a formal complaint for review.
The important thing to remember is that it takes some time to review requests, and submitting multiple requests won't help your case. The best thing to do is put together a brief explanation of why you believe your account should be reinstated, add any supporting evidence, and wait for a response from the relevant customer service team.