Is Roulette Rigged?
15 February 2023
207 Views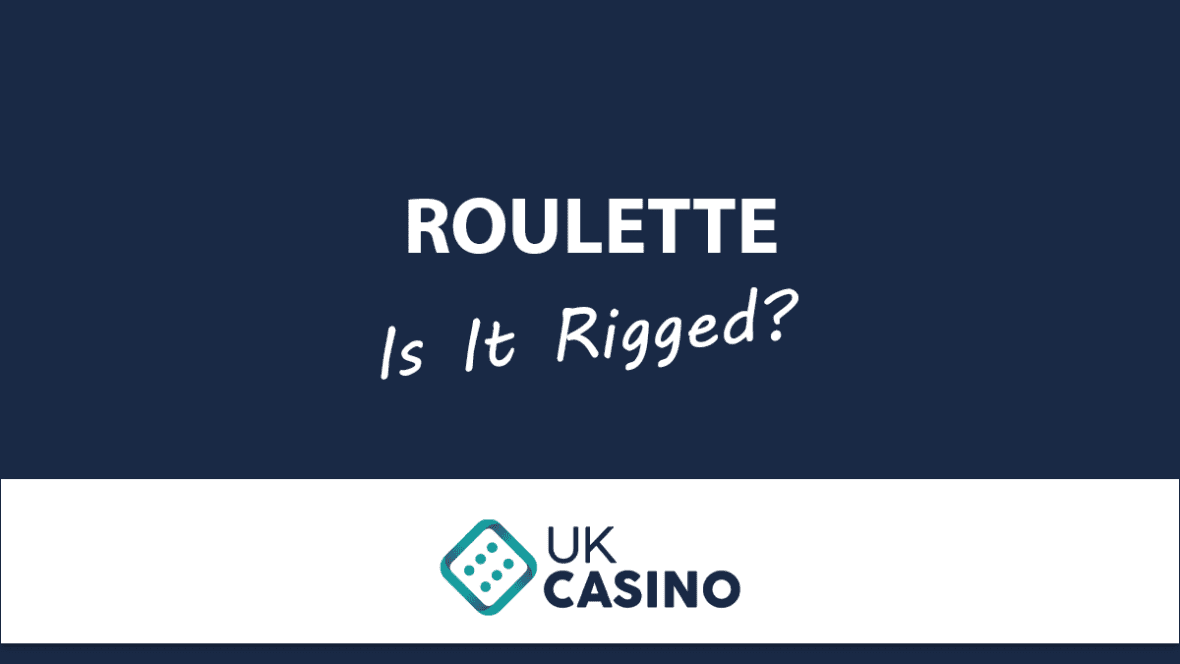 Online casinos have been offering live dealer games, including roulette, for several years now. These games are streamed in HD quality from professional casino studios so that you can watch the action unfold right in front of you with your own eyes.
You can now play live roulette, poker, blackjack, and many other casino games online, but in this guide, we will focus mainly on roulette. In the case of live roulette games, the dealer does everything live on stream so that you, as a player, know exactly what is happening during the course of the game. According to many players, this is better than the traditional way of playing online casino games because, with traditional games, it cannot always be said with certainty whether they are fair.
But to what extent is online live roulette really sensitive to fraud, and can you do something about it as a casino player? In this guide, we explain it to you and bust any myths out there regarding the subject.
Online Roulette Fraud
Online roulette works just like roulette in a real land-based casino: players place bets on the number(s) where they think the ball will land. In real life, it is very easy to keep an eye on the course of the game because you can see exactly what is happening, but behind software-based online roulette, there is an algorithm and a script, which makes it more susceptible to fraud.
For example, unlicensed online casinos could set the ball to end more often on numbers that no one has bet on. This lowers the odds of winning roulette and puts players at a disadvantage.
With live roulette, you can see everything that is happening. This means that you can keep an eye on all the movements of the ball, wheel, and dealer. The live connection makes it a lot easier to prevent fraud. As a player, you quickly realize if something is wrong.
It is possible for every player in an online live roulette game to watch. Since there is also a built-in chat feature, it becomes much easier for players to communicate with each other. For example, a report can be made immediately when a dealer does suspicious things. The traditional ways of casino fraud in live roulette are, therefore, no longer possible.
Fraud Opportunities in Online Live Roulette
However, this does not mean that fraud can be wholly ruled out. There are many ways in which an online casino that is not licenced in UK can commit fraud. It is helpful to be aware of this as an online casino player, because it prevents you from falling victim to this.
For example, it is still possible to use a fake live connection. The casino can play a previously recorded video on which the dealer spins specific numbers. In cooperation with a script that keeps track of the bets, this results in the ball landing on a number that has not been bet on most of the game rounds.
The best way to avoid this type of fraud is to check the live roulette table first. You don't have to place any bets immediately to watch the table. This way, you can see whether the connection is live: for example, the different rounds are played consecutively, without breaks or black screen in between.
You can also pay attention to the interaction between the dealer and players in online live roulette games. Because the players can talk to the dealer through chat, dealers often respond to these chat messages during the game. This is one of the most effective ways to detect fraud; if dealers do not respond, then it may be a pre-recorded video. Fraud in online live roulette is almost non-existent, but you have to make sure that everything is fair.
Is Playing Online Roulette Rigged or Reliable
There is no easy answer to the question of whether online roulette is rigged. If you search the internet to determine whether online casinos are a scam, you will not find many comments from players who got rich from online roulette. People just tend to complain. Why do people think online roulette is rigged?
Many players who lose with (online) gaming suffer from the phenomenon of 'Gamers remorse.' They have often lost a lot of money playing roulette. They have trouble accepting that and look for a scapegoat for their losses. They then shout that it must be 'rigged' that they have lost so much.
Whether roulette can be manipulated or is 'rigged' is difficult to prove. As for playing roulette in a casino, there has been an ongoing debate over whether a dealer can manipulate the ball to fall into the wheel in a certain way. But you can also ask yourself why a dealer would let you lose because he doesn't have to pay the winner out of his own money. To manipulate roulette, a dealer would need to know exactly what the wheel is doing when it drops the ball in a certain way.
In short, the deviation in the speed at which the wheel rotates and stops varies so much that it would probably take years of a lifetime to find any regularity in this. That is apart from the fact that it is probably not possible to always drop the ball in the same way in the roulette wheel.
Try throwing a rock over a wall in the same spot multiple times. Casinos rather make money with a house edge that is built into every casino game by default. So to make a profit, they don't have to manipulate the game. Each time a game is played, a percentage of the bet goes to the house.
Roulette House Edge
When playing roulette in an (online) casino, there is always a house edge because there are 37 possibilities (the numbers 1 to 36 plus the 0), while the payout is as if there were only 36 pockets in the wheel. The roulette house edge for the casino is 1/37 or 2,7% of a player's entire bet per spin.
However, this will vary depending on the roulette type you play. When playing French roulette, the house edge is lower, namely 1,35%, on single odds (red/black, even/odd, or high or low). This has to do with the special La Partage and En Prison rules.
In American Roulette, the house edge is more significant because the roulette wheel features two zeros. In this case, there are 38 possibilities, so 2/38 or a 5,3% house edge. This house edge principle works the same when playing live roulette. So the best tip we can give you is to play French roulette if you can.
RTP Requirements
It is essential to know that licensed online casinos have to state the house edge at every roulette table, including live roulette games. These will display the so-called RTP ratio, which stands for Return to Player ratio. The RTP ratio shows how much of your bet you win back over the long term. If the house edge of a European roulette game is 2,7%, the RTP is 97,3%. Rigged roulette tables will either not reveal the RTP or reveal the wrong RTP.
Roulette Random Number Generators
Random Number Generators are unique computer algorithms. An algorithm is a series of instructions given to a computer, like a step-by-step instruction on what to do next.
This works as follows with software-based online roulette: When you press 'Spin', a computer is instructed to sift through all possible outcomes that can occur with roulette in a split second. Each number has the same chance of being chosen on a 'spin'. The script doesn't have any 'memory.' The RNG does not keep track of what the previous outcomes were. With every 'spin,' every number has an equal chance of being chosen.
How do I Know Whether I am Playing at a Legitimate Online Casino?
An excellent way to find out whether the online casino you're playing at is legitimate is to check whether they work with companies with valid gambling licenses or if they have them themselves.
In addition to gambling licenses, these websites also have to adhere to the laws of the countries where they are located. We always recommend checking if an online casino has a license from strict countries such as Sweden, Denmark, Italy, and the UK. Easier to obtain gambling licenses are the Curaçao E-Gaming and the Maltese MGA license.
We also advise you to always look carefully for a casino's contact details and whether they have a terms and conditions page. This kind of information is usually found at the bottom of the website, in the so-called footer. Also, check the website of the license issuer to see whether the online casino in question is actually mentioned. After all, a logo is easily placed on a website.
Each gaming commission or authority that issues a seal of approval or casino license has drawn up its own rules, which can depend very much on where you play. For example, there are casinos that must have their chips approved in advance by the state in which they are located in the US. Each chip is then registered and can be tracked. Some committees employ mystery gamers or inspectors who visit the machines or online casinos unannounced.
These are essential details to see if an online casino offering roulette is rigged. Even if an online casino has a valid license, it often also pays to check the internet for casino reviews.
Is Online Roulette Rigged or Reliable? – Our Conclusion
Countries that issue online gaming licenses, such as Malta, Curaçao, and the UK, collect gambling tax. They have no interest in licensing an online casino that is guilty of fraud. On the other hand, online casinos have no other interest in losing their licenses. In addition, you are still covered by some kind of consumer protection if you play at an online casino that has a license versus playing at an unlicensed casino.
Random number generators are complicated computer programs that ensure that software-based casino games like roulette are as fair as possible. But this can only be checked adequately if these computer programs are supplied by an external, objective party. When this is the case, it is almost impossible to cheat by both players and the casino.
Well-known casino software providers like Pragmatic Play, BGaming, and Evolution Gaming have their games frequently tested by external testing agencies, such as eCOGRA, BMI Testlabs, and GSL. When a licensed casino features (live) roulette games from any of these big gaming studios, you can rest assured that the randomness of the games and their payouts are as they should be.
We recommend our visitors to always be cautious when signing up and playing roulette for real money at a new casino site. Be sure to check whether it is licensed before registering and making any deposits.
Live roulette simply cannot be rigged. Most of the time, hundreds or even thousands of people are playing these roulette games, and virtually every number is covered in one way or another. It wouldn't make sense for the casino to make certain numbers fall and avoid others. If you are still not convinced live roulette isn't rigged, we recommend checking the statistics of the last 500 spins, which providers like Evolution Gaming and Pragmatic Play allow you. You will see that the results balance out.
FAQs About Whether Online Roulette is Rigged or Reliable
Why do online casinos switch camera angles during live roulette?

Online casinos switch camera angles to provide players with a more immersive gaming experience. The switching of cameras has nothing to do with cheating or the casino trying to hide something.

The game Immersive Roulette by Evolution Gaming even has an increased amount of camera angles and is one of the most popular online roulette games globally.

Can unlicensed online casinos rig their roulette games?

Although unlicensed online casinos could certainly rig their roulette games, they are more likely to conduct other practices instead, such as simply not paying out winning players.

Is live online roulette completely random?

Yes, every round of live online roulette is entirely random and not influenced by previous results.

Why do casinos always win at roulette?

Casinos always win at roulette because when playing roulette in the casino, there is a house advantage. There are 37 possibilities (the numbers 1 to 36 plus the 0), while the payout is as if there were only 36 squares. The house edge for the casino is, therefore, 1/37 = 2,7 percent of the players' bet per spin.